Wedding Centerpiece Ideas for the Fashionable Bride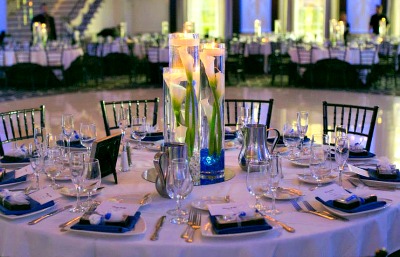 Wedding Centerpiece Ideas
Centerpieces can range from traditional to funky and deciding on the perfect centerpiece can be challenging and time consuming.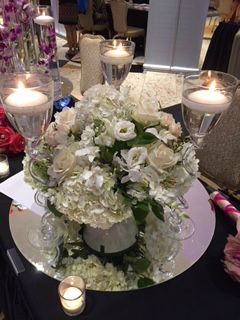 With a little originality and imagination you can create a table arrangement that compliments your theme and color palate.
The above centerpiece has it all! Stunning roses, hydrangeas, tea light candles, floating candles and a mirror to reflect the beauty.

Whatever you style, be certain that your arrangements are in good taste and follow your overall theme. A sand castle will be a great table top arrangement for a beach theme but will look out of place at a Valentine wedding reception.
Discover more information for centerpiece ideas for all seasons.
I always recommend that you keep your centerpieces low to the table,

or high up on a pedestal to facilitate conversation among your guests.

Fresh flower arrangements are the most common table decoration, they are always in vogue and add elegance to any reception. Since fresh flowers are delicate and wilt, I recommend you hire a professional florist or have a trusted family member or friend provide the floral centerpieces. Remember to incorporate your overall color scheme when choosing your flowers and ribbons.

Wedding Centerpiece Ideas for the Bride who is on a Budget
If you are budget conscious, ask your florist to use flowers that are in season rather than some exotic flower that needs to be imported.
A clear glass bowl with floating candles, fresh fruit, or flowers is decorative, attractive and not overly expensive.
An inexpensive way to create a centerpiece is to group individual vases or candles together and place them on a mirror. The reflection from the mirror will add sparkle and dimension to your tables. Another way to save money on your wedding centerpieces is to buy wholesale centerpieces.
This bride chose to have tables decorated with both tall and lower to the table centerpieces creating an opulent effect and giving the reception hall an interesting dimension. Can you just see yourself coming down those beautiful stairs!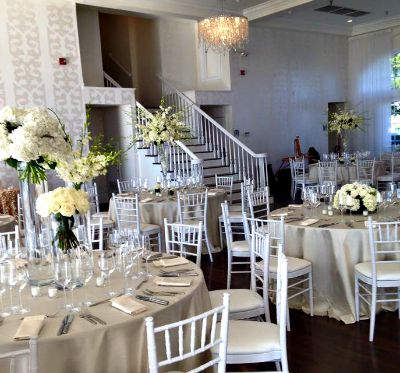 More Wedding Centerpiece Ideas
You can also spread stones or confetti to give an appearance of a larger table top arrangement.

It is also a nice idea to have all of the bouquets from the bridesmaids on the wedding table which is an expensive and easy way to dress up the table.

Balloon clusters set the mood for a trendy, fun affair. Varying the height of the balloon clusters from table to table creates a chic atmosphere.
Choose potted mums, azaleas, poinsettias, hydrangeas, orchids, gardenias, lilies, Christmas cactus or any other potted plant to add color and beauty to your tables.
If you would like to have a small arrangement, consider purchasing an inexpensive container that can be filled with fresh, dried, or silk flowers. The container can also be filled with individually wrapped candy, floating candles or whatever suites your theme.
You can create a Silver Reflection Centerpiece which will give your party tables a reflective surface for candle light or any party light to play off of. Your centerpiece can measure six inches high x five inches wide or any dimension that you choose. Your centerpiece can be made from glass or plexiglass . Fill the container with fresh cut flowers to match your party or event theme.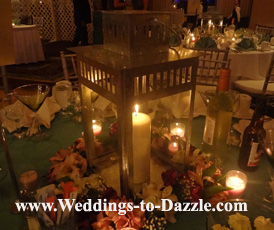 Consider the above lovely lantern centerpiece with a candle that coordinates with your color theme and place some small tea candles around the base of the main centerpiece. Notice that an arrangement of flowers is surrounding the centerpiece to add color and softness.
I do hope my wedding centerpiece ideas have stirred your imagination and helped with your decision process. Click here for Beach Wedding Centerpiece tips.
Go from Wedding centerpiece Ideas to Unique Reception Theme Wedding Ideas Home
Centerpiece Ideas For a Wedding 
Table Centerpiece Ideas 

Wedding Table Centerpiece Ideas

Pictures are copyrighted and cannot be used without written permission © 2008 - 2015 unique-reception-theme-wedding-ideas.com ® All Rights Reserved
Click Here to read our disclosure regarding affiliate and advertising sponsors.