Fall Wedding Ideas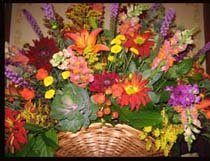 Unique Fall Wedding Ideas
Using your imagination and my unique wedding ideas and tips will help create an unforgettable celebration for you and your guests.
 
So, let's begin planning your beautiful memorable ceremony and reception.

The brilliance of multi-hued fall foliage, moderate climate, and less competition for venues are some of the reasons why more and more couples are choosing an autumn date instead of a traditional May/June date.

If you're on a tight budget, you can save yourself some money by using nature's gift of leaves turning color. Take some tree branches, spread them in the center of each table and place a candle in the center thus creating a table decoration that is breathtaking and inexpensive. 
Since the hot summer months have passed and the temperatures usually dip in the evenings; a well-prepared bride will have a wrap, stole or caplet for herself and her bridesmaids.


More Fall Wedding Ideas to Think About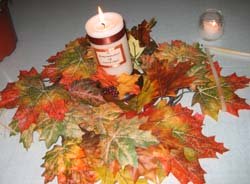 Want to delight your guests?  Send them home with gingerbread cookies wrapped in cellophane paper tied with one of your autumn accent colors.
Another festive autumn wedding idea would be to put a mini pumpkin at each place setting.  You can leave it plain or decorate the pumpkin with your monogram.  Your guests can take the pumpkin when leaving your reception and enjoy it as a decoration in their home.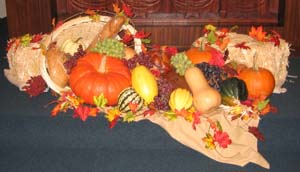 This autumn centerpiece/table decoration is easy to create and will fit in perfectly with your fall wedding ideas. I especially like the gourds, bushel  and the hay bail to emphasize your autumn theme.
If your looking for an unusual place card idea, consider having your guests names printed on leaves and arrange them on your entrance table. 

If you are planning to host your reception in an area that is in the hurricane belt, have large umbrellas on hand in the event of a torrential downpour.
It's a good idea to be doubly prepared for rain by purchasing large heavy-duty plastic bags.  Make two small slits in the bottom of the plastic bag.  Put your legs through the slits; pull the bag up a few inches and your dress will not drag on the wet ground. Have extra bags on hand to protect your brides maid dresses too. 

Fall Wedding Ideas for your Cake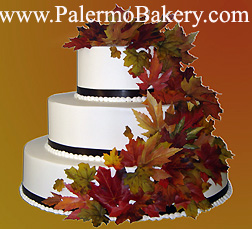 Don't forget to think about your cake.  Asking your baker to incorporate fall leaves onto your wedding cake is a fabulous idea that will blend in nicely with your other autumn colors and ideas.
Apple cider is a great fall drink that your guests will enjoy upon entering your reception.  You can serve it cold if it's a warm day or hot if it's a cool autumn day.

Whether you're planning a simple or extravagant wedding, I'm hopeful that my fall wedding ideas have inspired you to plan and create your perfect wedding day.

Take a tour around my web site and begin with our Welcome page.


Wedding Theme Ideas

Autumn Wedding Tips

Fall Wedding Themes

Halloween Wedding Theme



Pictures are copyrighted and cannot be used without written permission © 2008 - 2015 unique-reception-theme-wedding-ideas.com ® All Rights Reserved
Click Here to read our disclosure regarding affiliate and advertising sponsors.