Need Great Tips and Ideas for Stunning Centerpieces?
Stunning Centerpieces

Every bride wants her wedding to be perfect and aims to find ways to create the most elegant centerpieces that complement her theme and are within her budget.   
Centerpieces help your guests start a conversation and they enhance the atmosphere of your reception.

TIPS:

When choosing a centerpiece it is important to have your table arrangements correspond with your wedding theme.  Seashells and sand would look out of place at a Christmas reception.
Another item to think about is your overall color scheme.  Keeping your table arrangements within your general color palate will enhance the atmosphere of your reception hall.
If you are having a simple wedding, your centerpieces should not overpower the look and feel of your reception room. Vice versa, an elaborate, opulent affair calls for lavish centerpieces.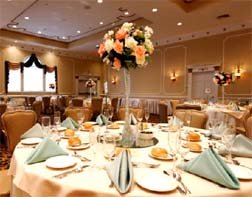 IDEAS:

The dream like atmosphere and fresh floral scent makes fresh flowers a favorite centerpiece with brides.

Using a tall, thin container helps stimulate conversation among guests.  Using hydrangeas, orchards, and roses helped create this very full centerpiece.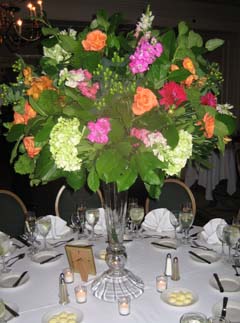 This simple elegant centerpiece was created using a clear glass vase (purchased at the dollar store for $1.50), clear and lightly colored glass (also purchased at the dollar store for $2.00), water and a floating candle (50 cents).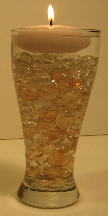 To create a more stunning looking table arrangement, add a sprig of leaves.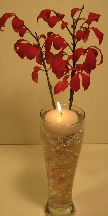 Placing leaves around the base of the centerpiece adds another dimension and further enhances your table decorations.
The leaves and sprig came from my garden and the total cost of this stunning table decoration cost $4, however, your guests will think you spent quite a bit more.

Placing silk flowers into a Styrofoam block and securing three tapered candles in the center created this fall centerpiece.  Depending on your theme, you can substitute spring flowers, poinsettias, ivy with baby's breath, your choices are only limited to your creativity.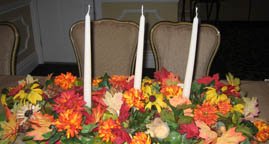 Remember! Stunning Centerpieces don't have to cost a fortune!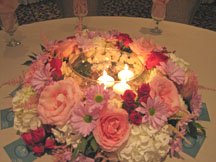 The above elegant centerpiece was created using a clear glass bowl, filling it with water and floating candles and a live floral wreath.

Stunning Centerpieces can be created without spending a fortune or hiring an expert.  You do need to be innovative and have a willingness to try out different ideas before you make your final decision.
Looking to create a Million Dollar reception on a modest budget?

Calla Lily Table Arrangements

Centerpiece Ideas For A Wedding

Unique Wedding Table Arrangements

Pictures are copyrighted and cannot be used without written permission © 2008 - 2015 unique-reception-theme-wedding-ideas.com ® All Rights Reserved
Click Here to read our disclosure regarding affiliate and advertising sponsors.