Wedding Reception Ideas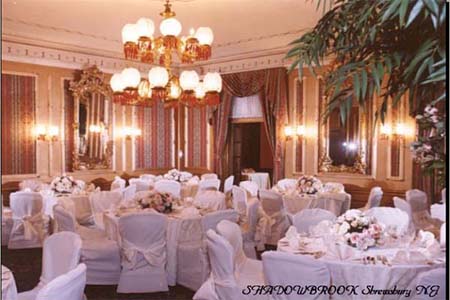 Wedding Reception Ideas and Tips for a Fabulous Wedding Celebration
Love is in the air and your wedding reception is probably the biggest bash you and your fiance will ever throw.
Sit back, relax and let's start discussing your celebration ideas.
From the time you were a little girl you had fantasies about what your wedding celebration would be like and now your dreams are about to come to reality. Once you and your fiance have discussed your ideas it's time to start the planning.
Your first priority is to make a list of everything that you would like your reception to be, the number of guests you will invite, your theme and let's not forget your budget. Now that you have your thoughts on paper you can start to develop your plan.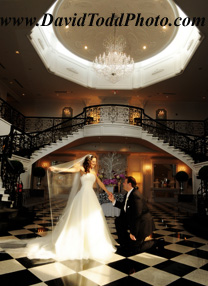 If you have your heart set on a formal reception at a catering hall - go for it. Set your budget and decide how much you can allocate for a cocktail hour, dinner, whether you will have a Venetian Hour, cake, favors, flowers, DJ or band and gratuities.
Reception Ideas for Brides on a Tight Budget
If you are on a tight budget, consider having your reception in a local VFW, Fire Hall, Community Room or a private home. Make certain that whatever place you choose you will have chairs, tables and a place to heat, refrigerate and store your food.
You can hire local students or have your friends and family help decorate, serve and clean up. Don't forget to rent or purchase table cloths, napkins, and if necessary plates, glasses and utensils.
Food costs can be kept to a minimum by shopping at the big box stores and purchasing the non perishables whenever you see sales in your local supermarkets. You can honor some of your close friends and family by asking them to make their specialty dishes, hors d oeuvre's, salads, and whatever else you will serve. Beverages can be purchased ahead of time and stored for your reception.
Order your wine from a reputable dealer. Take a look at the wine internet store below which has excellent prices.
Themed Wedding Reception Ideas
.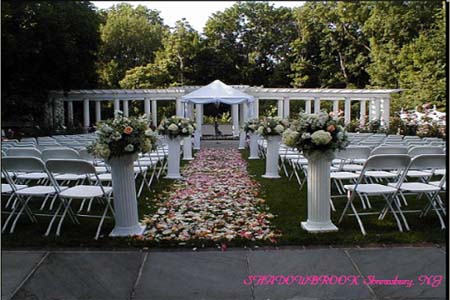 Fall bridal themes are becoming more popular and vogue. If you live in an area that has beautiful autumn foliage you might want to consider having your celebration in an old barn or farmhouse.
If you live near a wine vineyard, see if they can accommodate you and your guests. You can decorate using dried leaves, pumpkins, horns of plenty, corn stalks, vines, acorns, and gourds.
Many couples are choosing to have an outdoor celebration. The beach, park, down by the river, a winery, or mountainside are all wonderful romantic venues that will give you beautiful backdrops for your pictures
If you live in an area where the weather is not predictable, be certain to plan for the elements. A tent with a generator for heat or air conditioning will make you more comfortable and less stressed about the thought of inclement weather.
Someone that I know, recently had their gala at a children's camp. The reception took place off season before the campers and staff arrived and the facility had all the amenities and beautiful grounds for the guests to wander around. It was a beautiful spring day, the birds were chirping and a rather large deer ran across the front lawn and had all the guests looking in awe.
More Wedding Reception Ideas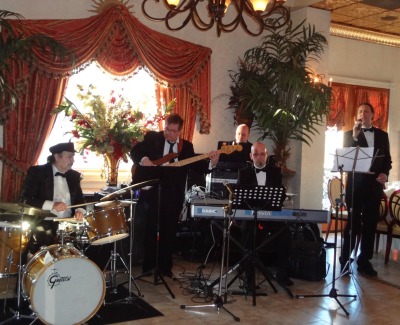 You definitely want your guests to come away from your reception happy. Dancing is quite common at wedding parties and choosing a good DJ or band is key.
Hiring someone who you have heard perform at another event isn't always possible, however, you can ask for a demo and references. Make certain the Emcee has a lot of energy and will engage your guests. Choose the types of music you know your guests will enjoy dancing and listening to (remember, your music should be played at an enjoyable level and not blast your guests out of the room).
When planning the table arrangements, it's a good idea to put the youngest group closest to the speakers and your more subdued guests farthest away. If the music becomes too loud, don't be shy about asking the DJ or band to take it down a notch.
Wedding Reception Ideas for Your Seating Arrangements.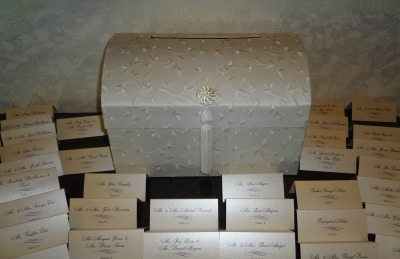 It's always a good idea to have a prearranged seating plan so your quests will know where to sit and guests with similar interests will be seated together. That's also a good place to put a box to hold the cards that you will receive.

Wedding Reception Ideas for your Menu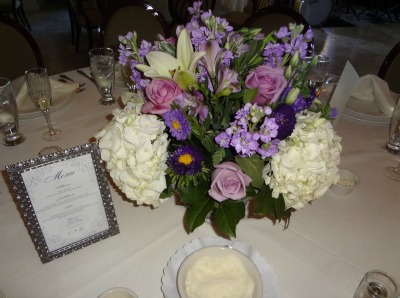 A unique idea for your tables is to have your menu typed and placed in a frame on each table so your guests will know what they will be served during your affair.

Remember, whatever wedding reception ideas you choose, enjoy your very special day.
Go from Wedding Reception Ideas to Unique Reception Theme Wedding Ideas Home
Pictures are copyrighted and cannot be used without written permission © 2008 - 2015 unique-reception-theme-wedding-ideas.com ® All Rights Reserved
Click Here to read our disclosure regarding affiliate and advertising sponsors.