Need Great Ideas for Beach Themed Wedding Centerpieces?
Unique Beach Themed Wedding Centerpieces

You've decided upon a beach theme for your wedding reception and now you are looking for fabulous centerpieces that will complement your theme.


Before you make any decisions on what you would like your table arrangements to consist of, let's talk about some challenges that you might face with your beach table arrangements if your reception is taking place on a beach rather than in a catering hall.

Beaches have a tendency to be breezy and if you are choosing to use candles, the wind can play havoc with keeping your candles lit, so you will need them to be shielded in a glass container of some form.  Perhaps you can use hurricane vases or tall cylinders with floating candles on top.  You can place pebbles or colored glass in the cylinder to enhance your beach themed wedding centerpieces.


If your reception will be on the beach and you are not using a canopy, the hot sun could wilt your flowers quickly. Be sure to choose flowers that will last in the bright sun.

Mirrors tend to give a larger effect to any table decoration; however, on a beach, the reflection from the ocean or sun could have a blinding effect on you and your guests.  Instead of using mirrors consider spreading sand, seashells or colored glass around your centerpiece.

If you're considering using edible fruit or candy as your centerpiece, think about how long it will remain fresh and not droop or get sticky while sitting out in the sun.

Now let's talk about some snazzy beach table arrangements.  If you love fresh flowers and have determined that the beach elements will not wilt your flowers, consider using tropical flowers to coordinate with your theme.  Floating gardenias or orchids in a glass container always makes a splash.  To enhance this look and add some color to your table arrangement, place the centerpiece on a tropical design looking place mat or on some palm branches.

Seashells for Beach Themed Wedding Centerpieces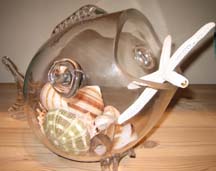 How about using a clear glass container filled with seashells that you found along the seashore or purchasing them in a dollar or craft store. Starfish and sea horses will add a sense of intrigue to your centerpiece. Some brides want a little more color in their arrangements so how about having some of your friends paint or decorate some of the seashells?
Want to be even more unique? Place some colored sand that coordinates with your theme, around your centerpiece.
More Beach Themed Wedding Centerpieces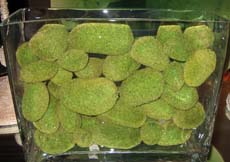 Another beach themed centerpiece idea would be to place thick-skinned fruit like kiwi or lemons in a clear bowl.  They add color and won't wilt in the summer's heat.

Sandcastles are a favorite for beach themes because they are elegant, won't wilt or blow away.

Consider this martini glass filled with rocks as your focal point. To dress up the centerpiece place the glass in a dish filled with sand and colored glass.  Then add fabric bags filled with candy.  Not only is your centerpiece beautiful, you also have favors that your guests can take home.

Whatever centerpiece idea you choose to use for your beach theme, I strongly recommend having one made up and brought to the beach prior to your reception.  Let it sit with the same conditions that you will experience on your wedding day and see if the centerpiece holds up for the amount of time that your reception will last.

Tip - Your guests come to your reception to share in your special day and have a good time.   They will enjoy talking with each other, so please keep your centerpieces low to the table or high up on a pedestal to facilitate conversation.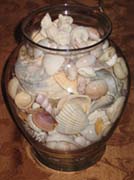 Any centerpiece can be "dressed up" by adding some confetti around the arrangement.

How about the arrangement below?  Take one large glass container, place some seashells and star fish in and around the container and you have a centerpiece that is cost effective and can be made ahead of time.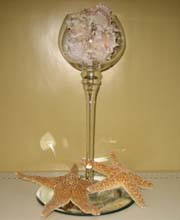 Beach themes tend to be less formal than other themes but your beach themed wedding centerpieces can be as elaborate or simple as you desire.  Click below for some additional centerpiece ideas.

Need more ideas? Check us out here.

Pictures are copyrighted and cannot be used without written permission © 2008 - 2015 unique-reception-theme-wedding-ideas.com ® All Rights Reserved
Click Here to read our disclosure regarding affiliate and advertising sponsors.