Understanding Wedding Reception Etiquette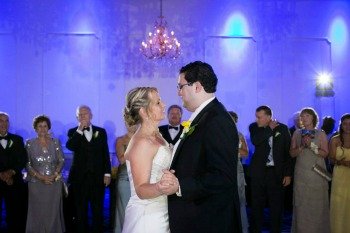 Tips and Ideas for Wedding Reception Etiquette
Having a thorough understanding of proper wedding etiquette is essential to host a wedding with style and grace.
This page will focus on the reception while my thoughts on the ceremony, how to address the invites, rings, parties and etc. will be located in the links on the bottom of this page.
First of all, let's talk about what etiquette is. According to Merriam Webster, "etiquette is the behavior or course of action required by good breeding or approved by authority to be observed in social or official life." So what does that really saying?
It means that there are certain standards of acceptable behavior which, if followed, will be less likely to offend your family and guests.
Wedding Reception Etiquette
The wedding reception is usually held directly after the ceremony, however, if the bridal couple needs some time to take pictures or visit an ailing family member in the hospital, it is acceptable to allow a few hours in between the ceremony and the reception.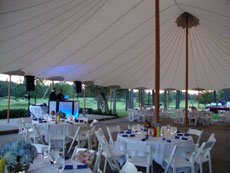 More Wedding Reception Etiquette Ideas
If you've invited some people to the ceremony but not to the reception, it's a good idea to have an hour or so in between the ceremony and reception to permit the ceremony guests to slip away.
Traditional receptions involve a sit down dinner. If you cannot afford to cover the costs of a large number of guests and a sit down dinner, choose a less costly reception. It is quite tacky to ask your guests to pay for their drinks or have an open bar for one hour and then have the guests pay for their drinks during the rest of the evening. Instead, serve beer, wine and soft drinks. If that is beyond your budget, serve a champagne punch and soft drinks.
Wedding Reception Etiquette Ideas for Invitations
When sending out your invites let your guests know what type of reception you are hosting. You may invite your guests for cocktails and hors d' oeuvres,  or simply champagne and cake. Whatever you are planning, communicate your wishes to your guests so they know how to plan and dress.
Wedding Reception Etiquette for Your Menu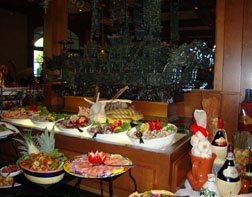 If you are marrying someone who is from a different culture, discuss your menu before you choose your reception venue. Some caterers are not equipped to prepare a kosher meal or dishes that are out of the ordinary. You may choose to have a few menu items from each culture and a few dishes that are culture neutral.
I always ask the bridal couple if there are any diabetics, vegetarians or guests that have food restrictions. Knowing that ahead of time will give your caterer plenty of time to accommodate people who have special dietary needs.
Wedding reception etiquette for seating arrangements
Is assigned seating necessary? My answer to this is unequivocally, YES.
If you don't have assigned seating your guests will not know where to sit and there could be a mad dash to reserve seats and guests could leave one table with one seat whereby separating a couple because the seating just worked out that way.
You could have random people sitting with each other and no continuity with family and friends. There could be a situation where someone doesn't have a seat and they come up to you and ask you to help find them a seat. How awkward and time consuming for you to have to run around finding seats for your guests. Avoid stress and make a seating chart when you are home and not under any pressure.
Today there are computer programs that will help you with your seating arrangements. One trick that I learned many years ago was to type all the guest's names on a sheet of paper and then cut their names from the sheet individually or in couples. Then arrange the names in groups of people that you think would enjoy each others company and should sit together.
Once you have a table filled, you can move on to the next table. If you wind up with too many people at one table and not enough at another, simply move the names to the desired table. It's much easier to move the little pieces of paper around than to keep the names on one sheet of paper and keep crossing out or erasing names. Once you have completed the tables you can move the tables so that you can have related groups of people sitting at tables next to each other.
Another suggestion that I pass along to brides is - keeping your older guests as far away from the music as possible, will make them happier.
There is no exact science on wedding reception etiquette that demands a specific seating arrangement. Some suggestions are as follows:
The bride and groom can choose to sit at a table by themselves and then have their attendants at a table next to them.
Bride and groom are seated at a dais with their attendants to either side of them.
Today, many couples are choosing to have their parents sit at the table with them, and their bridal party at the next table.
Whatever option the bridal couple chooses, the remaining tables will then be centered around them with the bride's family nearest her and the groom's family nearest to him.
Depending upon the size of your family you may need two family tables. The first table should consist of parents, grandparents, aunts and uncles. The next table could have your cousins and other family members.
Wedding Reception Etiquette Ideas for Blended Families
Now the tricky question! What do you do if you are in a blended family situation? Etiquette rules don't necessarily apply. My advice is to have an honest talk with your parents and step parents and siblings. They may be perfectly fine sitting together or they may wish to be separated (as is often the case). Try to have the tables placed equally close to the bridal table as to not offend either parent.
We don't have difficulty with the hard, steadfast wedding reception etiquette rules but do have some questions with the "soft" rules, so those are the ones that I have attempted to answer here. If you have any questions, please feel free to contact me on anything that I haven't covered on this page or if you want an in-depth discussion on any wedding reception etiquette issues.
Go from Wedding Reception Etiquette to Unique Reception Theme Wedding Ideas Home
Wedding Ceremony Etiquette

Wedding Invitations Etiquette
Pictures are copyrighted and cannot be used without written permission © 2008 - 2015 unique-reception-theme-wedding-ideas.com ® All Rights Reserved
Click Here to read our disclosure regarding affiliate and advertising sponsors.