Creative Candle Centerpiece Ideas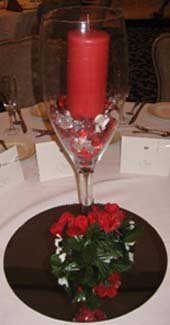 Candle Centerpiece Ideas that will WOW your guests
Do you want to create a centerpiece that has all your guests talking? Below are many gorgeous, unique candle ideas that will make your reception glow with magic.
Using your imagination and talent can help you create a fabulous candle arrangement that will brighten the room and add warmth and romance to your day. Below are some table top arrangement ideas for your wedding that will wow your guests.
I love candle centerpieces because they make the room dance with excitement and add a delicate touch to any table. Plus, who doesn't love how they look with the warm glow created by candlelight! Candles can be used by themselves or you can incorporate them with the flowers on your table arrangements to create a soft, romantic setting for your reception. Scented candles can also be used for your reception if you choose a light scent that won't overpower your room. If the scent that you choose is strong, consider mixing some unscented candles along with the scented candles as to not overpower the scent in your room.
Just Candles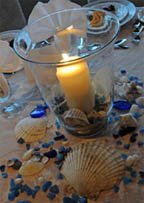 This lovely centerpiece was created using a clear glass vase with a six inch round candle surrounded by seashells. To enhance this idea, sand, seashells and blue glass were strewn around the base of the vase.
More candle centerpiece ideas.

Macy's was having a sale on candles, so I purchased some candles, placed them in a tray and spread stones around the candles. Varying the heights of the candles adds an interesting touch to this table arrangement. The bride that I was working with loved the idea and was pleased by the low cost of her centerpieces.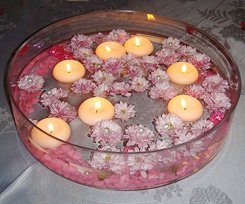 Floating candles are always a hit as a wedding centerpiece. Fill a clear glass container with water and add candles that coordinate with your  theme. The above arrangement was created using small flowers with floating candles. You can coordinate the colors to match your color pallet and motif. You can also use food coloring if you want the water to have a contrasting color.
Check out the below for more candle centerpiece ideas.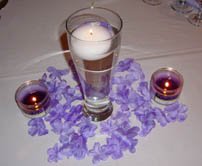 Another floating candle idea is to purchase a vase at the dollar store, float a candle and then place a few smaller candles around the center candle. While you are at the dollar store purchase a few leis that coordinate with your color scheme. Separate the flowers from the leis and scatter them around the candles. The total cost of this beautiful creation was $4.50.
A tropical theme would be well represented by using pastel colored, flower shaped candles.
An autumn theme would look lovely by using leaf or pumpkin candles pictured below which Lisa chose for her wedding in New Jersey.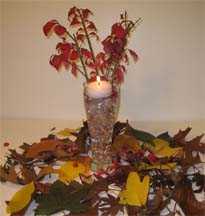 Another autumn idea would be to place colored marbles or glass on the bottom of a clear glass vase and then let the candle float near the top of the vase. Add a few branches to the vase and then spread some dried leaves around the base of the arrangement.
Other beautiful candle centerpiece ideas can be created by filling a martini glass with water, float a candle on top and then place a wreath around the stem of the glass. For added elegance place the arrangement on top of a round mirror and spread votive candles around the wreath.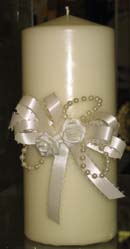 Centerpieces can also be simple and elegant like the one shown above. If you would like your centerpiece to be a little more flashy, surround the base with pearls and cut crystals from a craft store.
Candle Centerpieces with Flowers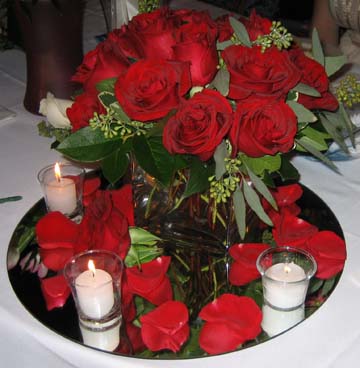 The above was created by arranging roses in a clear glass container, placed on a mirror and then surrounding the centerpiece with votive candles.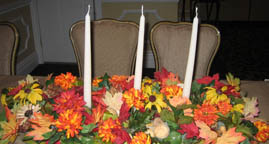 Using tapered candles and silk flowers placed in a Styrofoam block created this elegant but inexpensive table decoration.
Candle Centerpiece Ideas are plentiful, use your imagination and you'll come up with a very creative beautiful table arrangement.

For More Unique and Creative Tips and Secrets Visit my Introductory Page

Wedding Centerpiece Ideas

Bridal Shower Centerpiece Ideas
Pictures are copyrighted and cannot be used without written permission © 2008 - 2015 unique-reception-theme-wedding-ideas.com ® All Rights Reserved
Click Here to read our disclosure regarding affiliate and advertising sponsors.