Need Ideas on How to Create Stunning Winter Wedding Reception Centerpieces?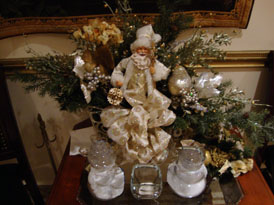 Winter Wedding Reception Centerpieces

You're getting married to the man of your dreams and now you are trying to decide on a table decoration for your reception.
A good staring place is to look through some floral websites, bridal magazines and check out the winter reception centerpieces images on Google.

Winter weddings conjure up thoughts of beautiful snowflakes, icicles and Christmas.  Little twinkling white lights and candles will give a warm glow to your reception room.  Sprinkling white, silver, or blue shimmery confetti around your centerpieces will give an opulent feel to any winter centerpieces you choose.  If you're not into using confetti to spruce up your centerpiece, how about live pine boughs which will give off a wonderful aroma or twigs with red berries?

More Ideas for Winter Wedding Reception Centerpieces
Ask your caterer if your reception hall will already be decorated for Christmas and if so, work your table arrangements around what is already being provided by the caterer. You'll save some money and avoid the possibility of not having a well coordinated reception hall.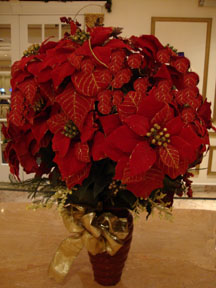 Poinsettias are always a Christmas favorite and if you're not using red in your color scheme you can order poinsettias in white, pink and even blue.  To add some dazzle to your poinsettia centerpiece, place the plant on a mirror and surround the plant with pine cones, holly leaves, ribbons and pine branches.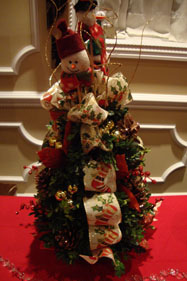 Another winter favorite of mine is to purchase small pine trees and decorate them with little ornaments found in any craft store.  If you want to be creative and budget conscious, you can purchase snow globes and set them around the centerpiece asking your guests to take them as favors when your reception is over.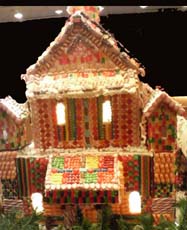 One bride that I know was very talented at making ginger bread houses and made a large ginger bread house for each table and placed it on candy moss.  She sprinkled snow crystals in the grass and arranged a few votive candles around the arrangement. The bride and her friends made ginger men cookies and gave them as wedding favors.  The room looked gorgeous and had a wonderful aroma.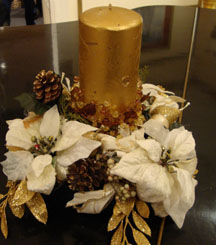 Using candles are another idea for winter wedding reception centerpieces.  If you're going for a very elegant look, you can purchase a candelabra with white candles (or whatever color scheme you have chosen) and intertwine pine branches at the base of the candelabra.
Purchasing a large clear bowl and floating candles in it is a beautiful, inexpensive route for the budget conscious bride.
Another inexpensive candle idea is to purchase one large candle and surround it with smaller candles.  If you want to dress up your centerpiece use a mirror and surround the candles with colored crystals of your wedding pallet.

More Ideas for Winter Wedding Reception Centerpieces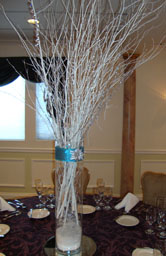 This tall vase with white branches and blue ribbon with a snowflake is inexpensive, yet elegant.

For the bride who is getting married near Valentine's Day, the above centerpiece is simple and eye catching.

Winter wedding reception centerpieces that can be made before the wedding

Design your own centerpieces by using items that you like.  In the above picture we took two toy soldiers and a teddy bear and created a Christmas centerpiece that was a hit with all the guests.
This below centerpiece was created by purchasing a wire sleigh, a Santa doll some greenery, berries and a bow. It can be made ahead of time, were easy to assemble and cost less than $30 each.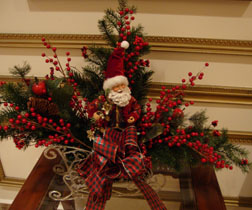 Whatever your budget, there are wonderful winter wedding reception centerpieces to choose from.  Just let your imagination go wild and don't be inhibited by what others say.

Look no further! Go to my welcome page and get some great ideas.

Wedding Centerpiece Ideas

Christmas Centerpiece Tips
Easy Christmas Table Arrangements

Winter Wedding Reception Tips

Pictures are copyrighted and cannot be used without written permission © 2008 - 2015 unique-reception-theme-wedding-ideas.com ® All Rights Reserved
Click Here to read our disclosure regarding affiliate and advertising sponsors.