Are You Looking for a Great Looking and Tasty Fruit Wedding Centerpiece?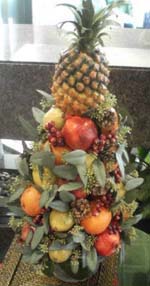 For an inexpensive, idea for your reception centerpieces, use a fruit wedding centerpiece. 
They are easy to create, are a fraction of the cost of fresh flowers and are functional.

When deciding on which fruits to use, keep in mind citrus fruits coordinate well with green, orange and yellow themes, while grapes, apples and pomegranates go with purples, reds, and pinks.  Try using fruits that are in season, as they tend to be less expensive and have a fuller taste.


Brides who have a lot of talent and want to express themselves can do so by creating melon centerpieces.  Keep in mind that some fruits have a short shelf life and you will need lots of refrigerator storage space when creating your artwork the day before your reception.  If your heart is set on having melon centerpieces, elicit the help of your friends because the closer you get to your special day, the more demands there will be on your time.
You can decorate a clear glass vase with seasonal fruit, or fruits that coordinate with your color scheme.  The fruit can be sliced or whole depending on your personal taste. 

Imagine the wonderful aroma that will be created if you use sliced citrus fruit. 


Another Fruit Wedding Centerpiece with Flowers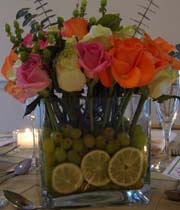 Adding some flowers will give a more dramatic effect to the above centerpiece.  Placing votive candles around the arrangement will create an added touch of glamor to your unique centerpieces.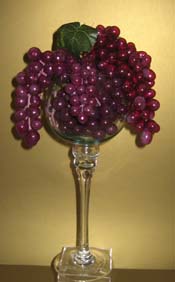 More ideas for a fruit wedding centerpiece

Setting grapes in a long stem, glass goblet, created the above table decoration. Placing the centerpiece on a mirror and decorating the stem with green leaves can enhance this idea.
Create an avant-guard look by cutting greenery from trees and bushes from your garden. Wash and dry the leaves then use them as filler between the fruit.
Placing whole fruit in a decorated basket will create a very simple and extremely functional centerpiece.
A clear glass chip and dip set, will look exquisite by placing a candle in the dip bowl section and red Bing cherries in the dip compartments.
If you are using long rectangular tables place a large candle in the center of the table, have vines of leaves surrounding the candle extending out toward the ends of the table. Then place red apples and green pears on top of the vines creating an elegant old world look.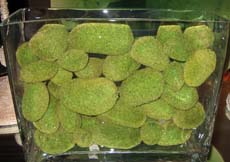 Guests like to mingle and talk with each other, so my advice is to keep your fruit wedding centerpiece low to the table and allow your guests to eat, drink and be merry!

I'd really like you to view my fabulous ideas on my welcoming page.

Wedding Centerpiece Ideas

Edible Table Arrangements

Candy Arrangements

Watermelon Delights

Pictures are copyrighted and cannot be used without written permission © 2008 - 2015 unique-reception-theme-wedding-ideas.com ® All Rights Reserved
Click Here to read our disclosure regarding affiliate and advertising sponsors.