Why Are Tall Wedding Centerpieces a Great Decoration Choice?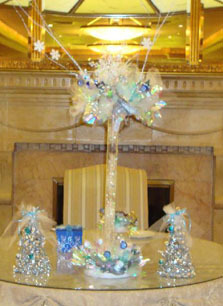 Tall Wedding Centerpieces

Whether simple or grand, tall, thin, see through centerpieces are a good choice to decorate your wedding reception room because they encourage conversation and are spectacular to look at. 
Tall table arrangements can take a plain, ordinary room and transform it into an elegant, opulent reception hall.

The centerpiece at the top of this page was created by using a very tall thin vase. The top and inside of the vase was decorated with colored boxes wrapped with shimmery paper. Notice the bottom of the vase has the same arrangements, only a lot smaller and lower to the table thus fostering conversation. What a sweet idea!

Looking for stunning tall wedding centerpieces that aren't  gaudy?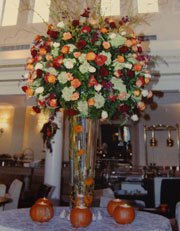 The above centerpiece was assembled using a tall, thin, clear vase with a full bouquet of flowers on top.  A few brightly colored flowers were added to the vase along with the flower stems so
that there was some color at the lower level.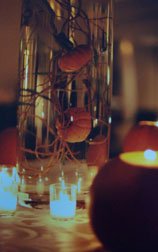 Another idea would be to add some miniature pumpkins to the vase instead of flowers as shown in the above photo.
The small pumpkins situated around the centerpiece, were carved out and a candle was placed in each pumpkin to give a warm glow to each table.  Notice that the guests can have a conversation without being distracted or hidden by the centerpiece.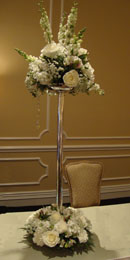 Another tip for tall wedding centerpieces is to use a metal stand and place an arrangement on top and then decorate the base with the same flowers or you can use decorations from your theme.  Say you are having a winter theme; the base can have snowflakes and faux ice.  If you're having a beach theme, you can scatter sand on the base and incorporate sea shells and pieces of coral.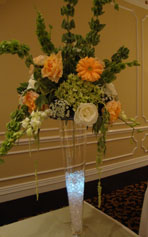 This is a really pretty centerpiece and is very simple to create.  Purchase a clear tall vase, fill the bottom with marbles or cut glass and then place a battery operated tea light among the stones.  Have a floral centerpiece in your color scheme made for the top and you have a very expensive looking table decoration for a small amount of money.

Tall Wedding Centerpieces on a Budget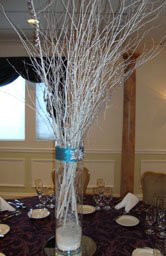 A tall wedding decoration can be created using twigs, ribbon, sand, and a clear vase with a mirror base.  The above table decoration is inexpensive to create, can be assembled ahead of time and looks like a "million bucks."  You can purchase or snap twigs from the woods or a nearby park.  Spray paint the twigs to match whatever color scheme you have chosen.  As an added bit of glam, you can sprinkle the twigs with glitter while the paint is still slightly wet.
For those brides that are on a strict budget, consider purchasing a tall candle holder at a discount store and place a candle with or without a hurricane lamp on the top of the candle holder.  Your room will have a warm glow and look quite elegant.
Another tall centerpiece idea is to purchase a clear vase and fill it with wrapped candy in your color scheme.  Your centerpiece will double as a table decoration and candy for your guests to enjoy.
Feathers make quite a splash as tall table arrangements.  The below centerpiece can be purchased by visiting Koyal Wholesale.com  you can buy your feathers, vases and other wedding supplies at wholesale prices too.

Tall Wedding Centerpieces from KoyalWholesale.com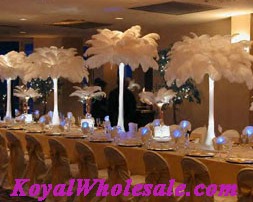 How about the below centerpiece that mixes white and orange flowers in a tall clear vase filled with clear water. If you would like more coloring add orange food coloring to the water and you'll have a bit more color.  Be careful not to add too much as you don't want the white flowers to pick up on the orange food coloring.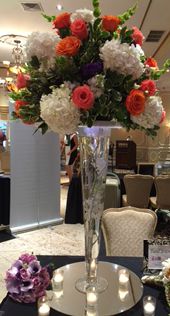 Tall wedding centerpieces are easy to create and are only limited to your imagination and budget. Check out my other centerpiece pages for more ideas and pictures that will help make your celebration more beautiful and memorable.

Want some help? Come view this page.

Table Decoration Tips

Wedding Reception Centerpiece Ideas

Pictures are copyrighted and cannot be used without written permission © 2008 - 2015 unique-reception-theme-wedding-ideas.com ® All Rights Reserved
Click Here to read our disclosure regarding affiliate and advertising sponsors.