Need Beautiful Wedding Table Centerpiece Ideas?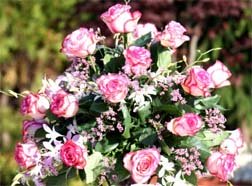 Wedding Table Centerpiece Ideas 


Every bride dreams of a romantic wedding that will dazzle her guests so she will spend a lot of time and effort during the planning phase.  Your table centerpieces are an important part of your reception as they set the tone and mood for your big bash.

Take a look at the two pictures below and decide which type of arrangement will work best for you.

I recommend using table arrangements that are low to the table or high up on a pedestal thus enabling your guests to talk and mingle with one another.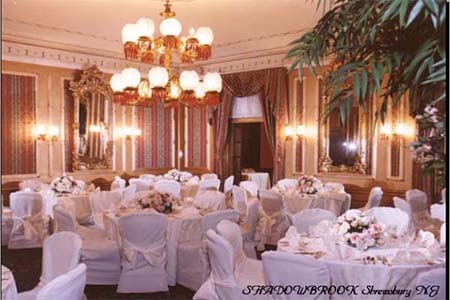 It's a good idea to decide how much of your budget you want to dedicate to your centerpieces.  Elaborate floral centerpieces can cost upwards of $100 per table if you use a professional florist.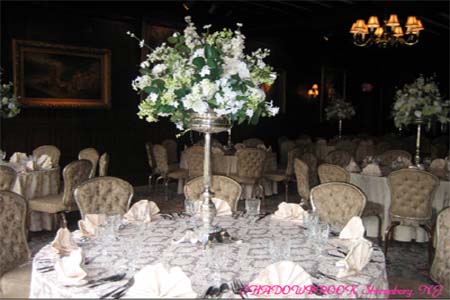 If you're talented and have friends who are willing to help you assemble your floral arrangements you can cut the above cost in half.  Be sure you have enough refrigerator space or another place to store your arrangements after they have been designed and put together.
Another elaborate, expensive centerpiece that has an art deco flair can be created by using a tall clear tube with a colored light placed in the base of the tube.  At the top of the tube arrange an assortment of white, 20-inch plumes.  You can vary the color of the lights to incorporate your wedding color scheme or you can use the same color for each table.

More Wedding Table Centerpiece Ideas that will delight your guests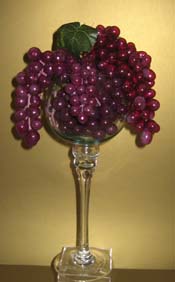 I helped one bride create her table arrangements by purchasing a tall, clear container and arranged red grapes in the center that also cascaded down the side.  Total cost was about $15 and everyone raved about how beautiful they looked and how much they enjoyed nibbling on the grapes before the food was served. This arrangement can be expanded by placing grape leaves around the base of the stem.
If you're working with a very limited budget purchase small clear vases at a dollar or discount store and fill them with sand, colored marbles or glass, a floating candle, one fresh flower and then surround the vase with whatever you have chosen to put into the vase.  One bride floated a red rose in each vase and scattered rose petals around the base. 
Try not to get caught up with keeping up with the Jones'.  By using your imagination you can create fabulous centerpieces by using flowers, leaves, branches, pebbles and other items that you might have right in your own backyard.

Additional Wedding Table Centerpiece Ideas
Edible centerpieces such as, a cupcake tower, candy topiary and a fruit basket serve a duel purpose of being your centerpiece and something for your guests to enjoy eating.

This wine stopper bottle centerpiece also served as a wedding favor, which turned out to be very cost effective.
Think out of the box and let my wedding table centerpiece ideas guide you in creating the table decoration of your dreams.
Check out my other ideas here.

Wholesale Table Arrangements

Wedding Reception Table Ideas

Pictures are copyrighted and cannot be used without written permission © 2008 - 2015 unique-reception-theme-wedding-ideas.com ® All Rights Reserved
Click Here to read our disclosure regarding affiliate and advertising sponsors.