Wedding Flower Centerpieces - Why They're Your First Choice!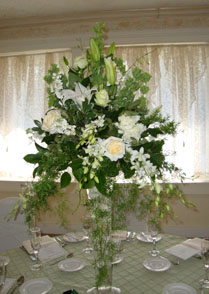 Wedding Flower Centerpieces


Your wedding day is approaching and now you're starting to focus on your centerpieces for your reception. 

Choosing a centerpiece is easy, choosing a terrific centerpiece is a little more complicated. You want your table arrangement to add energy and beauty to your reception.  You also want your centerpiece to spark conversation between your guests. 

Where to begin?

The first order of business is to decide how much of your budget you want to allocate to your centerpieces.
Next you will decide if you want your wedding flower centerpieces to follow your wedding theme and color.
Do you want fresh posies, silk or dried flowers?
Finally, you need to choose the style of centerpiece that coordinates with your wedding venue.
Now that you have those questions decided, let's begin planning your arrangements.
Personally, I prefer fresh floral centerpieces. They add a sense of opulence to a formal wedding and depending on which flowers you choose, they can bring a beautiful scent to your room.
On the other hand, silk arrangements can be made ahead of time, stored and be as fresh as the day they were made.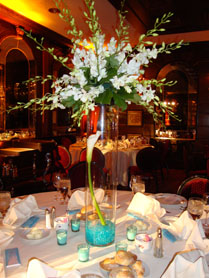 Remember, your wedding flower centerpieces should foster conversation between your guests. They should either be low to the table so your guests can see over them or placed high up on a pedestal or in a thin, clear, tall vase with the arrangement at the top.

Wedding Flower Centerpieces for Contemporary Themes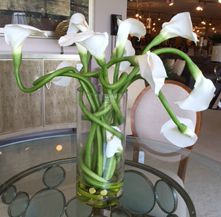 The above Calla Lily centerpiece looks great with an avant-garde theme.

For a very modern look, use a clear container and submerge the flowers in the water and float a candle on top or place tea candles around the centerpiece.

Vintage Flower Centerpieces

Many brides choose a Victorian bridal theme and select a romantic floral table arrangement of fresh flowers.  A really pretty centerpiece can be created by purchasing hand painted metal containers or boxes decorated with lace.  Fill the containers with roses, lilacs, hydrangeas and eucalyptus.  Pearls and diamond studded brooches are a popular vintage accessory that can be placed at the base of the centerpiece.
Winter Themes

Choose winter wedding flowers such as, white roses, chrysanthemums, carnations or snow drop flowers and mix in some ice blue snowflake ornaments and crystal icicles.  Spread some snowflake glitter around the bottom of the arrangement to create a wintery feel to your otherwise warm wedding.

Christmas Themes

Christmas provides a wonderful opportunity to create a unique centerpiece.  Purchase a clear container and have your florist fill the container with white roses, red poinsettias and green garland.  Then tape two candy canes together and place the candy canes between the roses and poinsettias.

The below calla lily centerpiece is elegant yet very simple.  The bride coordinated teal stones, candles and candy favors to match her color pallet.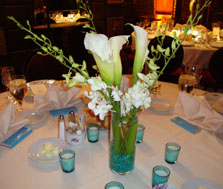 Your wedding flower centerpieces are the focal point of your reception. Take your time planning your flower arrangements and let your imagination take over. Doing this will help you create beautiful flower centerpieces that will compliment your theme.

Need advice? You've come to the right wedding site.

Wedding Centerpiece Ideas

Calla Lily Centerpieces

Wedding Flower Arrangement Ideas

Pictures are copyrighted and cannot be used without written permission © 2008 - 2015 unique-reception-theme-wedding-ideas.com ® All Rights Reserved
Click Here to read our disclosure regarding affiliate and advertising sponsors.