Cheap Wedding Ideas and Free Advice to Plan your Romantic Wedding!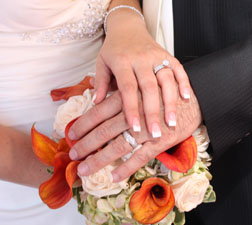 Don't let the words, Cheap Wedding Ideas turn you off, instead come on a journey with me by embracing my ideas and have the ceremony and reception of your dreams. Whether it be an elegant, sophisticated, trendy or casual affair, your guests will be delighted by how lovely and romantic your inexpensive wedding was.
We will explore some inexpensive wedding ideas together and come up with a wonderful plan tailored just for you.
The first order of business is to determine how much you have to spend on your entire wedding for your special celebration. Once you know your budget and the limit that you can comfortably afford, make a list of items that you want to spend your money on. Let's include everything that you can think of and then you can decide what is important and what can be eliminated.
Typical costs include: invitations, response cards, stamps, wedding attire (dress, veil, undergarments, garter, shoes, purse), make-up, jewelry, hair stylist, photographer, videographer, decorations, music, ceremony (church, synagogue, mosque, City Hall) officiate, flowers, reception (food, beverages, cake topper,) favors, transportation, and gifts.
When choosing your venue, keep in mind that the off months for weddings are January through March and therefore, the vendors are more willing to work with you regarding price. Let's face it, it's better to have business at a smaller profit than no business at all. The same holds true for the day of the week. Saturday and Sunday affairs are more expensive than Friday's and mid week dates.
If you're thinking of having your reception in your home, park or any location that does not cater for parties, remember to add in the cost to rent tables, chairs, a tent, tablecloths, napkins, dishware, lighting and silverware. If you are not fussy about everything matching, you can ask your friends and family members to lend you some of the above items.
More Cheap Wedding Ideas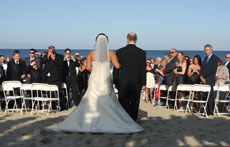 Venue Ideas
How about considering getting married and having your reception on the beach. The cost of a beach permit would be much less than the donation to a church, mosque, synagogue, or reception hall.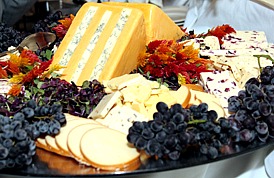 Cheap Wedding Ideas and Food Tips
You could even ask your close friends and family members to bring platters of food and you could fill in with a few items from a local supermarket or bakery.
Invitation Ideas
With today's computer graphics and laser printers you can print your own invitations and with the help of a talented friend, co-worker or family member your invites will look professional. If that seems like too much of an effort or imposition, check out some websites that feature inexpensive invites.
Cheap Wedding Ideas for your Bridal Dress
Another cheap idea would be to shop around for your wedding dress and attire, keep in mind that some dress manufacturers sell directly to the public at a fraction of the cost. Other alternatives would include: borrowing a dress, looking in the classified ads, purchasing a dress by going to a discount store, looking for an "off the rack" dress at a department store or a consignment shop. You might even find a dress that was never worn. I know a bride who purchased her gown from a dry cleaner who was selling garments that had not been picked up after they were dry-cleaned.
Beauty Tips
Cosmeticians and hair stylists can be expensive, so if you're not comfortable doing your own hair and makeup, check with people that sell makeup. More often than not, they will do your makeup at no cost, if you purchase some of their cosmetics. Remember to have a trial run before your wedding day. Hair stylists typically do not work for free, but you can ask for a "wedding special."
Accessories
If you compliment your friends and family members on their jewelry and ask nicely, they probably would be honored if you borrowed their necklace or earrings.
You can also ask some recently married friends if you could borrow their accessories.  If not, take a look at "Hair Comes the Bride" Accessories by clicking on the link below.

Photo Tips
How many times will you look at your picture album or video? A cheap wedding idea alternative to hiring a professional photographer or videographer is to ask a few trusted friends if they would be willing to take your pictures for you. If that is not an option, go to your local college and talk with the photography professor. Ask if he/she knows of any talented students. You can view their work ahead of time and determine if you want to hire them at a fraction of the cost of a professional.
Music Ideas
DJ verses band, a band is more expensive than a DJ and is a matter of personal preference. Again you can go to a local college, and do as mentioned above.
Ceremony Thoughts
Most religious houses of worship will work with you if you discuss your financial situation with them ahead of time.
Additional Cheap Wedding Ideas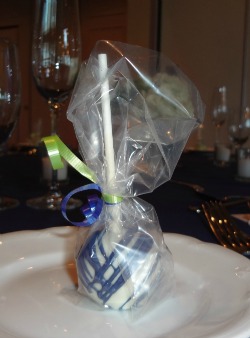 Favor Savers
Favors are also a matter of personal choice and can be left out altogether if necessary. However, if you are determined to give favors, a cheap wedding idea that works would be to place candy kisses in tulle, tie with a ribbon and hot glue a rosette to the ribbon. Hint: Chocolate melts, so if you're getting married in the summer months make certain that you keep your chocolate favors out of the heat. You may want to consider wrapping hard candy or nuts instead of chocolate.
Another inexpensive favor would be to have lolly pops wrapped in cellophane as shown above 

Transportation Tip
Transportation can be as simple as asking a friend to chauffeur you around for the day.
Flower and Centerpiece Tips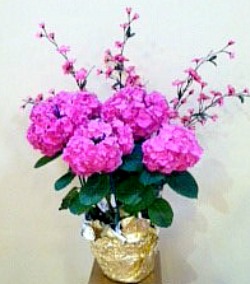 Use the flowers that are in season for a less expensive alternative to orchards, roses or lilies.
Consider purchasing a potted plant as your centerpiece.
Gifts
The gifts you give are from the heart and don't have to be extravagant.
I do hope these cheap wedding ideas work for you and help make your wedding day memorable.
Go from
Cheap Wedding Ideas
to
Unique Reception Theme Wedding Ideas Home
Pictures are copyrighted and cannot be used without written permission © 2008 - 2015 unique-reception-theme-wedding-ideas.com ® All Rights Reserved
Click Here to read our disclosure regarding affiliate and advertising sponsors.