Unique Wedding Ideas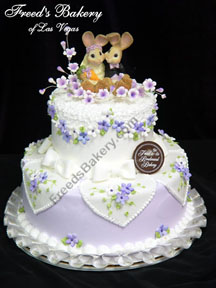 Unique Wedding Ideas For Your Special Day
You have recently become engaged and are excited to plan your wedding and start your life as a married couple.
You've been gathering information and want some ceremony and reception ideas that will make your special day unique and not like all the other weddings you have attended. Well, sit back, relax and enjoy reading about my unique wedding ideas.
The first order of business is to choose what time of year you and your fiance would like to be married. If you are planning a religious ceremony, speak to your pastor, rabbi or imam or whoever will officiate at your service. Determine which dates the church, synagogue or mosque is available.
Once you have a few dates set aside, you can begin looking at places to hold your reception. Some reception halls are booked a year or more in advance, so begin your search as early as possible.

Note: You will have more choices of reception places if you are not looking to get married within the year.
More Creative Wedding Ideas
Let's examine some unique wedding ideas. Did you know that you can be legally married by a friend or relative once they have been legally ordained to do so? Ordination occurs when a person fills out an online form from a ministry that will ordain anyone who wants to solemnize a wedding.
Some organizations may require a fee, an application or a statement of religious faith. Others may simply require contact information for their records. Some states require additional paperwork. Please make certain that you research the requirements of your particular state.
Additional Unique Wedding Ideas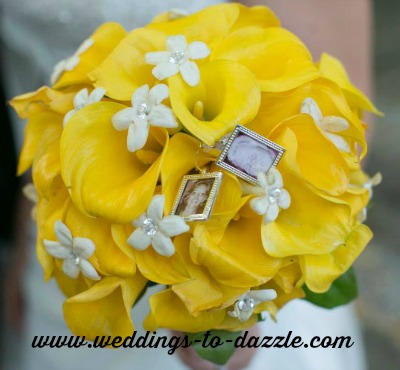 One beautiful bride decided to honor her deceased parents by placing a picture of them in her wedding bouquet. What better way to carry them in her heart on her wedding day!

Many couples are replacing the Unity Candle Ceremony with the Unity Sand Ceremony known for its beauty and sanctity, which captures the essence of the bride and groom becoming one. Couples can choose different colored sands based on their preferences and fill the "Unity Vase" or any container while they are reciting their wedding vows.
The vase or container can be taken home and displayed on a counter, bookshelf, mantle, table, in a china closet, or any other place of honor symbolizing the joining and beginning of your life together.
Vows

More and more couples are choosing to deviate from traditional vows and tailor their wedding vows to be more meaningful and romantic. When you speak from your heart and affirm your love, you give each other a gift of "yourself."
You can talk about why your spouse completes you, why you want to live your life as a couple and what your spouse can expect from your love. If you are concerned that you will get nervous and forget what you want to express, you can write down what you are planning to say ahead of time and give it to your officiate who can help you along.

Favors

A friend of mine was stumped when she was trying to decide what she would give as favors. She wanted a unique favor but did not want their remembrance to wind up in a draw or in the trash. She wanted her favor to be functional and different.
We scoured the stores and did a lot of brainstorming and came up with the idea of "measuring spoons." These adorable favors will remind your guests of your marriage each time they use them. We decorated the measuring spoons with tulle and ribbons that matched her color theme and placed tags with "love sayings" on each one. Needless to say, all the guests were very pleased with our creativity.
How about this simple idea.  Purchase a bottle stopper and a small gift bag.  Wrap the stopper in white tissue paper and you have a great looking favor that is useful and will decorate your tables.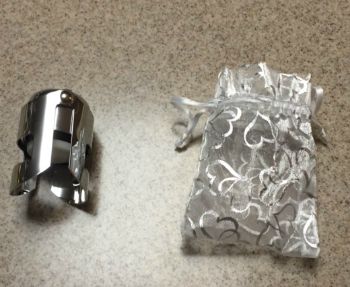 Unusual Entertainment

Sometimes it is difficult to come up with unique wedding ideas so, if you have a talented friend or family member that sings, dances, tells jokes or other form of entertainment why not ask them o perform at your reception? What better way to acknowledge their gift but to ask them to entertain your guests at your wedding.
My 92 year old grandmother made up a short, beautiful song and sang it to my husband and I at our wedding reception. She was a true gift and you can only imagine how emotional that was for us and for all of our guests.
Unique Wedding Ideas - Banner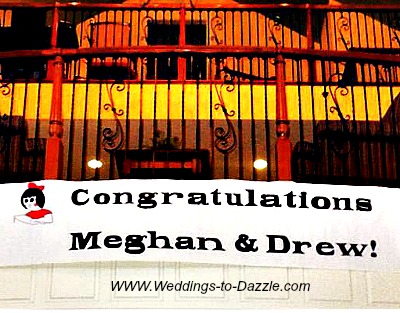 Delight your guests with a personalized banner as part of your wedding decorations.

Cake Toppers

How about having an unusual cake topper like the one at the top of this page or a traditional bride and groom topping your cake.

I do hope my unique wedding ideas have you started on your way to planning your perfect wedding.
Go from Unique Wedding Ideas to Unique Reception Theme Wedding Ideas Home
Unique Ideas for Wedding Ceremony

How about having an unusual cake topper like the one at the top of this page?
Pictures are copyrighted and cannot be used without written permission © 2008 - 2015 unique-reception-theme-wedding-ideas.com ® All Rights Reserved
Click Here to read our disclosure regarding affiliate and advertising sponsors.