Unique Wedding Dresses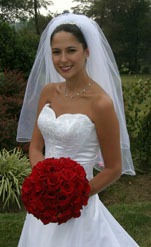 Unique Wedding Dresses
Brides begin dreaming of their wedding day from the time that they are little girls. You want your wedding to be perfect and you want to look spectacular but you're not sure where to begin looking for that ever so breathtaking dress.
Some brides see themselves in Cinderella type dresses while others envision themselves in slinky, strapless gowns. The choices are endless and you need suggestions, right?
This page is designed to help you explore the many styles and options available to you. Choosing the perfect type bridal dress isn't always easy, so I'm here to limit your frustration and guesswork. It is also my intention to make shopping for your dress fun and exciting.
Budget for Unique Wedding Dresses
One of the first decisions you will have to make regarding your bridal gown is how much of your budget you will set aside for your dress.
If money is not an object, then your options are limitless. You can choose a designer gown, create your own dress and have a tailor make it for you or you can pick a gown and make changes to suit your exact taste and style.
If you're a budget conscious bride you may want to borrow a family member or friend's gown. Perhaps your Mom or special aunt preserved their dress and you will have it freshened up and tailor the gown to fit you.
Some brides may have a friend or family member who is a good seamstress purchase a pattern and make your dress for you. Other cost conscious brides visit a consignment shop. Finders Keepers located at 269 Rt 35 North, Middletown, NJ 07701 has great bridal articles.  If you live in the area it certainly is worth a visit to find some of her treasures for yourself or for you bridesmaids or other people involved in your wedding. Other brides find their dress through the classified ads, e-Bay, Craig's List, or a garage sale.
Another option for the cost conscious bride is to rent your gown. An added bonus of renting a gown is that you don't have to clean and store your bridal outfit.
Most brides have a budget somewhere between, money is not an object, to, what's the least expensive dress I can find. These brides usually will go to a bridal store and choose a dress off the rack, or order their dress from a shop and have a few fittings before their special day.
Style for Unique Wedding Dresses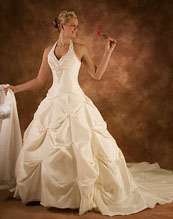 Consider the length of your gown. Do you want a short, tea length or to the floor bridal dress? Typically, formal weddings lend themselves to floor length gowns with long trains, while an informal affair is a great place to wear a short, less formal dress.
You may choose a dress to coordinate with your theme. If you're having a Fairy Tale theme wedding, you may wish to have a Cinderella type gown.
Another bride may choose a form fitting sheath dress to harmonize with a chic, modern motif. A simple sheath type bridal dress would also work well with a beach theme.
Whatever style dress you are interested in, be sure that the style of the dress compliments your figure.
Typically a small framed, very petite bride will look lost and cannot carry a big, puffy ball gown. Conversely, a tall bride can carry a fuller, puffy dress without overwhelming her frame.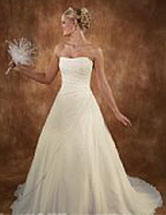 As the name implies, an A-line gown usually has a fitted bodice with the skirt flaring gently from the waist. A-line gowns are not as full as ball gowns, typically look good on all brides and work especially well for brides that want to hide their lower body imperfections.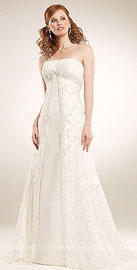 Napoleon's wife, Josephine, brought the high waist empire dress into vogue during the 19th century. This style bridal gown has a skirt that begins just below the bust.
Empire waist gowns are a good choice for a non formal wedding or a beach theme. They can be worn by pregnant brides as it gives more room in the stomach area making it a comfortable choice.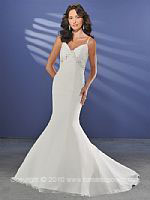 A mermaid or trumpet style dress has a tight fitting top then flairs out at the knees making it a good choice for a formal affair.
For more unique wedding dresses and ideas take a look at the site below, make sure to bookmark us and come back again.
Unique Wedding Dresses – Colors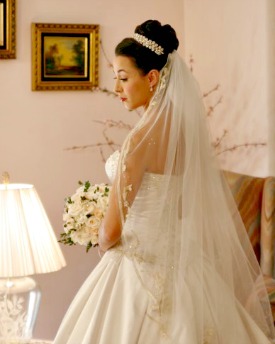 Most brides of the Western culture choose a white, off white, cream, egg shell or ivory dress; however, in China and India a red bridal dress is the norm.
If you're a bit daring or want to have a unique wedding dress, how about choosing a white dress with your favorite color as an accent on the trim or borders of your gown.
Neckline
The neckline of your dress should compliment your face and body type.
Strapless gowns are quite popular today but strapless is not your only option. Some large breasted women are not comfortable with a strapless gown believing it makes them look like they're busting out.
A few small breasted brides have said that the "bones" and wires used to hold the dress up, dug into their ribs making the dress uncomfortable to wear.
Other necklines to choose from include:
Strapless

V-Neck
Scoop Neck
Spaghetti Straps
Queen Anne
Halter
Sweetheart
Off the Shoulder
One Strap
Bateau
Choker
Cowl
Draped
High Neck
Notched
Plunging
Scalloped

Unique Wedding Dresses - Dare to be Different

So you're a bride who likes to be different, how about having two different looks for your bridal dress?
Have your dress made with removable straps. You can wear the straps to your ceremony and then - presto - strapless.
This is the same dress but it looks so different.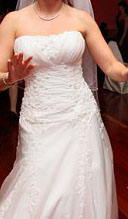 Unique Wedding Dresses – Sleeve Length
The temperature of a brides wedding day can influence her choice of sleeve length. It stands to reason that if you're getting married in a cold climate you may want to consider long sleeves, conversely, if it's going to be a hot sweltering day, a good choice would be cap sleeves or sleeveless.
A medieval or renaissance theme would call for a dress with long flowing sleeves which will probably be a little warm for the bride who is getting married in the summer months.
Unique Wedding Dresses – Beads, Bangles and more
So, are you a glitzy person? If your answer is yes, than choose a dress with lots of beads and bangles.
Pearls and Swarovski crystals look spectacular on a gown but remember that they are expensive and you should keep their cost in mind when setting your budget for your dress.
If you're having a vintage theme, consider a Queen Anne neckline with lots of lace accents.
Ruffles are beautiful, romantic and girly, if you like the look, go for it!
Fabric for your Unique Wedding Dresses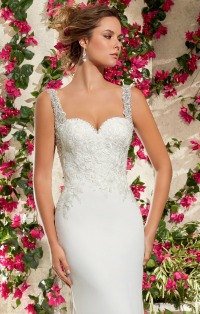 Choosing the right fabric for your gown is as important as choosing the right style. Many bridal gowns are created by using several different fabrics.
Satin and taffeta fabrics offer more body than other fabrics such as chiffon or georgette. Each material is designed to produce a distinct effect. Some fabrics stand away from the body while others cling to the body.
The climate of your area will also have some influence as to which fabric will work for you. If you're getting married in a cold climate, then a heavy satin will work, however, if you're getting married in a warm weather climate you may be more comfortable in a lighter chiffon fabric.
Other popular wedding fabrics include: silk, silk taffeta, silk charmeuse, tulle, cotton, crepe, brocade, gabardine, nylon, velvet and moiré.
Figure Flattering Techniques for Unique Wedding Dresses
If you want to appear thinner choose a high waistline such as A Line or empire style. Use vertical trim details and avoid puffy sleeves, ruffles and tight fitting fabrics.
For the petite bride who would like to appear a bit taller choose a high neckline, empire waist and a cap or sleeveless dress. Too much puff will overpower a small bride.
A drop waist, or waistline adornments will aid the bride who wants to appear a bit shorter.
Remember it's your day, choose a dress that you're comfortable wearing and makes you feel gorgeous.
I do hope my unique wedding dresses tips help you to find your perfect dress.
Go from
Unique Wedding Dresses
to
Unique Reception Theme Wedding Ideas Home
Catherine's Bridal Boutique
Just like gowns, brides come in all shapes and sizes. Use this guide to assess your body type, and learn some valuable do's and don'ts.
Perfect Wedding Dress Finder
Looking for that perfect dress? Save yourself time, money and frustration! Learn how to choose, find, and buy the dress that is perfect for you by using these helpful tips.
Pictures are copyrighted and cannot be used without written permission © 2008 - 2015 unique-reception-theme-wedding-ideas.com ® All Rights Reserved
Click Here to read our disclosure regarding affiliate and advertising sponsors.