Are You Looking for Fall Wedding Centerpieces?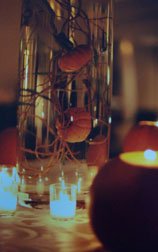 Fall Wedding Centerpieces

Come and explore my autumn centerpieces that will accentuate your fall theme. Autumn's flowers are rich in colors with bold shapes.

Inexpensive Fall Centerpiece Ideas

If you are on a tight budget you can create your own beautiful centerpieces instead of hiring a professional florist.  Craft and dollar stores tend to have large selections of inexpensive candles and silk flowers.  If you are a little unsure of your creative talent, I suggest practicing on one centerpiece before you purchase all the supplies you need.
Purchase an eight or ten-inch, cinnamon or apple scented orange, brown, gold or white candle that is about three inches in diameter. You can surround the candle with silk leaves that have vibrant autumn colors.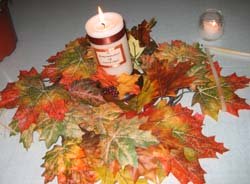 Want to be a little more elaborate, place your candle and silk leaves on a mirror base and strategically put little votive candles in between the silk leaves or surround the center candle with the smaller votive candles.
Another inexpensive fall centerpiece is to hallow out a pumpkin, cut out a face on the pumpkin and place a candle in the center.  You can then surround the pumpkin with any of the following: berries, gourds, corn husks, Indian corn or wheat.
Swirl a bittersweet vine around the top of a fat pumpkin for an instant decorative centerpiece.

More Expensive and Elaborate Fall Wedding Centerpieces and Ideas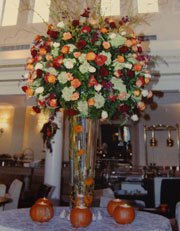 Before you visit your local florist goggle "Wedding Flowers," look through bridal magazines and books to get some idea as to what kind of fall centerpiece strikes your fancy
Potted amber mums with gold foil are quite beautiful for fall weddings.
Fresh flowers that are typically used for autumn wedding themes include: roses, daisies, chrysanthemums, marigolds,

More Fall Wedding Centerpieces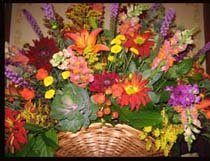 Another fabulous fall table arrangement that adds a touch of class to any reception is a cornucopia filled with pine cones, dried autumn leaves, berries, nuts, acorns, and gourds.

For a dramatic effect ask your florist if they can use a clear glass or gold colored container and intermingle fresh fruit and flowers.
Whether you make your own centerpieces or hire a professional florist, remember your guests will want to talk to each other, so keep your fall wedding centerpieces low to the table or place them high on a pedestal.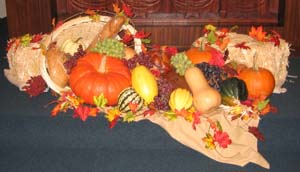 New ideas and tips can be found by visiting my introductory page.


Wedding Centerpiece Ideas

Fall Wedding Themes

Pumpkin Centerpieces
Pictures are copyrighted and cannot be used without written permission © 2008 - 2015 unique-reception-theme-wedding-ideas.com ® All Rights Reserved
Click Here to read our disclosure regarding affiliate and advertising sponsors.