Linen Wedding Dresses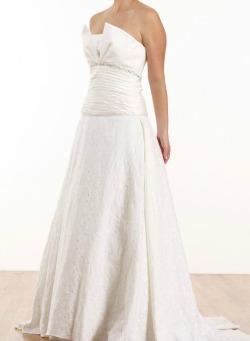 Linen Wedding Dresses

The dress that you select for your special day depends upon the formality of your ceremony, the reception and your own preference.
Educate yourself by looking through bridal magazines, talking to recently married brides, reading articles on the Internet and going to a few bridal stores.  Once you're armed with information you can begin making some decisions about your dress.
If you are having a beach, garden, outdoor or destination wedding, linen will be a good choice of fabric because linen is a cloth made from the fibers of the flax plant.  The manufacturing of linen is a labor-intensive process and is desirable for its exceptional coolness and durability in hot weather.

If you will be married on the beach and will be walking in the sand, look for a shoe with a low heal or a ballerina type slipper.  I was at a beach reception not too long ago and the bride was wearing beautiful, very sexy four inch heels.  However, watching her struggle to walk in the sand wasn't sexy or attractive at all. 
Another thought, linen wrinkles easily and you should be prepared to have your gown professionally steamed.  If you are planning on ironing your dress yourself, be sure to use a cool iron and press your dress inside out.
Finding linen wedding dresses may be a bit of a chore. I've scoured the internet and didn't come up with too many ready made options for white linen gowns.  If you are open to wearing a short or colored dress, you will find many more choices.  Do try Ann Taylor, J. Crew and your local department stores.
For those brides that have their heart set on a white linen gown, have no fear, you can go to a tailor and have your dress made.  You can bring a picture of a dress that you love and customize it to your exact style, color, train length and whatever embellishments you desire.  You can take a plain dress and make it fancy or you can change the hemline from symmetrical to asymmetrical, the sky's the limit, it's your choice!
You are the center of attention on your special day, so take your time choosing your dress and I'm sure you will look absolutely ravishing.
I do hope my linen wedding dresses ideas have helped you. If you're looking for more dress ideas click on the links below or contact me directly and I will be happy to help you.
 


Let's explore some more ideas at our Welcome page
Unique Wedding Dresses

Casual Beach Outfits
Pictures are copyrighted and cannot be used without written permission © 2008 - 2015 unique-reception-theme-wedding-ideas.com ® All Rights Reserved
Click Here to read our disclosure regarding affiliate and advertising sponsors.