Daring Red Wedding Dresses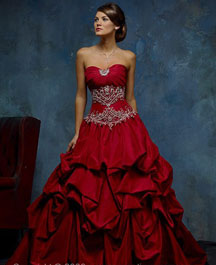 Oh! So daring, brides in their
Red Wedding Dresses
Move out-of-the-way white, red is taking over as the latest rage in bridal dresses.

If you're tired of the traditional white bridal dress and want to be adventurous and sexy in your bridal gown consider wearing a red gown.


A red wedding dress will also work well with a Christmas, 4th of July or Valentine's theme.
OK,  so they won't be playing "Here comes the bride all dressed in white" if  you wear a red dress, however,  your friends and family will remember your special day for a long time to come and you will feel comfortable stepping out of the traditional white dress.
Western brides traditionally wear white because they are symbolic of a woman's virtue and purity. They think a red gown is taboo.  What they don't realize is that in the Hindu, Buddhist and Vietnamese cultures, red symbolizes good luck and auspiciousness.

The traditional white outfit became fashionable in 1840 when Queen Victoria wore a white gown for her marriage to Prince Albert.  Prior to that, most women wore their "Sunday Best" without any concern for color.
Still not sure you want to look at Red Wedding Dresses?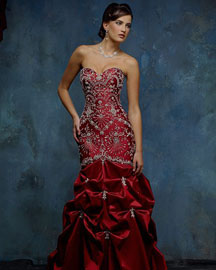 The above strapless mermaid taffeta gown has a sweetheart neckline and has beautiful embroidery and beading along the bodice. The scattered beading at the pickup points on the skirt gives an opulent look to the gown. This ensemble has a chapel length train and a lace up back.
Why purchase a dress that looks the same as all the others?  This Cinderella type designer bridal gown is an extremely unique gown featuring a halter top fitted to the drop waistline and is accented with beautiful blush beads and crystals.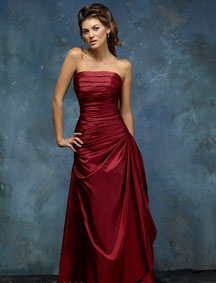 The above strapless dress has pleats from the bust line to just below the drop waistline.

If you can't find what you want in bridal gowns, take a look at bridesmaids dresses and see if you find your dream dress among the bridesmaids ensembles.
More Red Wedding Dresses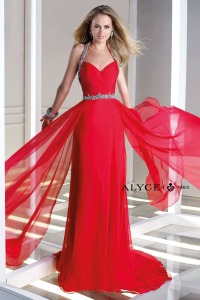 This modern and sophisticated evening dress features a sweetheart neckline, beaded waist and halter straps. You'll have a modern and sophisticated look in this long gown which features a ruched bodice,  and cascading sheer layered silky chiffon skirt with flowing train. Any bride would look fabulous all night in her gorgeous gown.
Most brides will look spectacular in this strapless pleated taffeta dress with crystal accents around the bust line.  This dress also has a crystal broach just below the left bust line.

The above gorgeous dress is actually a prom dress that is sophisticated enough to be worn as a wedding gown.

Still not able to find a red bridal gown - look for a white gown and ask if the dress can be ordered in red. If not, take a picture of the dress to a seamstress and inquire if the dress can be made in the fabric and color of your choice.
So you're not certain you want a totally red dress? How about a white gown with a touch of red? You can be stunning with a two tone bridal dress or a gown with a red panel, sash or red boarder. You can choose a daring red dress with crystal beading to add some texture and glam to your ensemble.
No matter what your style, red wedding dresses are definitely in vogue. There are many designs, patterns and fabrics to choose from whether you are looking for an elaborately embellished bridal gown or a simple bridal dress. If red is your color, go for it and don't let anyone sway you otherwise.
Best Bridal Dresses is a motor store as well as an Internet store.  If you haven't seen what you are looking for on this page please check the link below for all your bridal needs.

Choosing your bridal dress is fun but can be difficult, so I do hope my tips and ideas have helped you sort out what you are searching for to wear on your magical day. If you have any questions please contact me.

Looking for other red wedding dresses and bridal outfit ideas? Check out my links below.
Unique Wedding Dresses

Tips for Shopping Online

  Christmas Gowns

Indian Wedding Outfits
Pictures are copyrighted and cannot be used without written permission © 2008 - 2015 unique-reception-theme-wedding-ideas.com ® All Rights Reserved
Click Here to read our disclosure regarding affiliate and advertising sponsors.