Gothic Style Wedding Dresses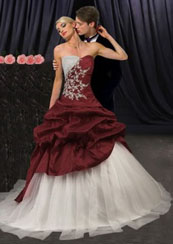 Beautiful Gothic Style Wedding Dresses
So, you're unique and like the Gothic and medieval style.  If you're comfortable wearing the style year round, then why not have a medieval theme and a Gothic dress?
Gothic themes are becoming more and more popular as brides are daring to be different and step away from the traditional white bridal dress.
What constitutes Gothic style wedding dresses?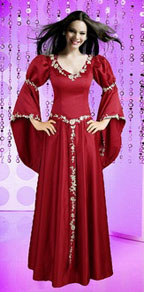 Deep dark colors with a dramatic flair. Black, red, deep purple, royal blue, burgundy and deep green are the colors most Goths choose. The accents can be gold or silver.
The above gown featured in red would also look great in ivory. Notice the shape of the long flowing sleeves.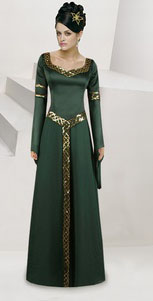 This Medieval  style dress would also look good in burgundy/gold, black/gold and royal blue and gold. It is made from thick bridal satin and is embellished in a gold Trinity Knot. It has a corseted back and long hand fasting sleeves.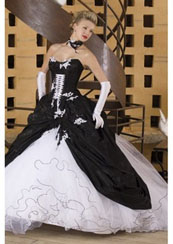 The above dress is less Gothic than the others, however, wearing black gloves with a thick or heavy necklace would make this dress work.

If you have a curvy figure consider wearing a tight corset top and flair bottom. For the brides that are a bit heavy, how about an empire waist dress with long draping sleeves and puff ruching at the top of the sleeves?
There are many fabrics to choose including rich velvets, heavy satin, lace and a touch of leather.
More Ideas for Gothic Style Wedding Dresses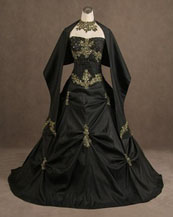 Beads and sequins adorn the bodice area and the top of the dress has lace gathered pleats with appliques throughout the entire dress. It has a matching wrap with matching appliques at the ends of the wrap.
To complete your Gothic look, you will need fabulous accessories including gold chains or belts, a delicate lace looking necklace, gloves, a hat fascinator with mesh net and a fabric rose.

Perhaps a long flowing cape to keep you warm in the evening will pull your entire outfit together.
Your undergarments could include black fishnet stockings, a garter belt, and a bustier.
If you're into high heels, how about stiletto's and a large gold Celtic cross around your neck.
Complete your bridal attire by carrying a Gothic style bouquet made with wild flowers or hearty dahlias.
Some brides like the Medieval look but want to wear a traditional white dress. To accommodate the traditional and Gothic, how about considering this fabulous, unique idea by having a colored cape (deep purple, burgundy or green) made to go over your white gown?
Additional Thoughts

Gothic dresses don't have to look haunted or ghoulish; they are pieces of art, styled from the medieval or renaissance period.
You probably won't find many Gothic style dresses in bridal saloons so I recommend looking on the internet for your elegant Medieval outfit. All of these fabulous dresses on this page can be found at gothicweddingdresses.webs.com Gothic Wedding Dresses, however, as of this writing the web page does not load.
Choosing a Gothic bridal dress is important and if you're having difficulty finding what you are looking for, please contact me through my web site and I will be happy to help you in your search for Gothic style wedding dresses.
More ideas can be found at our Introductory page

Unique Wedding Dresses

Black Dresses

Corset Wedding Dresses

Fairy Wedding Dresses


Pictures are copyrighted and cannot be used without written permission © 2008 - 2015 unique-reception-theme-wedding-ideas.com ® All Rights Reserved
Click Here to read our disclosure regarding affiliate and advertising sponsors.