Unusual Wedding Dresses for the Bride Who Dares to be Different!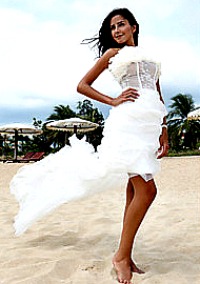 Unusual Wedding Dresses 
You've been dreaming of your wedding day since you were a little girl and it is my mission to help you find the perfect bridal dress for your romantic wedding day.

So you ask yourself, what is an unusual bridal outfit? Well that depends upon what you consider unusual. In my opinion unusual means something that is unique and very different from the "run of the mill."
An unusual  dress can fit in with any theme whether it is a vintage, modern, Gothic, summer, fall, informal, formal, winter or casual theme, it doesn't matter. 

You can have a distinctive gown by thinking of what your bridal dress will look like in your head and then going to a designer and have the dress custom made.  Another option would be to take a previously owned or new dress and redesign it to your specifications.

If you're a talented seamstress, you can create your own dress and make it yourself.  One word of caution, start early because you will become very busy with your marriage plans and you don't want to be stressed out if your dress is not near completion two months before your special day.

Unusual Wedding Dresses Can:

Have an illuminated LED dress. You can find a lighted dress from "Enlighted Designs." These gowns are made by installing about 300 warm white LED's throughout the skirt. The lights are placed randomly and the batteries are hidden inside the skirt and are turned on by remote control. You'll be remembered for being the most glowing bride.
Be made from unusual fabrics. I saw one runway dress made from peacock feathers. Another dress was made from fresh flowers while another was made from balloons. What a "Pop" that would be!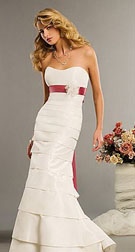 Delighted is the bride who chooses to add some color to her dress by adding a colored ribbon around her waist, or on the boarder of the dress. You may also have an all white dress and sprinkle some colored stones around the neckline or anyplace else that you deem appropriate. You may also choose a gown that is red, green, or whatever your favorite color is. See my link at the bottom of this page entitled "Wedding Dresses with Color."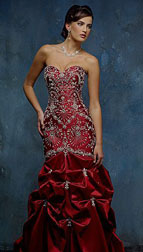 Unusual Bridal Dresses for Themes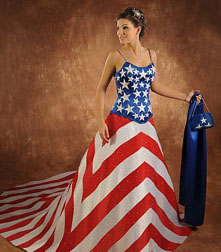 If you're getting married around a holiday you can use that holiday as your theme. Consider the above red, white and blue dress for the bride who is getting married on the fourth of July?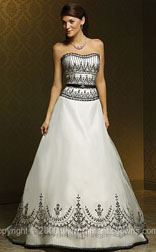 Unusual wedding dresses are not that difficult to find or have made. You just need to be creative and willing to put some time and effort into searching out exactly what you are looking for.
Consider wearing a traditional dress and then using an unusual hat made from tree branches, or a cascade of flowers. If you're incorporating black into your dress, think about wearing a top hat with a veil.
Your bridal outfit should reflect your personality and above all, be comfortable and make you feel gorgeous.
I do hope my tips and ideas for unusual wedding dresses are helpful to you. Please contact me through my form on the navigation bar if you have any questions or thoughts you would like to share.
Take a look at other wedding planning ideas.
Unique Wedding Dresses

Design Your Own Dress

Men In Wedding Dresses
Pictures are copyrighted and cannot be used without written permission © 2008 - 2015 unique-reception-theme-wedding-ideas.com ® All Rights Reserved
Click Here to read our disclosure regarding affiliate and advertising sponsors.