Short Informal Summer Wedding Dresses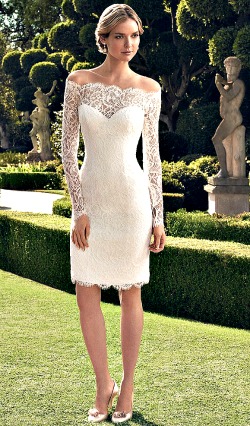 Short Informal Summer Wedding Dresses

Congratulations!  You're engaged to your Prince Charming and now you're planning the wedding of your dreams.

You're thinking of getting married in the summer because the summer is your favorite time of year or perhaps that's the only time that you can get away from work or school responsibilities and have a "hot honeymoon."

OK, so now we know it's going to be an informal summer affair and you're looking for short informal summer wedding dresses.  Well you've come to the right place.

A short dress works well for a bride who has fabulous legs and wants to show them off.
It's also a good choice because if it's hot outside you won't roast in a long gown. Additionally, your dress will go along with your summer theme.
Notice the above dress has long sleeves, however, they are lace and will not have you stiffing in the summer heat.

The above sassy, short dress is accented with a lace overlay, sweetheart neckline and lace over peek a boo top, with cap sleeves. It has a ribbon at the waist line and is perfect for a summer wedding.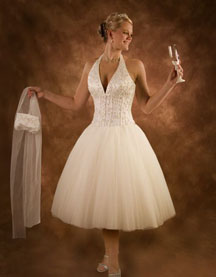 The above halter style dress with tight fitting bodice and netting skirt is perfect for the bride who may be a little big around the thigh area.

Short dresses also are appealing to the bride who may be having a destination wedding and doesn't want the hassle of transporting a long elaborate gown.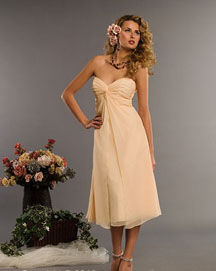 Short dresses are also less expensive than a traditional long gown. You have many options when looking for short informal summer wedding dresses.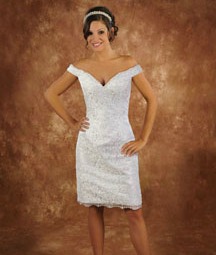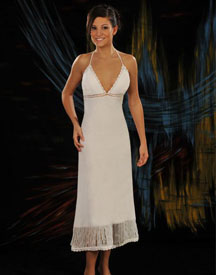 More Ideas for Short Informal Summer Wedding Dresses
Go to a department store or your favorite boutique and look through their short dresses and see if there is anything that you like. If not, try looking in the classified ads in your local newspaper. Next, try an online internet store.
I have displayed some short summer outfits that you may find appealing. Take a look at them and see what you think.
Instead of choosing a short summer wedding dress, how about a high-low hem line?
Even though you are wearing a short dress don't forget your garter! This garter set fills two purposes; one garter to throw during your reception and the other for your hubby to remove after you're settled into your room. I especially like this garter because it doubles for something blue.
Best Bridal Prices has beautiful dresses and accessories. Tap the link above and browse their site for your bridal needs.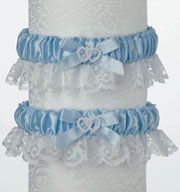 Your thought is to have an informal classy affair. So let's leave your flip flops at home and consider a comfortable elegant pair of shoes.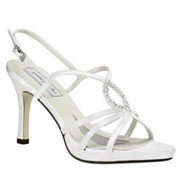 Sometimes finding everything that you need for your perfect day can be quite challenging. Take your time and read through this short informal summer wedding dresses page once again. You never know, something might pop out at you on a second reading.
Need more ideas? Come check out our Introduction Page.

Dressing for a Casual Beach Affair

Summer Ideas for a Dress

Beach Wedding Ideas


Pictures are copyrighted and cannot be used without written permission © 2008 - 2015 unique-reception-theme-wedding-ideas.com ® All Rights Reserved
Click Here to read our disclosure regarding affiliate and advertising sponsors.