Bridal Shower Centerpiece Ideas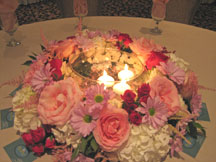 Bridal Shower Centerpiece Ideas
So you're throwing a bridal shower for your best friend, sister, cousin, aunt, or whoever. You want everyone to have a good time and you want the bridal shower centerpieces to make a positive statement but you don't know where to begin. Below are some great ideas that will make your bridal shower table arrangements a huge hit!
Sit back, relax and let's put our thinking caps on. Do you want the centerpieces to reflect the wedding theme, or do you have something else in mind?
Bridal Shower Centerpiece Ideas for Theme Weddings

If the bride has chosen a Cinderella Wedding Theme, you can purchase a wire Cinderella carriage and decorate it with flowers that coordinate with the bride's color scheme. Or you can purchase a glass slipper and place wrapped candy in and around the slipper.
A beach wedding theme might lend itself to a sandcastle centerpiece or seashells in a container.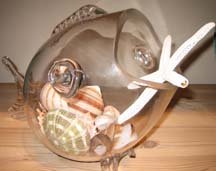 How about layering sand in a clear container using the bride's wedding palate and then placing little drink umbrellas around the base of the container.
Black and White bridal themes are very popular today, so if your bride has chosen this theme how about purchasing bride and groom teddy bears, put them on a stand and place red rose petals around the teddy bear's feet. Another unique black and white centerpiece idea is to place black and white petit fours on a pretty serving dish with a black bud vase and a white rose in the center of the serving dish.
Bridal Shower Centerpieces for Non-Theme Ideas
Keep in mind that not all wedding themes will work for your shower celebration. Say your bride is having a Christmas Theme, and you are planning the shower for September, it would be a little out of place to have a Christmas centerpiece during the fall.
Consider the personality of your bride and have the centerpieces reflect her individuality. If she likes to garden purchase a pail and fill it with packages of seeds (that the guests can take home) and decorate the pail by placing tulle around the handle and base of the pail.
Floral arrangements are always appropriate as centerpieces. How about a little something different and unique? Purchase an unusually shaped container and place fresh flowers in the center and have some branches intermingled with the flowers.
Your guests will want to converse with each other and see the brides gifts as they are being opened, so keeping the centerpieces low to the table or high up on a pedestal will facilitate conversation.
Remember to check out the Target Wedding Gift Registry
Additional Bridal  Shower Centerpiece Ideas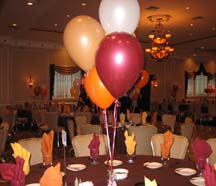 Balloons add a sense of "let's party" to a bridal shower. Have a few games planned and watch the women enjoy themselves.
Scented candles add aroma and warm light to a room. Consider using candles of different heights and place them in a tray surrounded with rocks for a sense of added elegance.
Unusual bridal shower centerpiece ideas are different and delightful!


How about creating your own centerpiece by rolling towels and placing them one on top of another? Then add some silk flowers and ribbons to decorate the centerpiece.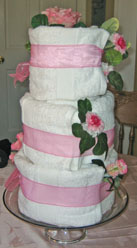 Be creative and let my bridal shower centerpiece ideas guide you to create a wonderful table arrangement for everyone to enjoy.
Ask the expert! Check out our home page.
Pictures are copyrighted and cannot be used without written permission © 2008 - 2015 unique-reception-theme-wedding-ideas.com ® All Rights Reserved
Click Here to read our disclosure regarding affiliate and advertising sponsors.