Unique Beach Wedding Ideas for the Couple Who Loves the Seashore!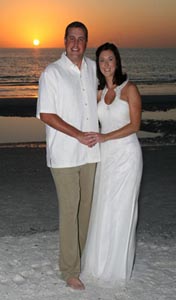 Beach Wedding Ideas
If you live near the seashore and are planning a beach wedding, you could not ask for a more relaxed and natural setting. 

As you pledge your undying love and devotion, you can depend on the ocean waves and the seabirds singing their beautiful songs to accompany your music. 

Beach themes are more relaxed and casual by nature, so you can opt out of the traditional wedding gown, choose a less formal gown or go with sandals and a white sundress.  Your hair can be in a pretty up-do with a beach theme clip or a flower that matches your color scheme.  You could also have the bridesmaids wear a clip or flower in their hair that match their dresses.  I would recommend an up-do hairstyle, as it can be quite windy on the beach and although long hair is beautiful, it can ruin your pictures if it is blowing around.

Tap the pictures below to get information on these great hair accessories.

You will need a canopy or tent as a shelter from the sun and possible, heaven forbid, rain. If you're planning on having dancing at your reception, you can rent a wooden dance floor. Also included on your to rent list are; tables, chairs, lighting and port-a-potty if necessary.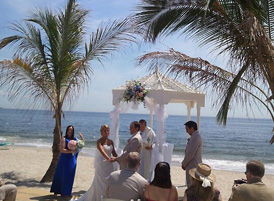 The above, Beach Wedding Ideas picture, is credited to PhotoByRockyT.com
Keep in mind that you may need access to the beach on a wooden walkway if you have any special needs guests. Be sure your special needs guests are alerted ahead of time and know that you have made provisions for them.
Insects and birds do not usually present a problem, but it is a good idea to talk to your caterer about protecting the food from flying and crawling critters.You also want to make certain that a flying bird cannot get near your food.

Instead of the traditional white guest book consider this beach themed guest book and pen.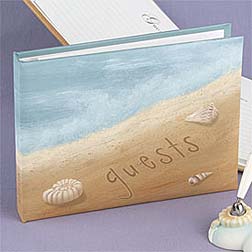 Other than table centerpieces and maybe some topiaries, and greenery, your decorations are the magnificent backdrop of the beautiful sand and ocean waves. Your centerpieces can consist of citronella candles (which will double as insect control) decorated with ivy around the base.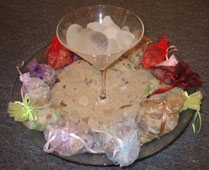 Consider using this beautiful centerpiece that has fabric bags filled with jelly beans. Wella! Not only do you have an inexpensive centerpiece you also have your favor.

Another great idea is to purchase Styrofoam cut out the letters of your names and decorate the letters with sea shells or colored sand that coordinates with your color pallet.  

Beach Wedding Ideas Photo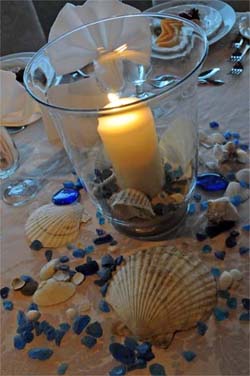 If you are marrying at a public beach, check the town's ordinances to determine what, if any, restrictions apply. It is also necessary to find out if a permit is needed and what the cost will be and if they have liquor limitations. 
Keep in mind that if you're getting married at a private beach, then no need to concern yourself about uninvited guests.  However, if you are marrying at a public beach, avoid unwanted onlookers by choosing an off-peak time of day.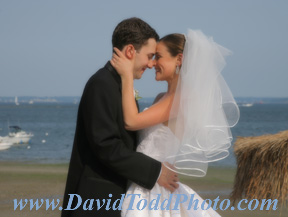 Beach and tropical themes are becoming more and more popular and using my beach wedding ideas will help you plan your very special, magical day.

More planning ideas can be found here.

Unique Outdoor Wedding Thoughts

Garden Wedding Ideas
Pictures are copyrighted and cannot be used without written permission © 2008 - 2015 unique-reception-theme-wedding-ideas.com ® All Rights Reserved
Click Here to read our disclosure regarding affiliate and advertising sponsors.