Cheap Wedding Party Gift Ideas That Will Delight your Attendants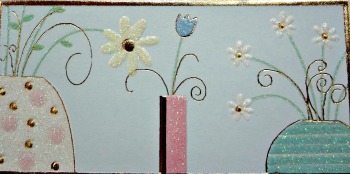 Cheap Wedding Party Gift Ideas

Your bridesmaids and groomsmen have been supportive and helpful in planning you wedding and now you would like to say "Thank You" with a gift. 
The only problem is you don't have much money left over for an expensive gift. Let's be creative and come up with some fabulous ideas.

Bridal party gifts should be something that is sentimental, lasting, practical or memorable and should reflect the way you feel about your attendants.  You do not have to give each person the same gift, but the monetary amount should be about the same.
For the bridesmaids you can purchase tote bags and have their initials monogrammed. Or give monogrammed stationery. 
By the end of the day your bridesmaids will be tired and their feet may be sore.  They'll be delighted if you've purchased them a pair of flip flops to change into.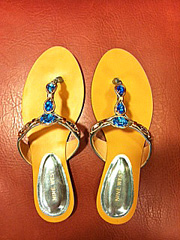 Tips for Cheap Wedding Party Gift Ideas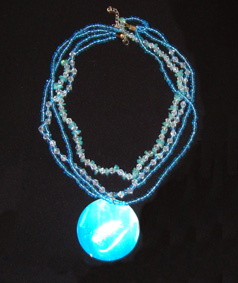 Go to your local department store on any super sale day and check out the price of beaded necklaces and or earrings.  If they match your color scheme, you get a double hit. Your gift will enhance their outfit on your special day and your bridesmaids will enjoy your gift after your wedding is over.
Create an album of pictures of you and your attendant, include captions and dates next to each picture. This is a cheap costing but great gift idea.
Compact mirrors are an elegant practical gift that all your bridesmaids would enjoy receiving.
Small, engraved jewelry boxes will be hit with your bridesmaids.
The groomsmen would enjoy engraved money clips or key chains.
If your groomsmen are into sports they would enjoy receiving a personalized sports duffel bag. The cost is cheap but it is a great gift.
As with the bridesmaids you can go into your local department store on any super sale day with your coupons and purchase cuff links.  Your groomsmen can wear them on your celebration day and thereafter.
Unisex gifts include giving personalized mugs or beer glasses and have your date inscribed on the gift. 
Other popular gifts could be a personalized leather photo box, cocktail shaker or wine cooler carry case.
For your attendants who like to travel, leather name and address tags, travel clocks, converters or money belts will be appreciated.


Cheap Wedding Party Gift Ideas that say "Thank You"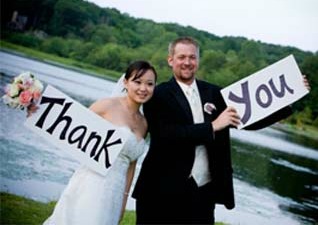 Choosing a gift that will excite and be memorable will come easily if you keep in mind the individual tastes of your bridal party. However, finding an affordable gift is another story, so use my cheap wedding party gift ideas as a guide and you will be off to a good start.
Want a magical wedding that you've always dreamed about? Check out my welcome page.
Cheap Wedding Ideas

Engraved Wedding Gifts

Inexpensive Wedding Gift Ideas
Pictures are copyrighted and cannot be used without written permission © 2008 - 2015 unique-reception-theme-wedding-ideas.com ® All Rights Reserved
Click Here to read our disclosure regarding affiliate and advertising sponsors.