Wedding Photography Techniques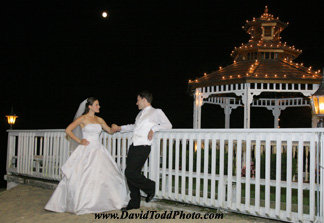 Wedding Photography Techniques
You're getting married and you want to find a wedding photographer that will not only capture your winning smile but will present you with pictures that are unique and creative.

So how do you go about finding the perfect photographer who has good photography techniques to shoot your wedding?
Ask your friends who were recently married.
Look in the yellow pages.
Explore the Internet
Go to Bridal Shows

Wedding Photography Techniques for Mirrored Pictures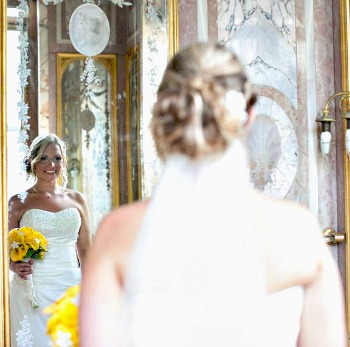 Notice that the photographer took this special effect shot without getting himself into the picture.  This is not easy to do and if you are having a non pro take your pictures make certain they practice before your wedding to get a great shot like the above.

How do you know your photographer has a keen eye for taking great pictures and how do you know if he/she is using the best wedding photography techniques to obtain your perfect bridal shots?
Color Balance is one of the techniques that your photographer will use to help create your perfect shot. In a nutshell, good white balance is achieved by adjusting the intensities of colors such as: red, green and blue. Proper color balance changes the mixture of colors in a picture and is used for color correction. It helps neutrals appear pleasing to the eye.
Our human eye adjusts to color fluctuations easily and we see white as white whether we are are looking at a white dress outside in the bright natural sun light or inside in a darkened room. Cameras on the other hand do not naturally adjust to color fluctuations so your photographer has different techniques to choose from and if he/she is experienced will choose the proper settings to obtain the right color balance for your pictures.
David Todd of Marlboro, NJ has great ideas and techniques that will definitely delight you and your fiancée.
Take a close look at the first picture on this page. David shot this picture in complete darkness using a long shutter speed to drag the existing light and balance for the moon. With all of this going on David's techniques were able to capture the romance between these newlyweds.
The idea of this picture is that it is not a traditional picture in the sense of a formal portrait. Placing the bride and groom on the floor creates a unique picture.
Wedding Photography Techniques and Special Locations
Adding a special location creates a passion for the photographer. Locations make an amazing background for the bride who wants to push the limit and have a fabulous black and white photo. Black and White photos are flattering for skin tones.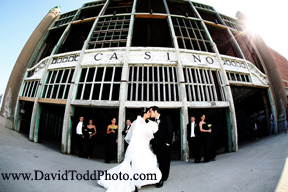 The above picture was taken at the same location as the previous picture however; different photography techniques were incorporated. The second picture is in color and the shape of the building has been curved giving the photo a 3D effect.
Natural lighting enhanced this bride's beautiful big blue eyes. It also created a porcelain skin tone effect.
Other wedding photography techniques that David uses is that he will show a picture in black and white and then use color for the part of the picture that he wants to highlight. Notice the brida lbouquet!

All the details of the wedding day are showcased with this beautiful 6 tier wedding cake. Notice how the lighting techniques were specifically set to light the cake instead of the background.
If David has a couple who appears to be nervous, he will step back and use a telephoto lens so the bride and broom will look more natural rather than posed.
Hiring a photographer that has good wedding photography techniques is very important if you want your pictures to be natural and appealing. So please feel free to contact me if you have any questions.
Finding more wedding planning ideas is just a click away.
Related pages that you may be interested in taking a look at include:
Wedding Photography Lighting Tips
Pictures are copyrighted and cannot be used without written permission © 2008 - 2015 unique-reception-theme-wedding-ideas.com ® All Rights Reserved
Click Here to read our disclosure regarding affiliate and advertising sponsors.