Wedding Photography Poses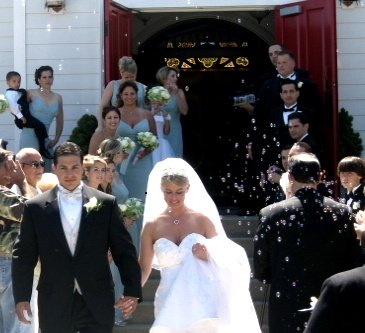 Wedding Photography Poses
You've chosen your photographer, signed the contract and now you are thinking about which wedding poses you would like to have your photographer take on your wedding day.
Formal or traditional poses, usually taken between the ceremony and the reception, include various combinations of the bride, groom, bridal party and immediate family.
These formal wedding photos normally take between one to two hours to complete. The amount of time it will actually take the photographer to get all of your desired shots is dependent upon the number of people that you want pictures of and how cooperative everyone is.
Begin making a checklist of all the people you want in your pictures about two months before your wedding. Update your list every time you remember someone you forgot to include.
People You Want Included in Your Wedding Photography Poses
Parents
Stepparents and blended family members
Grandparents
Great Grandparents
Brothers and Sisters
Aunts and Uncles
Cousins
Godparents
Maid of Honor and Best Man
Bridesmaids and Groomsmen
Flower Girl and Ring Bearer
Special Friends
Your Officiate
Each Table of Guests
Pets
Vintage Car
Wedding Photography Poses to be Taken Before the Ceremony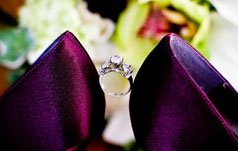 Engagement ring between her shoes
Dress on hanger
Bride putting on her garter, makeup, jewelry
Bride's mother adjusting her veil
Bride looking into mirror fixing her lipstick
Bride looking at framed picture of her fiancée
Maid of honor pointing to watch telling the bride it's time to finish dressing
Bride putting corsage on her mother
Bride putting boutonniere on her father
Bride giving the bridesmaids their bouquet
Wedding Photography Poses of Bride with:
Wedding Photography Poses of Groom with:
Mother, father, both
Individual shots with groomsmen, siblings and anyone listed above
Group picture of Groomsmen
Pets, car, special sporting equipment
Shaking hands with the officiate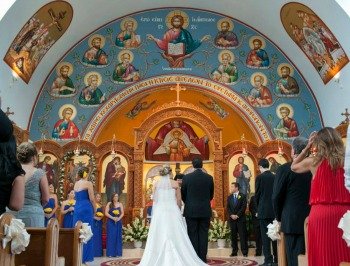 Wedding Photography Poses for Christian Ceremonies
Some officiates have rules on picture taking during the ceremony. To avoid disappointment, it's a good idea to discuss your photography wishes with your officiate well before the ceremony.
Bride getting out of car with church in the background
Bride, mother, father and attendants in vestibule of the church
Groom and groomsmen lined up awaiting the bride
Front shot of Bride with father or both parents walking down the aisle
Groom and best man shaking hands
Back shot showing train and veil
Anyone you have designated to walk down the aisle
Father lifting the bride's veil
Father shaking hands with the groom
Bride handing her bouquet to maid of honor
Shots of the bride and groom at the alter
Pictures of your readers
Photos of bride and groom lighting the unity candle with their parents
Chosen guests bringing up the Eucharistic Gifts
Bride and groom receiving communion
Bride and groom taking their vows
Ring bearer handing ring to groom
Bride and groom exchanging rings
Bride and groom leaving the alter
Receiving line
Musicians and cantor
Pictures of entire bridal party in front of the church
Photos of guests throwing rose petals, blowing bubbles or confetti
Shot of balloons being released
Picture of Butterflies being released

Wedding Photography Poses for Jewish Ceremonies

Some of the above shots will be the same with a few changes. The bride and groom will get married under the chuppah (canopy) which is a symbol of the home that the new couple will build together. The chuppah is open on all sides symbolizing that their home will be open to all with unconditional hospitality.
Pictures under the chuppah
Wedding shots of the groom breaking the glass
Photos of the bride circling the groom
Reading of the ketubah (marriage contract)
Rabbi reciting the Seven Blessings
Poses of the bride and groom drinking the wine
Wedding Photography Poses for Muslim Ceremonies
Picture of the bride and groom repeating the word qabul (I accept) three times
Signing of the marriage contract
The officiate reading from the Quran
Wedding Photography Poses for Indian Ceremonies
Pictures under the mandap
Photos of the fire burning
Poses of the groom's procession
Picture of groom holding a coconut and the bride's garland
Brides mother applying kumkum to the groom's forehead
Groom bowing to bride's mother
Groom giving bride's mother a coconut
Bride carrying groom's garland
Bride's mother washing bride's hands and feet, applying kumkum and giving flowers
Bride's father washing groom's hands and feet, applying kumkum and giving flowers
Brides parents addressing audience
Priest putting the varamala (sacred rope) around the couple's necks
Bride's father putting his daughter's hand in the groom's hand
Singing of a mangalashtak
Bride cupping her hands and placing them in the groom's cupped hands
Bride's brother placing rice in the bride's hands
Couple pouring the rice into the fire
Bride and groom walking around the fire
Bride and groom taking seven steps while the priest confirms their marriage
Couple stealing a kiss
Bride and groom feeding each other sweets
Bride's mother giving the groom a gift
Groom's mother puts the necklace around the bride's neck
Bride and groom bowing to all the elders in both families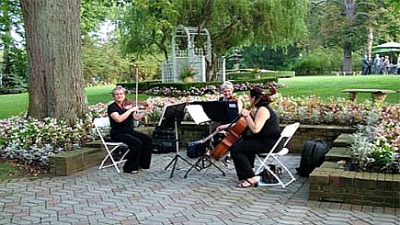 Wedding Photography Poses Between the Ceremony and the Reception
Here's where you can be really creative. Let your photographer show you their portfolio to help you get some additional ideas. Check out the bridal magazines, friend's albums and the internet for more possibilities. After you've taken all of your formal poses think about some of these funny shots:
Make like you are pushing the limo
Falling asleep on a park bench
Stick your thumb out like you're hitchhiking
Have the bride hold her shoe as if she's ready to hit her bridesmaids while they are kissing her husband
Groom and groomsmen lifting their pants legs doing the can-can
Same pose as above; reverse the bride and groomsmen
Unique wedding photography poses
A reflection shot of you and your hubby in a store window
Bride and groom standing against a tree
Picture of the bride and groom from their head to waist coming out of the sunroof of the limo
Bride and groom kissing while the flower girl and ring bearer look on
Wedding Photography Poses at the Reception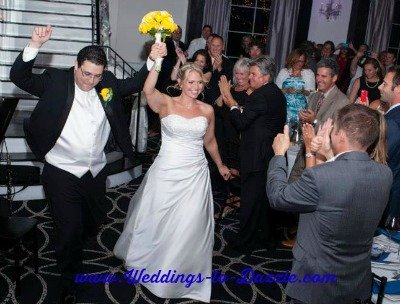 Entrance of the newlyweds
First dance
Bridal couple at the dais
Best man and maid of honor giving the toast
Bride throwing her bouquet and guest who catches the bouquet
Groom throwing the bride's garter and guest putting the garter on the leg of the person who caught it
Bride dancing with her father
Groom dancing with his mother
Parents dancing
Bridal party dancing/guests dancing
Shot of bride and groom raised on a chair
Wedding guests at their table
Ring shot
Guest book
Place card table
Gift table
Mail box for wedding cards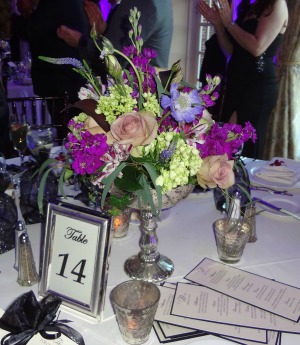 Centerpieces
Wedding cake
Bridal couple feeding each other a piece of the wedding cake
Candid shots of bride, groom, friends and family
Ice sculptures
Decorative food table
All the typical poses of the bride and groom with their families and special friends and relatives
Wedding favors
Poses of couple kissing and waving good bye
Couple leaving in the getaway car
Have your photographer take a picture of you and your hubby holding a "Thank You" sign. It makes for a great picture to use with your thank you cards.
This free wedding photography poses checklist is a good starting point for choosing your wedding pictures. Talk with your photographer and discuss your ideas and thoughts for creating your memorable wedding album.
For more bridal ideas go here.
Wedding Photo Ideas

Wedding Photography Lighting Tips

Wedding Picture Techniques

Wedding Photo Tips




Pictures are copyrighted and cannot be used without written permission © 2008 - 2015 unique-reception-theme-wedding-ideas.com ® All Rights Reserved
Click Here to read our disclosure regarding affiliate and advertising sponsors.