Wedding Photography Lighting Tips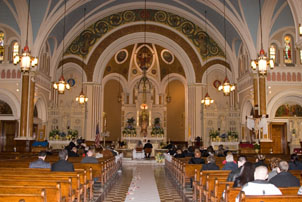 Wedding Photography Lighting Tips
Not every bride can afford a professional photographer so I've put together some photography lighting tips that I hope will help whoever takes your pictures.
Proper lighting is key to getting that "great shot" look just right. If your lighting is not correct, your photos can be too dark, washed out or hazy. I've seen too many brides disappointed by their pictures because the lighting was "off" and the well set up picture was ruined by improper lighting. Please don't let this happen to you on one of the most important days of your life. Just follow some of my simple wedding photography lighting tips that I've listed below.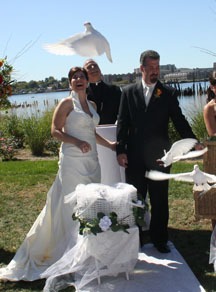 Outdoor Wedding Photography Lighting Tips
If you're taking pictures outside and it's a bright sunny day, use the sun to your advantage by placing the subjects toward you with the sun at your back. Shooting directly into the sun will cause lens flare or a dark subject and ruin your picture. Professional photographers know how to block the sun to get their desired picture by using a flash to fill in the shadows but amateurs shouldn't try "sun blocking" unless they have practiced ahead of time.
Use a reflector to fill in the shadows caused by direct sunlight. Reflectors will bounce light up on to the face of your subject thus allowing you to shoot into the sun if need be.
You can get close to the ground and shoot upward which will change the angle of the sun hitting you and your subjects. This will give your picture a completely different look.
If you're getting lens flare and you don't have a lens hood, shield your lens from the sun by cupping your hand over your lens. Be certain that your hand doesn't get in the way of your shot.
Be careful of shadows cast upon your subjects. If you're shooting the bride and groom under a canopy make certain the subjects are well lit and not in the shadow of the covering.
If you're taking pictures under a tree, be certain that the sun coming in between the leaves is consistent for everyone in the picture. You don't want to see dark spots on the faces or clothes of your subjects.
Watch out for the sun reflecting off the water if you're taking pictures at a beach, lake or any body of water.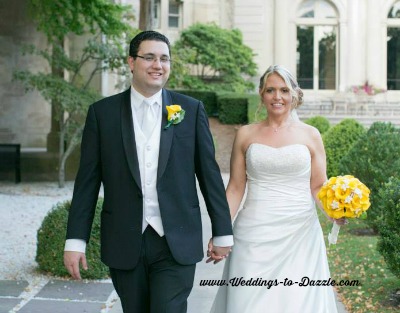 More Wedding Photography Lighting Tips
Professional photographers understand the sun's impact on colors and know the proper time of day to be shooting outside. While the sun evokes blue hues daily, more neutral colors are found closer to midday. Some of the actual definition is taken away by neutral colors; so it is important to understand exactly what image you are trying to obtain.
To achieve the best results, know the correct settings on your digital camera. Using a small aperture will reduce the chances of your picture being underexposed or producing dull images.
Make certain your ISO setting is set to a low level, perhaps 50 or 80 and remember to adjust the white balance. You will also want to be certain your ISO setting is set to daylight.
Indoor Wedding Photography Lighting Tips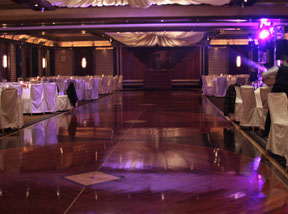 Using proper lighting at an indoor ceremony and reception is essential to getting great wedding photos.
Check with the officiate a few days before the ceremony to determine where your photographer will be permitted to stand and if he/she will be able to use a flash for your picture taking. If flash photography is not permitted, make the best use of ambient lighting from the windows, interior lighting and candles. To get the best results when using ambient lighting, your camera ISO setting should be 400 or greater.
Direct head on lighting can make a subject appear flat or exaggerate any skin imperfections. By using an off camera flash cord you can increase the distance between the light source and the camera thus making the best use of angled lighting.
In low-light situations it is best to set up mono light strobes on stands and use a large bounce umbrella.
Check lighting conditions with a light meter to determine the proper photography settings.
Work with a photography reflector to be certain that shadows are kept to a minimum.
For best wedding photography lighting tips use a flash diffuser to bounce the flash off the ceiling or a wall.
Ask the person you have chosen to photograph your wedding to take their camera and their back up camera to the places where they will be taking pictures and have them shoot some practice shots at the same time of day that they will be taking your wedding pictures. Review the practice pictures and determine if any adjustments need to be made.
The above technical wedding photography lighting tips will certainly help create the best pictures you can obtain both indoors and outside. By using my wedding photography lighting tips you will eliminate some of the common errors that most inexperienced photographers encounter.
Need more wedding ideas? Tap on this link


Wedding Photography Ideas

Wedding Photography Poses and Tips

Wedding Photography Tips and Techniques


Pictures are copyrighted and cannot be used without written permission © 2008 - 2015 unique-reception-theme-wedding-ideas.com ® All Rights Reserved
Click Here to read our disclosure regarding affiliate and advertising sponsors.