Martha Stewart Wedding Cakes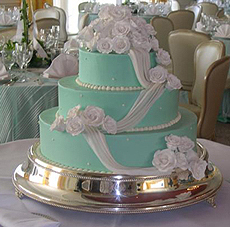 Martha Stewart Wedding Cakes

So what is a Martha Stewart Wedding cake?  To me, a Martha Stewart cake is one that is classy, elegant and tastefully decorated with exquisite embellishments.  The cake can have beautiful beading, piping, fresh flowers, fondant swirls, pearls, rhinestones, fresh fruit and just about anything that you can imagine can be created.

A Martha Stewart cake can also be understated but at the same time stylish and chic.  Not all of Martha's cakes are expensive; she has ideas for every style and price range.  Some of her cakes can even be made by a semi experienced baker like yourself, or a friend.

Great ideas for Martha Stewart Wedding Cakes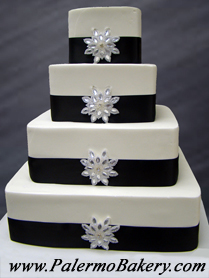 For a very simple but elegant cake that you can bake yourself, try this.  Stack  12, 10, 8, and 6 inch square cakes one atop the other.  Place your favorite filling (strawberry, mocha, raspberry, cannoli, or chocolate mousse) in between the layers and then adorn the layers with black ribbon and embellish with a rhinestone broach.  This cake works well with a winter wedding theme.  You can change the ribbon color to match your bridal pallet and the broach to coordinate with your motif.   Add your choice of cake topper and you're ready to go!
Something to remember about Martha's cakes, is that not all of her ideas are easy to recreate. If you're planning on baking your cake yourself, please practice ahead of time and make notes to yourself as to what worked and what didn't.  Making the cake ahead of time will also give you an opportunity to taste your creation and determine if your choice of flavors go well together. Besides the wonderful tasting, it will give you a chance to have a get together for your bridal party and obtain their opinions too.
Another way to decorate your cake is to place butterflies on your cake.  These stunning assortments of butterflies can be purchased in a variety of sizes and designs to delicately decorate your cake.
Click on the picture below and you can start shopping for all of your wedding needs.
More Ideas for Martha Stewart Wedding Cakes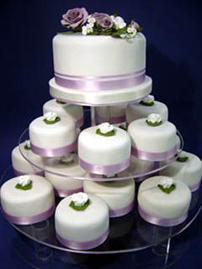 The above 3 tier cupcake tower was created by Palermo Bakery for a bride who was having a small bridal reception. Each mini cupcake is frosted with white fondant and wrapped with a lavender satin ribbon.  A small floret is adorned atop each cupcake. This arrangement is well suited to coordinate with a Martha Stewart celebration.


The above four tier butter cream, iced cake with fondant pears is perfect for a spring, summer or fall themed celebration. Notice the positioning of the squares is slightly off center to create an unusual effect. The light green and white fondant rope trim separating each tier is understated and tastefully done.  As a final touch, the 3D fondant pears with the initials of the bridal couple make a unique cake topper for this fabulous cake.

Martha Stewart Wedding Cakes are beautiful to look at, taste yummy and will delight even the most hard to please bride and her guests.  I do hope this page has enlightened you and helped get you on the right track to creating your very own, romantic, scrumptious cake.

Pictures are copyrighted and cannot be used without written permission © 2008 - 2015 unique-reception-theme-wedding-ideas.com ® All Rights Reserved
Click Here to read our disclosure regarding affiliate and advertising sponsors.