Fountain Wedding Cakes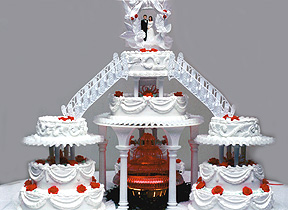 Fountain Wedding Cakes

Why choose a fountain style cake?  Because they are beautiful and the sound of the running water is unique to a bridal cake and the trickling water gives off a feeling of peace and tranquility. The water can be colored to coordinate with your wedding pallet making your confectioner's delight even more spectacular. These cakes are flashy and can be even more dramatic if you decorate them with flowers and crystals.


Waterfalls are regarded as sacred sites in many cultures around the world. So why not bring the power of God and nature into your celebration by having a fountain in your cake?
The pictures featured below are from McArthur's Bakery of St. Louis.  McArthur's Bakery has been in business for over fifty years and bakes with only the finest ingredients.  Each cake is made from scratch and has to pass inspection by Randy McArthur's keen eye and discerning taste.
The above dramatic round layered confectioners delight has components of a traditional cake with the chic red water fountain.  The fountain can also be lit up with lights making the cake even more impressive.
 


Fountain Wedding Cakes with Stairs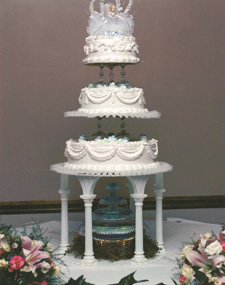 This three tier creation sits on top of a fountain, supported by round columns giving off an aura of a majestic temple.  The soft blue water fountain brings to mind a married life of  peace and harmony.

More ideas for fountain wedding cakes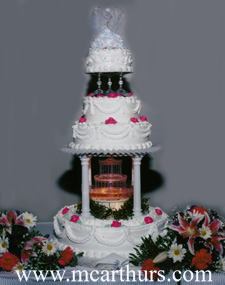 This four tier bridal delight is unusual because the fountain is on top of the first tier of the cake.  In order to have the water fountain on top of the first tier you need the proper support or the fountain will sink into layers below. I especially like the look of the second set of pillars being different than the bottom columns.  It give the cake more dimension and a very dramatic effect.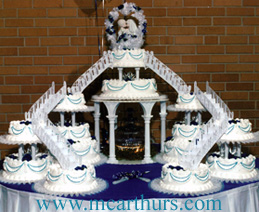 This mulit tier fountain wedding cake is very impressive with all the different components: pillars, a triple set of stairs bridging the different layers together.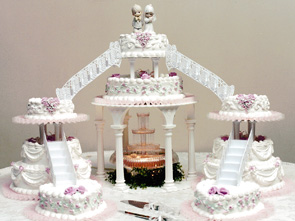 This cake is similar to the one above but notice how the different shaped cakes (heart shaped bottom tier) helps make it more interesting.

Fountain Wedding Cakes Enlarged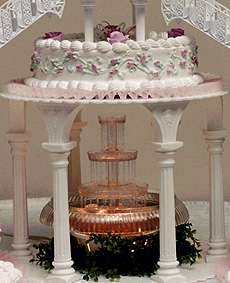 I magnified the fountain portion of this creation to help you get a better sense of the detail of the cake and fountain.
When considering having a fountain cake, think about renting the fountain instead of purchasing it.  You will also need to speak with the baker about how to conceal the wires and tubing for the water.  Greenery, fresh or silk flowers can be used to hide the technicalities of your fountain.

Contact information for McArthur's Bakery

McArthur's Bakery has a gallery room complete with albums of various kinds of wedding cakes, a computer slide show, cake servers, ornaments and all the trimmings that you will need for your special day.  McArthur's Bakery has six talented artists with varied ideas to decorate their cakes.  They believe each creation is unique and they strive to design your cake exactly as you wish.  Take a look at their web site found at www.mcarthurs.com or contact them at (314) 894-0900.
Fountain wedding cakes are dramatic and certainly will make a statement at your reception, so don't be timid and create your cake exactly as you desire.


For more fabulous ideas please check out other planning pages.

Wedding Cake Ideas

Elegant Cakes

Grooms Wedding Cake Ideas and Designs

Wedding Cake Designs



Pictures are copyrighted and cannot be used without written permission © 2008 - 2015 unique-reception-theme-wedding-ideas.com ® All Rights Reserved
Click Here to read our disclosure regarding affiliate and advertising sponsors.