Daisy Wedding Cakes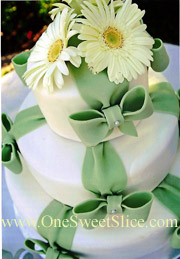 Why Brides Choose Daisy Wedding Cakes!

There are so many designs and flowers to choose from that finding the "right" cake for your reception will take a little planning and imagination.
Once you have agreed on having a floral "sweet treat" your next decision is to choose which flower you would like to display on your cake.
Daisies are a popular choice among brides because they are easy to obtain and economical during the spring and summer months. They are sophisticated and beautiful and convey happiness and exuberance.
Daisy's literally mean "days eye" because they open at dawn just as the day is starting. So how befitting to use daisies, just as a day begins, so is your marriage beginning!
Martha Stewart uses daisies quite often when displaying her beautiful creations.
Most brides also choose a daisy motif because they have a timeless appeal and never fall out of fashion.
Additionally, daises are a pretty flower and reminds us of spring time.

All the pictures on this page are courtesy of, One Sweet Slice bake shop, located in Salt Lake City, Utah.
More ideas for Daisy Wedding Cakes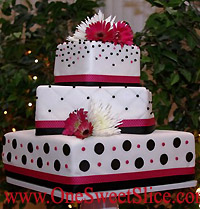 Your cake should be an expression of you and it's important that you communicate with your baker to create an unforgettable bridal creation that is both delicious and beautiful.
The fabulous cake at the top of this page is made from fondant icing and fondant green ribbons. Notice how the pearl in the center of the bow gives an opulent look. This cake uses yellow daisies as its cake topper. So sweet yet sophisticated!
You can have your baker create daises out of sugar paste, fondant icing or as mentioned above, you can have your florist order fresh daisies and bring them to your baker. Or if your on a tight budget, consider planting daises in your garden and then bring those daises to your baker.
This cake is both whimsical yet elegant!  The three tier square cakes are placed at angles to one another.  The black dots and red ribbon along with the white and red daisies are coordinated to match the bride's wedding pallet which is a great idea for daisy wedding cakes. 

This bride was combining autumn color daisies with her black scroll work.  The four tier square cake is perfect for the bride who likes a lot of flowers and panache.  I love the way the daisies cascade up the cake giving it a very full look.

Daisy Wedding Cakes with an Unusual Cake Stand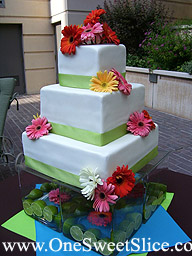 There are cake stands and then there are cake stands!  This glass square cake tray filled with water and limes is just amazing.  Together with the summer colored daisies it just jumps out at you as being a beautiful summer bridal cake.
An Idea for Small Daisy Wedding Cakes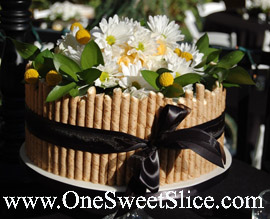 The above unique wedding cake was created for a bride who was hosting a very small reception and the couple wanted something  different than the usual tiered cake.  Notice the daisies cover the whole top of the cake while the cake is held together with praline sticks that are bundled with a black ribbon.  How sassy is this cake?

Daisies bring to mind a time when life was simple and easy going.  Daisies also conjure up thoughts of charming innocence.  So, why not choose daisy wedding cakes?

I have other planning ideas tailored for today's brides.  Please take a look at them.

Wedding Cake Ideas

Beach Theme Cakes

Martha Stewart Wedding Cakes

 

Pictures are copyrighted and cannot be used without written permission © 2008 - 2015 unique-reception-theme-wedding-ideas.com ® All Rights Reserved
Click Here to read our disclosure regarding affiliate and advertising sponsors.