Elegant Wedding Cakes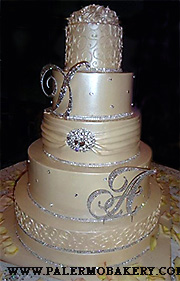 Elegant Wedding Cakes that will Dazzle your Guests

Are you tired of browsing through bridal magazines, wedding cake magazines, the internet, and pictures of cakes at your local bakery only to find pictures of traditional bridal cakes that are square, round and multi tiered?

So now you're ready to look at some cakes that are elegant and a bit unconventional that will surely impress your guests.


The gorgeous masterpiece pictured above is a 5 tiered pearlized ivory butter cream creation that has a magnificent luster.  The middle tier has a fondant wrap with an elegant rhinestone brooch.  Placing jeweled initials of the bride and groom gives this cake an added dimension of beauty and personalization.
These elegant wedding cakes, are from Palermo Bakery.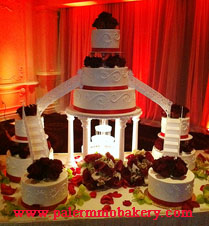 This stunning elegant confectioner's delight was created by using a three tiered main cake of white butter cream with a two sided staircase.  The two sides have a two tiered butter cream cake.  More staircases are attached to these two tiered cakes with a single tier at the bottom.
A delicate piping design was put on the two sides of the tiers to give it a fabulous swirl look.  Red fondant ribbon outlines the bottom of each tier.  Romantic red roses were used to decorate each part of the cake and rose petals were strewn around the base to give an added touch of elegance.  A small lighted fountain was placed in the middle between the columns for an additional look of opulence.


This scroll work and rhinestones with a floral topper make this a beautiful choice for an opulent cake.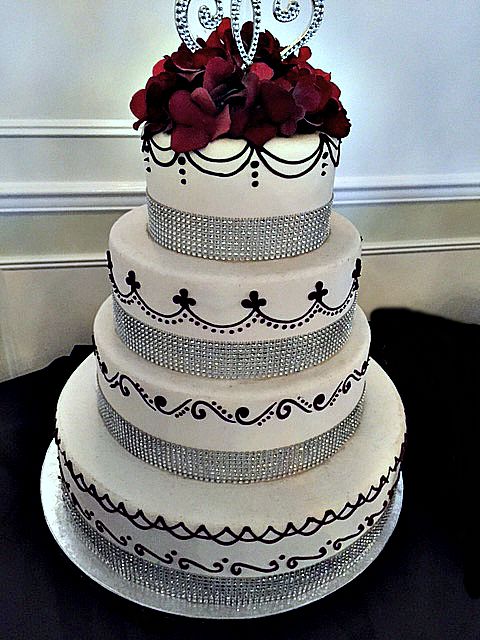 Pictures of Elegant Wedding Cakes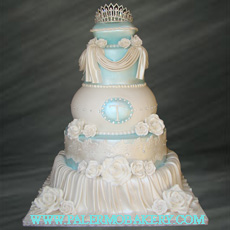 This magnificent 4 tiered fondant pearlized white and blue creation will delight even the most discriminating brides.  The cake is adorned with fondant piping, rosettes, pearls, and swag draping.  The rhinestones are strategically placed on two tiers of the cake and then they outline the surname initial of the groom.
To top off this stunning masterpiece, a tiara was used as the topper.  The shape of this cake, along with the lace design on the pressed fondant tier, leaves one with the impression of a spectacular ball gown.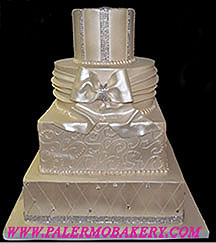 Who wouldn't love this charming pearlized bridal cake with fondant wrap and bow? This four tiered pearlized cake was made with ivory butter cream and sparkles with an iridescent appliqué.  The bottom tier has rhinestones strategically placed with a rhinestone boarder lining the bottom tier.

The opulent wedding cake below is simple but ever so elegant.  Notice the petals on the cake table match the gold top two cake tiers. The fondant flowers eliminate the need for a cake topper.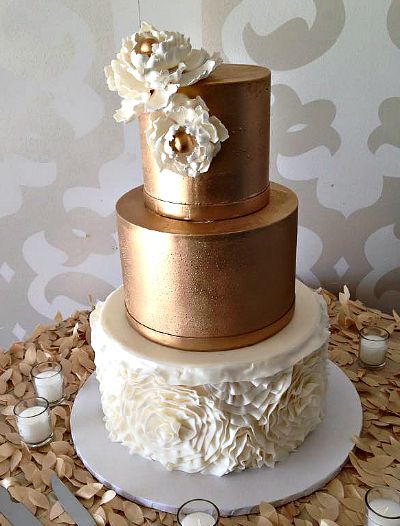 More Ideas for Elegant Wedding Cakes

This gorgeous 4 tiered peralized blue and white fondant cake has a swag drape gathered by a cluster of rhinestones and fondant ribbons.  The topper resembles a bow embellished with a rhinestone pendent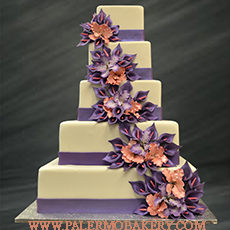 Elegant wedding cakes can be traditional or chic. The above modern cake has a spray of delicate purple and pink calla lilies and orchids. The 5 tiered cake is encased in ecru rolled fondant with bold purple fondant bands.  This cake works well for any bride who is looking for an avant-garde and contemporary cake.
If you're hosting a small but elegant reception and will be serving a one or two tiered cake, how about placing your wedding cake on a decorated silver cake stand to show off your bridal cake? A two tiered cake stand adds height and elegance to your unique wedding cake.

I truly believe your cake is the focal point of your reception and should be as beautiful and elegant as you wish. Martha Stewart would be proud to display any of these cakes created by www.palermobakery.com so please use any and all of my ideas on this elegant wedding cakes page to create your romantic, memorable wedding cake.
Come review more wedding tips and ideas.
Wedding Cake Ideas

Fountain Wedding Cakes

Wedding Cake Designs

Pictures are copyrighted and cannot be used without written permission © 2008 - 2015 unique-reception-theme-wedding-ideas.com ® All Rights Reserved
Click Here to read our disclosure regarding affiliate and advertising sponsors.