Beach Wedding Reception Ideas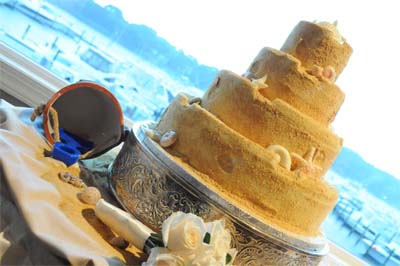 Beach Wedding Reception Ideas for the Bride who wants to Dazzle her guests.
The calm serenity of the ocean waves and the soft sand beneath your feet is very appealing for a wedding reception. Check out my beach ideas to help you plan your perfect celebration of your marriage.   
When choosing the time of day for your celebration, remember to check the tide schedule.  Low tides can bring a residue of shells, seaweed, other debris and sometimes an unpleasant odor.  High tides can bring rough waves.  For the ultimate effect, it may be best to choose your reception time between high and low tide.


The sound of ocean waves are beautiful and calming, however, they can be loud and you will need to talk with your music coordinator to be certain that the waves don't drown out your music.
Keep everything well anchored as beach breezes could play havoc with your beach decorations, table linens and floral arrangements.  An interesting idea for beach themed place cards is to place them in a tray of sand with seashells as shown below.  You can even design the cards to look like sand dollars or starfish.
Beach Wedding Reception Ideas for Outdoor Weddings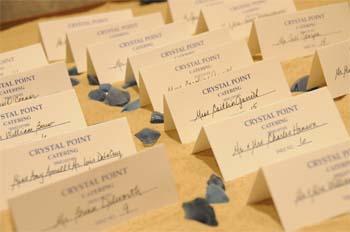 If you are getting married at a public beach, remember to inquire with the local officials to determine if a permit is necessary.  You may also want to know if alcohol is permitted on the beach.  If hard alcohol is not permitted, find out if a champagne toast is acceptable.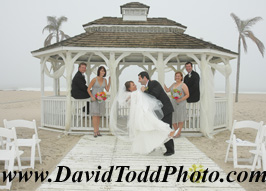 Since we cannot control the weather, it is best to choose a wedding date that is outside of hurricane season.  The above bride and groom were extremely fortunate that the rain held off until after their ceremony.
If you are getting married during hurricane season, have an alternative celebration plan.  Perhaps you can have a tent reserved and set up for your reception.  You may also want to inquire if there is a nearby restaurant that can accommodate you and your guests.
Your beach decorations can be reflective of the ocean setting.  Use a seashell picture frame as place card holders, which can also be your favor. A sculptured sand castle can be used for your centerpieces.  Another beautiful centerpiece idea would be to place sand and tiny seashells in a glass container with a candle as shown below.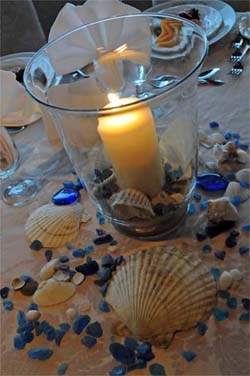 More Beach Wedding Reception Ideas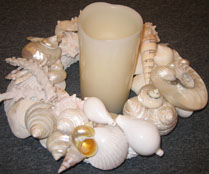 Purchase a large candle and place it in a seashell wreath as shown above.

Your beach theme favors can include purchasing small seashell containers and fill them with candy.  A practical beach favor would be to purchase a seashell key ring and decorate the key ring with ribbon and tulle.

Cake for your Beach Wedding Reception Ideas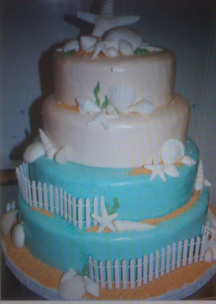 The cake above was created by using fondant icing and placing sea shells, starfish, gram cracker crumbs and fencing.

Food for your Beach Wedding Reception Ideas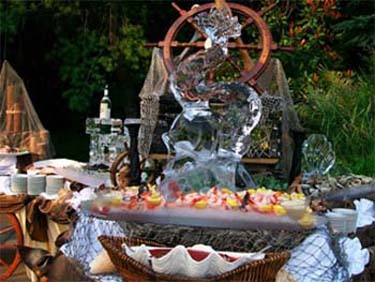 Your food can be whatever you like.  Adding some seafood such as: shrimp, calamari, clams, lobster, crab cakes and scallops will keep the beach theme flowing.

The sound and beauty of the waves glistening in the background will add ambiance and romance to your  reception.  Use any or all of my beach wedding reception ideas to create your dream wedding.

Tap here so we can start planning your unique wedding.

Wedding Reception Ideas

Fun Ideas For Wedding Reception

Tropical Reception Themes



Pictures are copyrighted and cannot be used without written permission © 2008 - 2015 unique-reception-theme-wedding-ideas.com ® All Rights Reserved
Click Here to read our disclosure regarding affiliate and advertising sponsors.