Beach Theme Wedding Cakes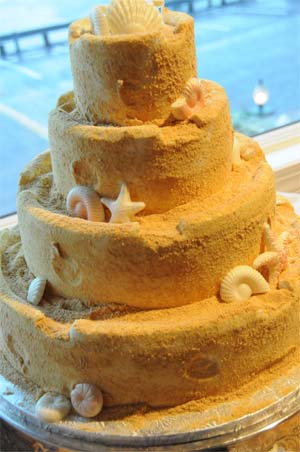 Beach Theme Wedding Cakes

Remember, your bridal cake not only needs to be delicious, it should also be appealing to the eye and evoke emotion. Since you're having a beach theme, make sure your confectioner's delight reflects and coordinates with your motif.

You can use sea shells, anchors, sea horses, starfish fisherman's netting, sand dollars and sand to decorate around your cake.  Just be sure not to let the sand get on your cake. (Most bakers will use Graham Cracker Crumbs to resemble sand.)


Creative Ideas

Your cake can be any shape that suites your taste.  Think out of the box by having your beach theme cake be round, square, triangular or any geometric shape that you desire. 

Ideas for Beach Theme Wedding Cakes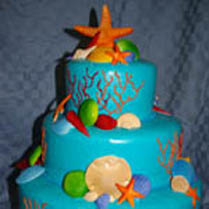 Consider having one large sheet cake decorated with a typical or not so typical, beach scene complete with water, swimmers, beach chairs, umbrellas, sand, seashells and of course, the bride and groom.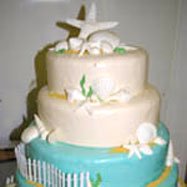 Most brides think white when they are imagining their cake. Let's be adventurous and deviate from the traditional white frosting. Show your nautical daring side by choosing blue, sea foam green or graham cracker crumbs as frosting. You can alternate the color of each layer - one blue layer and one white layer.
If you're using seashells you can ask your baker to color the shells, blue or sea foam green to give a unique and modern look.


More Ideas for Beach Theme Wedding Cakes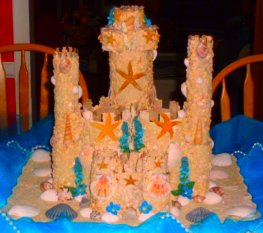 Use different sizes, colors and shapes of sea shells, and coral.  Starfish, sand dollars and sea horses are fabulous beach visuals that will add a positive touch to your beach theme.

Since marriages are magical, how about drawing upon people's imagination and add a fondant mermaid to your cake decoration.

If you want a traditional white cake think about displaying some sea shells, nautical blue netting and a beach ball as shown below.  This cake was created by Janusz from www.elegantbakery.com.  You can also have your baker add some edible pearls to create a cake with a little more pizazz.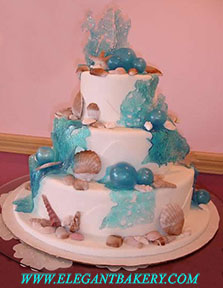 Tips for Beach Theme Wedding Cakes
Tropical cakes with a cascade of fresh flowers can be used as an alternative to sea shells for you beach theme wedding cake.  The above white fondant base, three tier extravaganza has a beaded butter cream trim with a floral royal icing design.  The elegantly placed hot pink and purple flowers gives this cake a beautiful tropical look.

If you're having a mid afternoon reception on the beach, consider the effect the sun will have on your cake. I suggest placing your masterpiece in the shade and asking the caterer if they can place the cake on a block of ice.  You definitely don't want your guests to get ill from eating a spoiled piece of cake.

You may want to consider the flying insects that would love to get a taste of your delicious delight before you and your guests get to enjoy it.  Placing a fan behind the cake may help keep the unwanted flies and other bugs away from your masterpiece.


Toppers for your Beach Theme Wedding Cakes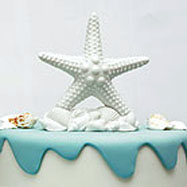 Once you've chosen your cake you need to think about your topper and how it will coordinate with your beach theme. You can choose a traditional bridal topper or a beach theme cake topper as shown above. The starfish, shells and blue fondant resembling water is a great show stopper.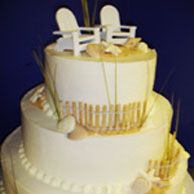 If you've decided not to have a traditional cake, you can choose to have cupcakes with a nautical theme.  Remember it's your wedding and you get to decide what works for you.

Your unique beach theme wedding cake will complement your summer reception and beach setting. The choices are limited only to your imagination.  Whatever vision is in your head can be created by a baker, a family member, friend or yourself.


Having difficulty finding what you need? Check out my entrance page.

Sandcastle Confectioners Delight

Tropical Theme Bridal Dessert Cakes

Pictures are copyrighted and cannot be used without written permission © 2008 - 2015 unique-reception-theme-wedding-ideas.com ® All Rights Reserved
Click Here to read our disclosure regarding affiliate and advertising sponsors.