Wedding Reception Table Ideas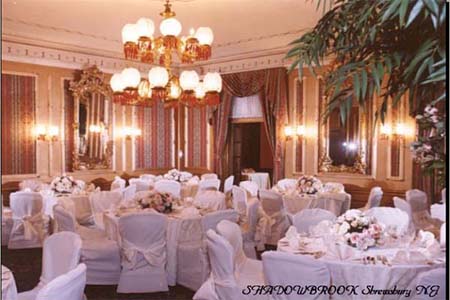 Simple or extravagant, my wedding reception table ideas will help you achieve the special look that you are searching for.
The texture and color of the table linens that you choose should compliment your centerpiece.  If you are going for a traditional, elegant look, try adding a lace topper, runner or doily.
Notice how well the color and flowers of the centerpieces coordinate with the decor of the banquet room.

If flowers are your choice of a centerpiece, consider keeping the arrangement low and as close to the table as possible so that your guests will be able to see each other and converse across the table.  If a low centerpiece is not your thing and you want a more dramatic look, how about placing your floral arrangement on top of a pedestal.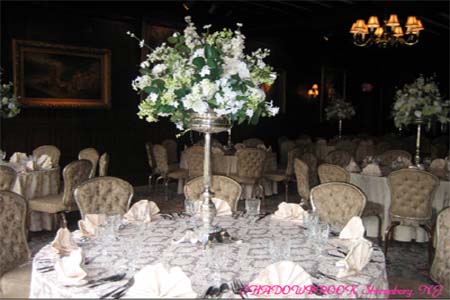 An option to the cookie cutter arrangement would be to vary the shapes of the container that the flowers will be placed in.  Consider using oval, round, square, triangle or heart shaped glass bowls or vases.
Lighting from candles creates a soft, romantic atmosphere.  Candelabras with some greenery will add elegance and style to your table.
Today's brides are moving away from the traditional large centerpieces and using flowers placed in individual vases and grouping them together to form one centerpiece.  Each guest will then be delighted as they are able to take a vase home as a memento.

More Wedding Reception Table Ideas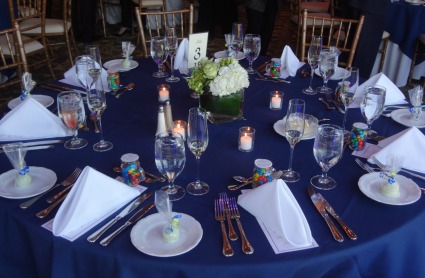 Notice how this bride decorated her tables using her M & M favors and lollypops to add splendor to her tables.

Additional great wedding reception table ideas include: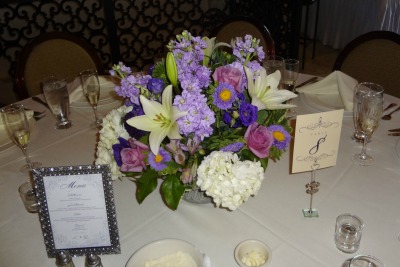 Placing the menus on the table so each guest will know what they will be served during the course of their celebration.


Sprinkling glitter or confetti around the centerpiece adds a finishing touch to a table that does not have a topper or doily. Confetti can be purchased in different shapes such as, hearts or bells, and different colors to coordinate with your centerpiece. 
Placing a mirror beneath a centerpiece adds a small amount to your budget but the sparkle and depth to your table decoration is well worth the money and effort.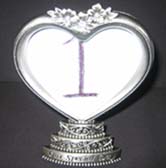 Instead of using those all too familiar metal, table number holders, consider dressing up your table by putting each table number in a pretty picture frame or a decorative holder.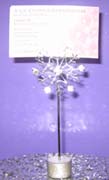 Your guests will spend more time at your reception than at your ceremony; so if you are on a budget, use more of your resources for the reception rather than for the ceremony.
Rely on your imagination and my wedding reception table ideas to create your perfect table decorations.

Tap here for some great suggestions!

Wedding Reception Ideas

Simple Wedding Celebration Tips
Unique Bridal Banquet Ideas

Favors



Pictures are copyrighted and cannot be used without written permission © 2008 - 2015 unique-reception-theme-wedding-ideas.com ® All Rights Reserved
Click Here to read our disclosure regarding affiliate and advertising sponsors.