Simple Wedding Reception Ideas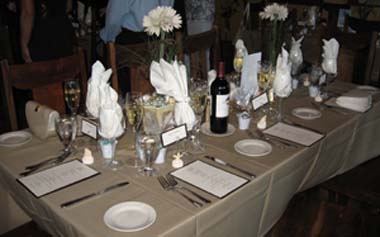 Simple Wedding Reception Ideas
Planning a wedding is time consuming and complicated.
Make your life a little less stressful by keeping your reception simple. It's the simple things in life we remember best.
Take a look at your guest list and cross off any names of people that really do not need to be at your celebration. You will be surprised at how much easier it is to plan a wedding with fewer guests.
Years ago I attended a bridal affair in the basement of a church. The bride had the room decorated with wedding bells, streamers, white lace tablecloths, tulle and candles.
She had a friend supply supermarket flowers that were placed in clear vases surrounded by candles. Another friend strung the streamers and strategically hung the decorations. An aunt decorated the folding chairs with tulle and white ribbon. The room looked romantic and very elegant.
A cousin baked the cake and the bride hired the church ladies to serve the cake, coffee, tea and punch.
The church organist attended the party and played a violin for the guest's enjoyment. This simple affair was quite memorable and beautiful.
If you have decided to celebrate your bridal bash at a catering hall or restaurant, consider having a brunch or an hors d'oeuvres and wine reception instead of a cocktail hour and sit down dinner.
Hosting a backyard barbeque can be quite a lot of fun and will not leave your bank account empty. The food choices can range from hiring a caterer to bring the food and cook for you. Or asking relatives and close friends to bring their favorite side dishes while you provide the main essentials. You can hire a DJ, or use your own CD's.
You have many choices to make along the way to planning your memorable day. Use my simple wedding reception ideas to help you start planning.
Go from Simple Wedding Reception Ideas to Unique Reception Theme Wedding Ideas Home
Wedding Reception Ideas

Beach Ideas

Cheap Wedding Reception Ideas

Fun Ideas For A Bridal Celebration

Inexpensive Reception Ideas

Original Reception Ideas

Reception Halls

Unique Reception Ideas

Wedding Reception Decoration Ideas

Amazing Decor Ideas

Dazzling Food Tips

Music Ideas Thoughts

Wedding Table Tips

Song Ideas

Winter elebration Tips
Click Here to read our disclosure regarding affiliate and advertising sponsors.