Wedding Dresses With Sleeves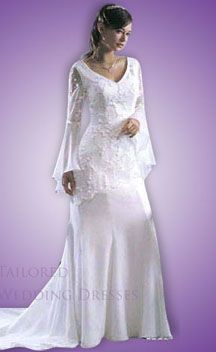 Wedding Dresses With Sleeves

Fashions come and go and what's vogue today may not be in style tomorrow.
Most brides today are looking for strapless gowns rather than a dress with sleeves.  However, long sleeves may be making a comeback as the fashion pendulum may be on its 20 year swing. 
Another reason why long sleeve dresses may start becoming more popular is many brides want to emulate the royal wedding between Prince William and Kate Middleton.  If you recall seeing pictures of Princess Diana on her wedding day she wore a fairytale wedding dress with magnificent sleeves.
So why are you looking for a dress with sleeves?

You may want to cover up what you perceive to be imperfections in your arms. Maybe you feel your arms are too skinny, too big, or maybe you are prone to rashes.
Perhaps you are getting married in the wintertime and you would like some protection from the cold.
A long sleeve dress is classy and elegant.
Some places of worship require shoulders and arms to be covered, so a long sleeve dress is appropriate and respectful.
You're an unconventional bride and want to have a bridal outfit that's different from the rest.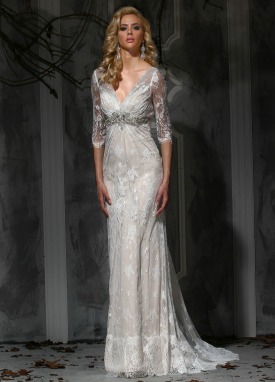 The above and below picture of wedding dresses with sleeves can be purchased at Best Bridal Prices.  Check out the link below.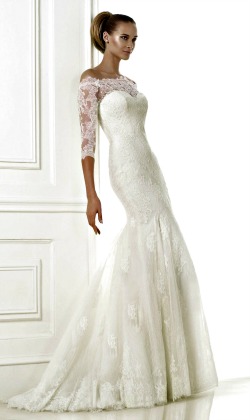 The reasons for choosing a long sleeve bridal gown is not important, what is important is that you want your arms covered and believe long sleeves are classic and show off your femininity and since it's  your day, let's take a look.
I will tell you that I scoured the internet, looked in countless bridal magazines and saloons and haven't come up with too many long sleeve gowns.  However, I do have some suggestions from Best Bridal Prices.


More pictures and ideas for wedding dresses with sleeves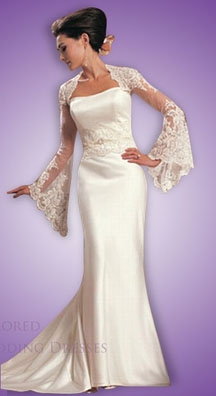 This satin, embroidered gown with long lace sleeves and a lace waist band will make any bride glow on her wedding day.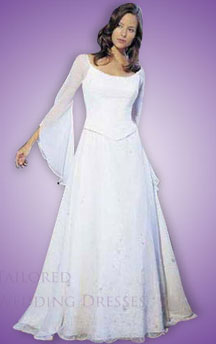 Beautiful detailing finishes this medieval style wedding dress created from satin and organza.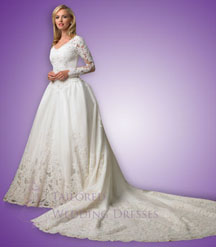 This lovely long sleeved traditional bridal dress is created from satin and lace. Features include a basque waistline and monarch train.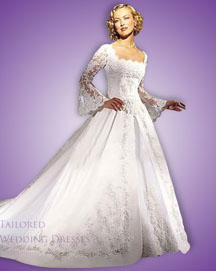 Satan and lace creates this long sleeved, scalloped square neckline.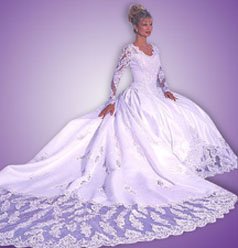 If you are looking for a bridal dress to be an attention grabber, this could be just what you are seeking! Your friends and family will not forget your dress made from satin and lace, with exquisite beading and lace detailing.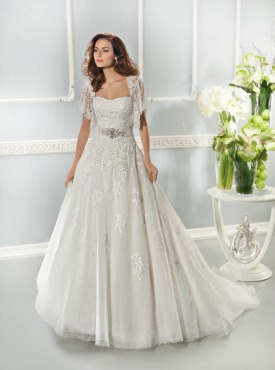 If you cannot find wedding dresses with sleeves, consider purchasing a sleeveless dress and have a bolero/shrug or jacket made to wear over your sleeveless dress.
Another option is to have your bridal gown handmade.  Please click on my link "Design Your Own Wedding Dress" in my links section at the bottom of this page to get more tips and ideas.
For more tips and fabulous ideas. come view my welcome page.
Unique Wedding Dresses

Fairy Wedding Dresses

Fall Bridal Gowns

Pictures are copyrighted and cannot be used without written permission © 2008 - 2015 unique-reception-theme-wedding-ideas.com ® All Rights Reserved
Click Here to read our disclosure regarding affiliate and advertising sponsors.