Cheap Plus Size Wedding Dresses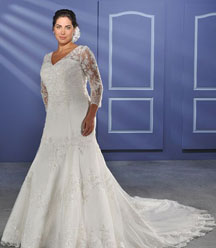 Cheap Plus Size Wedding Dresses
Countless plus size women have difficulty finding their perfect bridal dress; don't get discouraged, I'm here to help you find the bridal outfit of your dreams.
Curvy women may have trouble finding a bridal salon that carries plus sizes when they go shopping for their gown. Once in the bridal shop they realize that they can't even imagine how a particular style will look on them after the dress is made in their size.

So what is a plus size bride to do?
Educate yourself by going through bridal magazines, tear out pictures of the dresses that interest you and file them in a folder.
Go to a department store or any store that carries plus sizes and try a few different outfits on to determine which style looks best on you.
I know one plus size bride who found her ideal dress in the classified section of her local newspaper.

How do you choose from all the perfect, cheap plus size wedding dresses?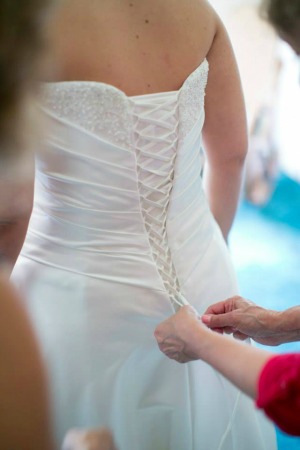 Consider purchasing a corset back dress that can be adjusted if you gain or loose weight.

Some fabrics can actually make you look thinner. Soft fabrics that shape your body and permit you to move freely are feminine and sexy. Steer clear of fabrics that are too clingy, they will make you appear heavier.
Know your best features and which styles accentuate your curvy figure and will give you that sophisticated, glamorous appearance. Remember, you're interested in elegance and classy!
Don't forget to choose undergarments that will hold your tummy in and give you a smooth look.
View some of these cheap plus size bridal gowns that will flatter your figure and not overwhelm your budget.
Some online stores know that your wedding day is one of the most important days of your life. They feature great, cheap plus size dresses that will surely flatter your figure without taking a big bite out of your budget.
More Ideas for Cheap Plus Size Wedding Dresses

The above elegant gown has a fitted and flare silhouette which will show off your curves. The sheer cap sleeves are delicate with lace and beading flowing into the V shaped overlay with a cross the top neckline.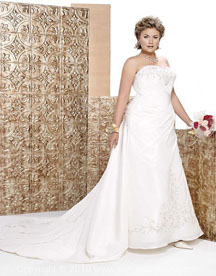 This silky taffeta princess cut gown has beading accenting the front bodice and on the bottom of the skirt. The top has soft detailing with light gathers. There is an easy to fit tie-back closure to accommodate a slight weight gain or loss.

How to take proper measurements for cheap plus size wedding dresses
Taking accurate measurements is imperative to have your dress fit properly and ensures that you will look your absolute best on your special day.
To obtain proper and accurate measurements for your bridal gown, I suggest having a professional seamstress take your measurements.
Taking your own measurements is asking for trouble as you will probably not get accurate numbers. If you are not able to have a seamstress help you, have one of your bridesmaids or someone else carefully measure you by using a seamstress' guide.
Measure your bust line and hips at your fullest part. Your waistline should be measured at your natural waist.
Purchase your undergarments ahead of time and bring them to your fitting. This will ensure the same fit once your dress has been made. Be certain to stand up straight with your arms relaxed down by your side.
Most of the dresses on this page will also work for a bride that is pregnant. A dress with a lace up back will give a pregnant bride a little leeway as the strings can be pulled tight or can be loose fitting to allow for some extra tummy room.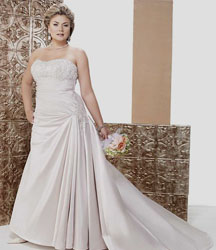 For additional tips and ideas to help you find Cheap Plus Size Wedding Dresses click on one of the links below.

For more tips, please go to our Welcome page.

Unique Bridal Dresses

Black Dresses

Corset Bridal Attire

Design Your Own Bridal Gown

Tips for Buying Your Dress on Line


Pictures are copyrighted and cannot be used without written permission © 2008 - 2015 unique-reception-theme-wedding-ideas.com ® All Rights Reserved
Click Here to read our disclosure regarding affiliate and advertising sponsors.