A bride's wedding day is one of the most important days of her life and  finding the perfect dress ranks high on the "to do" list.
Designing your own wedding dress may sound like a daunting task but if you follow these easy steps it truly won't be difficult at all and you will create the bridal outfit of your dreams.


Ruffles and Layers

If you like a lot of frill you may want to consider a gown with a lot of ruffles and layers.


Neckline and Sleeve Length


Depending on the temperature of your wedding day and what you find comfortable, you may want to choose a strapless, sweetheart, halter, spaghetti strap, scoop, square, V neck or high neckline with long, short, cap or sleeveless dress.

Choosing a Dress Color to Design Your Own Wedding Dress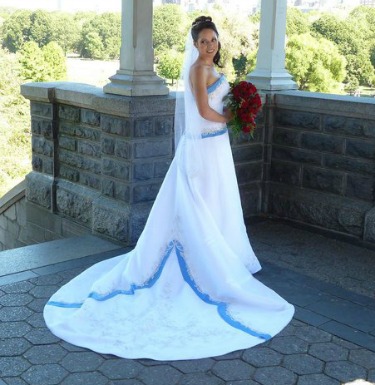 By now, you probably know what color looks best with your skin tone. You have many choices in the white, cream, ecru and ivory shades.  Some brides are choosing a white dress with a colored trim while other brides are choosing black, red or other colors.

Dress Length

If you're having a formal affair a floor length or tea length dress is appropriate.  If you're having a less formal celebration a short dress will work beautifully.

Fabric

Again depending upon the time of year and the climate on your wedding day, you may want to choose a light or heavy fabric. Some of your choices include: silk, satin, taffeta, chiffon, velvet, crepe, jacquard, brocade, tulle, lace, cotton or linen.

 Beads, Bangles, Crystals and Pearls

If you like a lot of glitter and glamor you may want to choose beads, bangles, crystals and pearls to adorn your gown.  There are several really good Design Your Own Wedding Gown websites that you will find helpful.  Take a look and decide if one will work for you.
One of the most important decisions to make if you design your own gown is to choose a really experienced tailor who is willing to work with you as your dress is being created.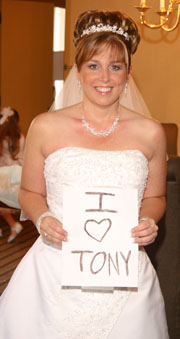 If you're into being different, and want to design your own wedding dress, how about having your photographer take a secret picture of you and present the picture to your hubby as a Valentine's Day gift?
For more information on wedding dresses check out my links below.

Need more ideas? Try our Welcome page.

Unique Wedding Dresses

Dresses For A Wedding

Fairy Bridal Gowns

Sexy Bridal Gowns



Pictures are copyrighted and cannot be used without written permission © 2008 - 2015 unique-reception-theme-wedding-ideas.com ® All Rights Reserved
Click Here to read our disclosure regarding affiliate and advertising sponsors.