Unusual Wedding Cakes
So what constitutes unusual wedding cakes?  If you ask 100 people you'll get 100 different answers. Is it the size, shape, color, texture, design or embellishments that you place on your cake that make it unusual?

Most brides want a fairy tale, romantic wedding and unusual could mean a Cinderella castle or a celebratory delight like the one above which is gorgeous and would work well for a spring or wedding.  This four tiered unusual cake has a butter cream base with beautiful pink, pearlized bands which actually look like satin ribbon.  The delicate cherry blossoms and branches are great representations of spring and a new life together.

Unusual Wedding Cakes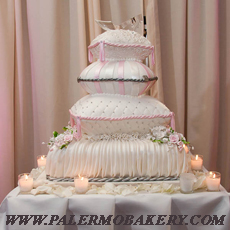 The above four tiered pillow cake captures the Cinderella theme using three tiers of a pillow design sitting on top of a decorated bottom tier with a marvelous drape design.  The pillows have a quilted pattern, highlighted by fondant rope trim that decorates each tier with a delicate tassel.  A few crystal pins and silver confectionery dots were added to give the cake some sparkle.  The florets in-between the third and fourth layer along with the lace ribbon give this unusual creation an added dimension of charm.  A glass slipper was used as a topper to complete the fairytale look.
 

More Ideas for Unusual Wedding Cakes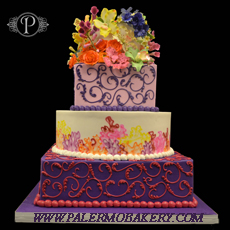 Most brides choose a white or ivory cake, however some brides are very chic and prefer a cake that is colorful and beyond unusual.  This three tiered creation has almost all the colors of the rainbow.  The first tier is purple and decorated with bright pink swirls, while the top is pink with purple swirls.  The middle tier has a beautiful and intricate airbrush design that coordinates with the fabulous gum paste flowers.  The shape of each tier gives this cake a very unusual design that will delight any bride that is looking to be different.

More pictures for the bride who wants unusual wedding cakes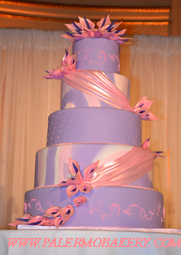 For the bride who wants a very unusual cake she should consider this five tiered cake which is adorned with coral colored calla lilies with deep blue pistons.  Its fondant draping on two tiers of the cake gives it a very classy impression.  The colors and pattern on each layer flow beautifully.

This beautiful three tier fondant Cinderella creation is just the right cake for the bride who is looking to have a fairy tale reception.  The tiers are in a white fondant and beautifully decorated with silver fondant drapes and light blue gum paste flowers.  The incredible silver fondant castle cake topper will enchant any bridal couple.

Picture buffs who want  unusual wedding cakes will love this creation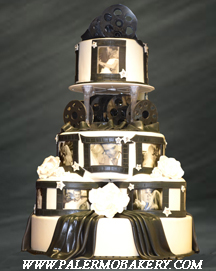 Whether the bride and groom are movie buffs or not, this old fashion film cake is sensational because the bridal couple can place their very own pictures in the film strips making their Hollywood romance a reality.  The striking contrast of black and white fondant focuses on photos of the bridal couple. This unusual cake is guaranteed to dazzle your guests.

Why have a bridal cake that is a replica of everyone else's cake that has already been seen and eaten, when you can have a cake that is a little different and perhaps fun to look at too?
These are just a few ideas for unusual wedding cakes that you can create and show off your imagination during your wedding reception.
This cake will delight the couple who love everything "Math" The "pie sign" and 3.1415 are truly unusual for a wedding cake.

All photos of these fabulous cakes can be found at www.palermobakery.com.  You can reach them by calling 201.641.1654

Take a minute to get some more unusual wedding ideas which will make your wedding unique.

Wedding Cake Ideas

Grooms Wedding Cake Ideas and Designs

Different Dessert Designs

Pictures are copyrighted and cannot be used without written permission © 2008 - 2015 unique-reception-theme-wedding-ideas.com ® All Rights Reserved
Click Here to read our disclosure regarding affiliate and advertising sponsors.