Wedding Cupcakes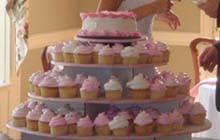 Wedding Cupcakes Tips & Ideas

When people think of cupcakes they think of children's parties. However, many trendy brides are opting to use cupcakes as opposed to using a traditional wedding cake. 

Cupcakes are more whimsical and lighthearted than formal elaborate bridal cakes and seem to be a better choice for a more casual bridal celebration.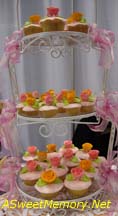 Cupcakes seem to be turning up everywhere, in bridal magazines, at restaurants, even Martha Stewart featured bridal cupcakes on her website.  So read on and let me help you with your decision-making.
Most people cannot bake and decorate their own wedding cake because they don't have the time or talent to create a professional looking dessert, let alone transport the cake to the reception.  However, most people can bake a cupcake and decorate it without too much fuss, thus saving a lot of time and money.  If you make an error with one of the cupcakes you can toss it and start again.

More Ideas for Wedding Cupcakes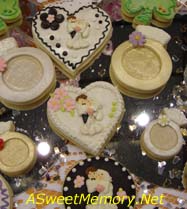 Cupcakes can be made several days in advance and placed in airtight containers.  If you are making them several weeks before your wedding you can freeze them without losing any flavor.  Just wrap them in plastic wrap and foil then place them in an airtight container.
I went to a party store and found a cupcake tier stand that holds about 40 cupcakes for $40. The tower can be used many times after your reception is over for other parties, thus creating a sizable savings.  If you are having a large reception and need a stand that would hold more than 40 cupcakes you can surround the bottom of the cupcake stand with cupcakes thus serving many more people.  If your number of guests is still more than the tier can hold, it would be more practical to rent, rather than purchase a cupcake tier.
Clear acrylic cupcake tiers can be dressed up using ribbons and flowers to coordinate with your bridal theme and color palette. 
For a dramatic effect, you can use lighting that will illuminate your cupcake tier and dazzle your guests.
An advantage of using cupcakes over a traditional cake is that you can serve a variety of flavors thus pleasing even your most discriminating guests.
So, if you are chic and willing to break with tradition, consider serving wedding cupcakes instead of a conventional  cake.

Need more ideas? Come read on.

Wedding Cake Ideas

Cheap Dessert Ideas

Simple Confectioner's Delights

Unusual Pastry Creations


Pictures are copyrighted and cannot be used without written permission © 2008 - 2015 unique-reception-theme-wedding-ideas.com ® All Rights Reserved
Click Here to read our disclosure regarding affiliate and advertising sponsors.