Tuscan Wedding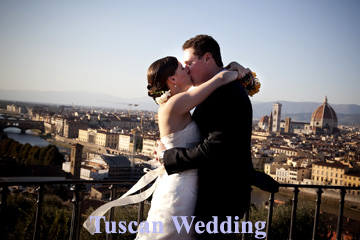 A Tuscan Wedding is for romantics who want to get married under the Tuscan Sun!
My friend Tema writes, "Tuscany is a charming, romantic region of Italy that I fell in love with the first time I visited Florence after my college graduation.  I lived in a lovely apartment with my bedroom window facing the majestic Duomo, the magnificent, Florentine Cathedral. 

Since Florence has weddings every day of the week, I was treated to a fabulous array of beautiful brides and incredible customs.  One of my favorite pastimes was to walk up to Piazzale Michaelangelo where I was captivated by the photographers taking pictures of beautiful brides and their elegant bridal parties.  Through the years I was enchanted by the variety of attire, hairstyles, bouquets, grooms and their lovely brides.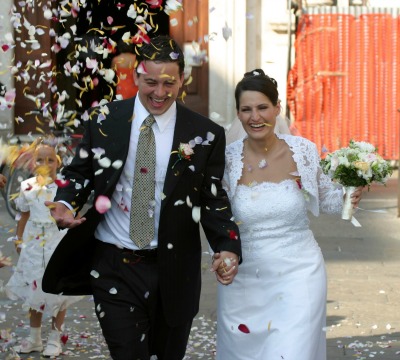 I now realize that Tuscany is for lovers.....and weddings! I lived in Florence, the capital of Tuscany, for 25 years and attended some of the most beautiful weddings I have ever seen. What makes these weddings so special is the attention to detail. Whether it be the venue (a castle, a hilltop, the countryside), the wedding banquet, the rehearsal dinner, the music or the flowers, every wedding is exquisitely planned and executed."
Why a Tuscan Wedding Destination?
A Tuscan Wedding will delight every couple and their guests. From historic Florence, to romantic Bolgheri, to exciting Siena, a visit to this lovely region for a Tuscan marriage will create memories that will last a lifetime.
This is the perfect solution for a "destination" wedding. Where else can you absorb centuries of culture, delight in gourmet treats and take a glorious designer shopping trip during the same vacation?

Your wedding guests will find a host of things to do to complete their trip. Tuscany is filled with memorable art......Michelangelo, Dante, Donatello, Leonardo da Vinci, Botticelli....just a few of the brilliant Renaissance geniuses who walked the streets of Florence, the enchanting capital of Tuscany. Visit the Accedemia to see Michelangelo's statue of David or the Uffizzi Gallery to see Botticelli's "Primavera" (my personal favorite). Take a ride to the lovely town of Vinci, the birthplace of Leonardo,

You and your Tuscan wedding guests can take an extended vacation to experience the best of Tuscany which is also one of the foremost regions for Italian wines. The town of Montalcino will take your breath away while you sip Brunello, Italy's best! The drive from Florence to Siena, along the route of the "Gallo Nero," - Italy's best chianti, should not be missed.

Shopping here is another dream come true....Gucci, Ferragamo, Prada and Fendi and many more are available for discerning shoppers. Designer malls have popped up around Tuscany over the last 10 years, and you can now get your "favorite things" at a reasonable price. Try "The Mall" in Reggello or the Barberino shopping outlets. There are even shuttle buses that will take you there from the center of Florence.
After Your Tuscan Wedding
You and your spouse can enjoy a marvelous honeymoon in one of Tuscany's five star resorts or in a hideaway Tuscan castle. There are hundreds of "honeymoon" formulas available for your enjoyment. A Tuscan wedding will truly give you the best of everything.
Recently, my niece's friend and her fiancé' decided they wanted a meaningful "destination" wedding. They had met in the spring of 2010 in Florence, where they had spent a memorable semester abroad. After canvassing friends and family, they discovered that a good number of them would be thrilled to help celebrate their nuptials with a magnificent destination wedding at a villa in Bolgheri in the Tuscan countryside, near the beautiful city of Florence. Here she is relaxing with a flute of prosecco, the local champagne, just a few hours before an elegant rehearsal dinner along the banks of the Arno River.

Since she and her fiance wanted a Tuscan Wedding, they got in touch with "Whitethings," the premiere wedding planner in Tuscany, who effortlessly took them through every step of the way.

 "Whitethings" serves couples from all over the world no matter what their
cultural or religious background. Meet with us at our wedding "boutique"
in lovely Florence or communicate with us through our U. S agent, Tema Parenti who can be reached at Temabey47@gmail.com. We will take you through every step to ensure your wedding is the one you have always dreamed about. Whether it be intimate or grand, formal or unconventional, simple or extravagant, "Whitethings" will make your ideal wedding a reality.

Tema and her experienced staff will guide you in every aspect of the wedding planning process. They will help you find the ideal venue, create the most original ceremony and attend to every aspect of your Tuscan wedding in exquisite detail.

They are professional wedding planners with 20 years of experience. One of their greatest pleasures is to help you add that special something that will make your wedding unique, regardless of your budget.

Their dedicated friendly staff works with stage and floral designers and the best Tuscan craftsmen and culinary artists to provide a full-service custom Tuscan wedding plan that your guests will never forget. Your wedding day will forever be imprinted in your memory and you will recall each moment with joy.
Contact Temabey47@gmail.com or Tuscany1@gmail.com

Take a gander at some other Wedding Planning Ideas.
Pictures are copyrighted and cannot be used without written permission © 2008 - 2015 unique-reception-theme-wedding-ideas.com ® All Rights Reserved
Click Here to read our disclosure regarding affiliate and advertising sponsors.