Are You Looking for Classy Table Centerpiece Ideas?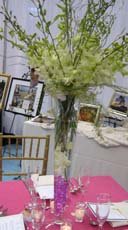 Table Centerpiece Ideas

Whether it is simple or extravagant, a centerpiece can quickly transform the ambiance of your room.  You can decide on using fresh, silk or dried flowers, candles, edible creations, balloons or feathers for you table's focal point.  However if you are looking for a table arrangement that is unusual and will leave a lasting impression with your wedding guests, read on.


Elegant and Opulent

What is more elegant and opulent than diamonds? Set the stage for your fairytale wedding by decorating your reception tables with faux diamonds. Purchase a clear container and fill it with objects that coordinate with your wedding theme.  (Seashell or sand for a beach themed wedding or pink and red faux crystals for a Valentine's Day wedding theme.)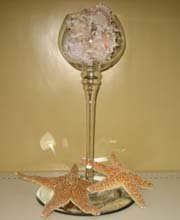 Then scatter faux diamonds around the bottom of the container.  If you are having large tables you can expand the table arrangement by placing the container on a mirror or doily.
How about adding pearls to your table arrangement?  Drape a few strands of pearls around your floral or candle centerpiece.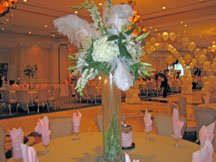 Chic and Unique Additional Table Centerpiece Ideas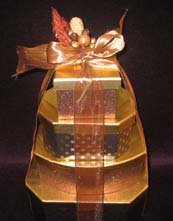 Decorate different sized boxes in your wedding pallet and using a glue gun, glue the boxes one on top of another. Place a bow on top of the last box and you have an inspired creation.
Purchase personalized glass photo vases and place your engagement or other memorable picture of you and your groom in the vase. Your guests will be amazed by your planning ability.
How about replacing flowers or candles with feathers or twigs in your centerpieces?

Inexpensive Table Centerpiece Ideas

The above table arrangement was created by purchasing a vase and filling it with flowers from a supermarket or your garden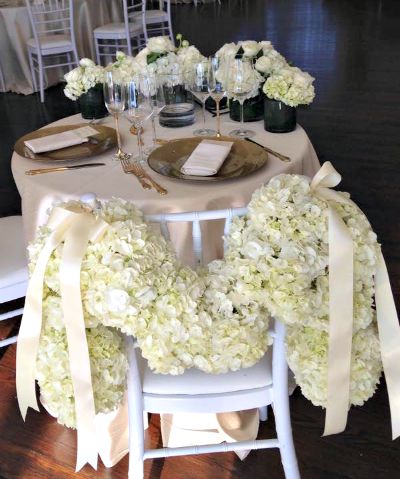 More table centerpiece ideas can be created using small vases with matching flowers and then decorating the bridal chairs with the same flowers and ribbons to present a very opulent effect.

Have your favors double as your centerpiece by wrapping them in pretty paper and decorating them with fancy ribbon and bows.  Cluster them in the center of the table and place a candle in the center of the cluster.
Pile different colored herbs and flower petals into a glass container or vase.  They will not only give off a wonderful aroma they will be a great conversation starter.
Purchase some mini pails, spray paint them and fill them with a potted plant or eucalyptus.
Type the story of how you and your hubby met, have it printed on colored paper to match your wedding scheme and then place it in a photo frame in the center of the table.  Spreading a few flower petals around the frame will add a bit of elegance to each table.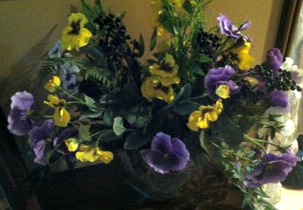 I do hope my table centerpiece ideas have inspired you to create your very own unique arrangements.

My welcoming page has many thoughts to help every bride.  Come check it out!

Tall Wedding Table Arrangements

Wedding Reception Table Tips

Pictures are copyrighted and cannot be used without written permission © 2008 - 2015 unique-reception-theme-wedding-ideas.com ® All Rights Reserved
Click Here to read our disclosure regarding affiliate and advertising sponsors.