Square Wedding Cakes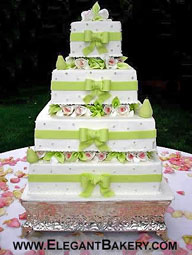 Square Wedding Cakes that are Lovely and Interesting!

Congratulations on your engagement and upcoming marriage!
Planning a wedding takes a lot of time and effort to have everything turn out exactly as you want, so the sooner you start making arrangements - the better.

While square cakes are not as popular as their round counterparts, they have recently gained in popularity.

Why choose a square cake?

Couples who choose a square confectioner's delight may do so for a variety of reasons.
They may want to honor a tradition or a loved one by displaying their cake on a sterling silver, square shaped cake stand that is an heirloom, which belonged to one of their grandparents.
Or they may choose a square cake because the tables in their reception hall are square and most objects in the room are square shaped.
Square cakes are unique and interesting.
Who knows, whatever the reason you have chosen a square shape, let's take a look at some square designs and determine which one will work for you.
The above green fondant ribbon and floral four tier cake looks like something out of a bridal magazine.  The colors of this delight are particularly suitable for a spring and summer celebration.  However, they can be changed to match your color palate.  Notice the silver cake stand adds height and elegance to this beautiful creation.
Additional Square Wedding Cakes that are unique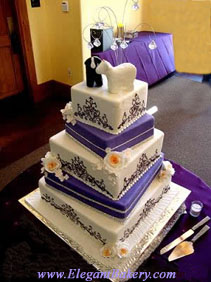 The above whimsical stacking of the square tiers gives this cake a very modern, chic appearance.  The lace scroll pattern is a favorite with brides!


More ideas for square wedding cakes!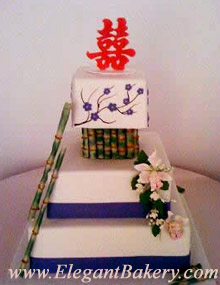 This Asian three tier cake has many elements to it.  It's simple, yet elegant.  The "Double Happiness" topper is set off by the top layer with small, purple fondant flowers.  This tier sits atop fondant bamboo sticks, the double bamboo sticks on the left side almost look like a ladder leading to the double happiness symbol.  The fresh flowers on the right side bring you to a sense of western tradition mixing with the Asian flair for square wedding cakes.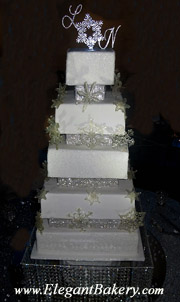 This five tier square cake, complete with different shaped snowflakes is perfect for a winter wedding.  I love the way the monogrammed topper is separated by a large silver snowflake.  The silver cake stand coordinates well with the topper and the smaller square cakes that separate each layer of this fabulous cake.
The pictures on this page are compliments from Janusz at ElegantBakery.com.  Janusz, the owner, is delighted to work with brides individually, to create custom fantasy cakes using only the best and freshest ingredients.  There's hardly a filling that Elegant Bakery hasn't used when making his award winning designs.  They will create custom flavors that will please every bride's desire.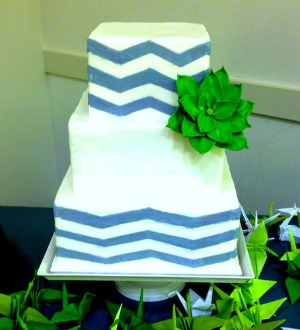 Simply put, square wedding cakes are still not as popular as round cakes but they are different and have defined lines and corners that you just can't create with round cakes.  So if you like a square cake ~ go for it!

Let's look out other planning ideas for your magical wedding.

Wedding Cake Ideas

Grooms Wedding Cakes and Designs

Simple Cakes
Pictures are copyrighted and cannot be used without written permission © 2008 - 2015 unique-reception-theme-wedding-ideas.com ® All Rights Reserved
Click Here to read our disclosure regarding affiliate and advertising sponsors.