Wedding Cake Styles
Wedding Cake Styles and Wedding Cake Designs

Do you know the answer to that question?  If you do, please tell me because I don't.  Styles and designs are only limited to one's imagination so, I'm assuming the number of styles is infinite.
Anyway let's get down to basics. There are may shapes that you can use for your cake with the round, square, triangular, hexagon shapes being the most popular styles.  Now remember these shapes don't have to be stacked one on top of another.

They can be mixed and matched to coordinate with your theme.  You can use fondant, butter cream or whipped cream to decorate your cake. 
Some brides choose elaborate styles and designs and then place crystals, flowers, pictures and etc. to add a touch of glamor to their confectioner's creation.  Other brides go with a more traditional simple style, which suites their taste and that is perfectly acceptable.
 
The above elegant creation was produced by using four round cakes of varying sizes.  Then a blue ribbon was used to separate each layer and decorated with blue and white roses, sea shells and star fish.  This masterpiece can complement a beach theme as well as a spring or summer theme.

Wedding Cake Styles that will surely delight your guests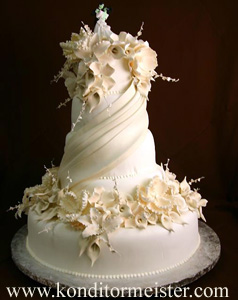 This magnificent shaped design reminds me of a bridal dress complete with a sash and ever so elegant flowers on the top and bottom tier of this opulent creation.  Take note of the topper with the bridal couple dancing.  I love it!

More Ideas for Wedding Cake Styles and designs.

This bridal cake combines elegance, color, and height.  Notice how the columns create a place for the cake topper and then the final layer with a floral topper.  The flowers and scroll work add a bit of the old with the new.  The scroll work can be changed to accommodate any pattern that you desire.  Maybe your family has a coat of arms that you would like to display.  You are limited only to your imagination!


Wedding Cake Styles that are chic and funky

For the bridal couple who is into funky styles, how about this peacock and calla lily wedding cake?  This four tier colorful creation has style and a bit of the modern chic look.
This incredible asymmetrical cake is a masterpiece that Martha Stewart would be proud of.  It combines style, class and a bit of the zany.  The soft ruffled flowers that are nestled on each tier along with the grey ribbon with designer jewelry is so classy that one can see their monogram on top of this incredible design.

Wedding Cake Styles with Color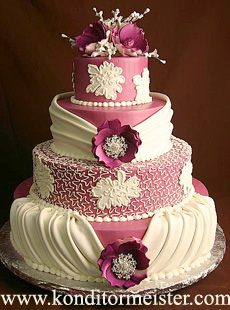 For the bridal couple that wants to combine color along with a vintage theme this creation says it all.  The drapery on the first and third tier is pulled together with the flower in the center.  Each tier is set off with beading and the topper is unique with its flowers and stick like effect.  Who wouldn't love to display this style at their wedding?


So you're getting married in the winter and can't decide what kind of cake will coordinate with your winter theme and be a little creative.  Well this masterpiece is just for you.  It combines the cool winter blue color along with the different shaped snowflakes and is topped off with a fire like display as a topper. What more could you ask for?
All of these fabulous bridal cakes were produced by www.konditormeister.com. This exquisite bake shop combines European traditions along with the finest ingredients to create your perfect wedding cake.
Konditor Meister's pastry chiefs have great skills and are authorities in their field.  You can find Konditor Mesiter by visiting them at their web site or calling them at 781 849 1970.  They will be happy to make a tasting appointment for you and will create a wedding cake that will dazzle you and your guests.
For more information and ideas please check out my links below and let your creative juices flow.
Planning is my specialty, so come take a look as some of my other ideas.

Square Confectioner's Delights

Fountain Creations




Pictures are copyrighted and cannot be used without written permission © 2008 - 2015 unique-reception-theme-wedding-ideas.com ® All Rights Reserved
Click Here to read our disclosure regarding affiliate and advertising sponsors.