Grooms Wedding Cake Ideas and Designs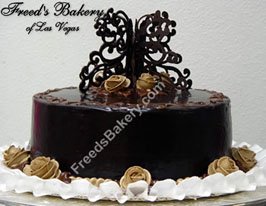 Grooms Wedding Cake Ideas and Designs for the Chic Couple

I've been doing some research to determine how and where the custom of wedding cakes and groom's cakes originated.
The tradition of brides serving cake can be traced back to ancient times. The Roman groom would eat a piece of barley bread and then break the remaining bread over the bride's head, allowing the crumbs to drop upon her. This ancient custom was believed to bring the bride and groom a fertile and fulfilling life.
After awhile, a fruitcake replaced barley bread. Moving further along in time, the bridal cake evolved from a single-layer fruitcake into a stacked pound loaf, shaped like the steeple of a church.
My research indicates that the groom's cake may have its roots in the southern United States in the 19th century. Some guests still wanted a fruitcake while others  wanted the more modern bridal creation. Hence the couple served two separate cakes. The guest's sweet tooth was satisfied by eating the wedding cake at the reception and were given a slice of the groom's fruitcake to take home.
Grooms Wedding Cake Ideas and Designs for the Modern Bride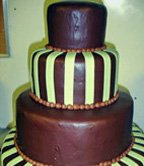 It was thought that if a single woman put her slice of the groom's cake under her pillow she would dream of her future husband.
The tradition of the groom's confectioner's delight has been rediscovered and is becoming more popular with today's modern bride. Couples can choose a chocolate cake with chocolate frosting, however, any flavor and style is appropriate. A groom can choose a design that reflects his personality and interests.
Pictures and more grooms wedding cake ideas and designs follow: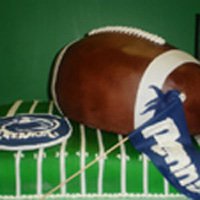 If your fiance is really into football and likes to play or watch the game he can choose a football theme cake. You can have a cake designed with a football, banner of his favorite team and have the large portion of the cake resembling the football field. It can have a vanilla or chocolate, with strawberry, lemon, raspberry or whatever filling he chooses.
Some husbands are into boating and would be happy to have a cake in the shape of an anchor with cannoli, cherry or mouse filling.
Grooms Wedding Cake Ideas and Designs for the Guy who Likes Boating


Other grooms are into NASCAR racing and would be delighted to have the baker create a replica of a Daytona 500 scene for their grooms wedding cake ideas and designs.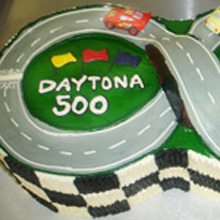 This lovely tradition of serving a grooms cake adds an individual touch to your reception and engages your husband in the planning of your romantic day.
Some couples love to travel, so how about designing a cake in the form of one of your most favorite travel destinations.  An example of this would be to have a square cake with the Eiffel Tower adorning the top of the cake.  Or if Rome was one of your dream cities, how about a cake in the shape of the Colosseum with Roman Gladiators? Another great idea would be a cake created to look like the Grand Canyon.

I do hope my Grooms Wedding Cake Ideas & Designs have been helpful in planning your reception.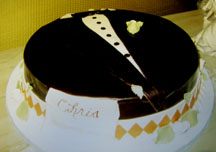 Discover more fantastic wedding ideas.

Pictures are copyrighted and cannot be used without written permission © 2008 - 2015 unique-reception-theme-wedding-ideas.com ® All Rights Reserved
Click Here to read our disclosure regarding affiliate and advertising sponsors.