Traditional Indian Wedding Dresses
Are you looking for fabulous Indian Wedding Dresses?
Different cultures have very diverse traditions and styles for weddings. Many Hindi marriages are arranged by their parents and the selection is based upon their children's qualities, social status and education.
In India, today's Hindi weddings are lavishly celebrated by family and friends having between 500 and 1,000 guests.
In the United States, Indian ceremonies and feasts are smaller affairs, with the number of guests ranging from 200 to 500.
Notice the above picture of the beautiful bride in her red sari with her magnificent green veil.
Most Indian Brides wear lots of stunning jewelry that coordinates with their dress.
The bridal dress is a very important part of the wedding with the bride choosing to wear a red or white dress for her ceremony and then any color is permissible for her reception. In Indian weddings, the color red is closely aligned with prosperity, good fortune and well being.
Indian Wedding Dresses can Sport Matching Scarves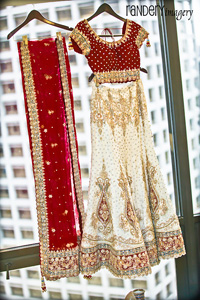 This typical Indian Dress is absolutely stunning. The vibrant red and gold accents make this dress and shawl a show stopper.
Some brides have their dress custom made by a tailor or family member while other brides purchase a readymade dress from a store.
(Having a store bought dress is more common in the U. S.)
Indian brides usually shop for their dress along with their mothers and future husband if he is available to go looking for a dress.
This is quite different from the American custom where a groom doesn't get to see his bride's dress until their wedding day when the bride begins her walk down the aisle.
More ideas for Indian Wedding Dresses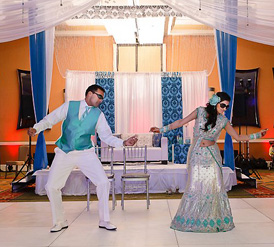 Indian Weddings are a lot of fun and this bride and groom were delighted to be "putting it on." I love the sunglasses!
The bride's white sari has hand made decorative accents of teal blue and clear crystals.
Just in case you were wondering what the back of the above dress looked like – here it is.
There are many excellent varieties and styles of Indian Dresses on the market to choose from.
Many Indian dresses have fine silk, brocade and netted fabric with shiny sequins, pearls, stones and beads that are embroidered in an exquisite manner making the bride's dress a royal work of art.
Some dresses have tassels and other fringes.
Depending on the Bride's taste, she can wear a two piece outfit (short blouse with a long skirt) called a gaghra or a one piece sari that has a scarf draped across her chest. The dress can have long or short sleeves with some bride's choosing a one sleeved dress.
As shown below the groom's attire often coordinates with the bride's sari.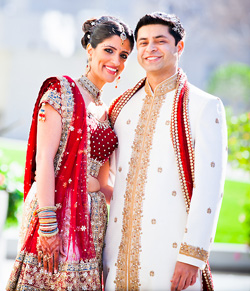 Indian wedding dresses are spectacularly colorful and have the most intricate designs and patterns of any bridal dresses.
Indian Brides have their hands painted with henna to ensure that they will enjoy a lifetime of good luck.
This incredibly beautiful dress is similar to the one above, however, it has more white accents on the front panel.
Northern Indian brides favor red dresses which represent fertility while the Southern Indian brides will usually choose saris with varied, vibrant colors. In any case, Indian wedding dresses are elegant and beautiful.
Like what you see, get some more fabulous ideas at our home page

Pictures are copyrighted and cannot be used without written permission © 2008 - 2015 unique-reception-theme-wedding-ideas.com ® All Rights Reserved
Click Here to read our disclosure regarding affiliate and advertising sponsors.