Christmas Wedding Dresses
Christmas Wedding Dresses

Your fiancée has proposed and you both know exactly what you want – To be married during the Christmas Season. 
Christmas is a time of year that brings family and friends together, so why not bring you and the love of your life together with a Christmas Wedding?


Well now that you have that settled, let's start talking about your bridal dress.
Would you like to take a step away from tradition and wear a red dress? If so, consider wearing a red velvet gown with a white faux boarder on your neck, sleeves, and hemline.  I searched the internet for this type of dress and couldn't come up with a designer that is currently making this style dress.
My advice to you is to find an expert seamstress and ask if he/she could make the dress for you. It would be a good idea to look through bride's magazines and find a gown that is similar to what you have in mind before you approach the seamstress.  You'll need to know what style and type of dress looks best on your body type.
Other ideas for red Christmas Wedding Dresses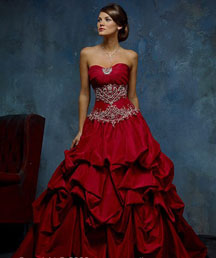 Try to find a pre-made dress in a bridal salon, on the internet or in your local newspaper.
This stunning strapless gown features a sweetheart neck with a pleated bust. The embroidery and beaded detail around the bust and bodice along with the gathered skirt makes this dress truly memorable.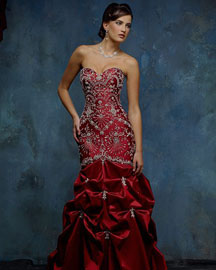 Christmas wedding dresses that Sparkle!

For the Christmas bride who wants to have a truly unique wedding gown how about this strapless mermaid taffeta dress with sweetheart neckline.  The elegant embroidery and beading along the bodice and scattered beading at the pickup points on the skirt gives this dress a very contemporary look.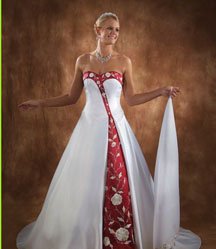 The above A-line gown has a dramatic diagonal design with a sweetheart neckline.  It is made from the finest matte duchess bridal satin. This zipper back dress comes with a matching wrap and detachable straps.

Christmas wedding gowns don't have to be traditional consider this sultry gown with a plunging sweetheart neckline with crystals adorning  the neck and waist line.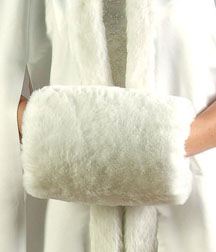 Brides looking for Christmas bridal gowns should also consider purchasing a wrap and muff unless they are getting married in the southern hemisphere where they will be enjoying warm temperatures. 
The above muff will not only keep your hands warm it will also add a touch of elegance to your bridal ensemble.

The products on this page can be accessed at Best Bridal Prices. Click on the link below to find your perfect dress.

If you're having difficulty thinking of a useful bridesmaid gift, consider giving your bridesmaids a muff to keep their hands warm too.
Of course you don't have to choose a red dress; a traditional white Christmas wedding dress will be stunning also.
I'd love to hear your comments and share thoughts about these Christmas Wedding Dresses. Contact me and I will be happy to answer any questions that you may have.


More Ideas? Go to our Introductory page.
Unique Wedding Dresses

Christmas Centerpiece Ideas

Christmas Wedding Cake Ideas

Christmas Wedding Gowns

Christmas Bridal Ideas


Pictures are copyrighted and cannot be used without written permission © 2008 - 2015 unique-reception-theme-wedding-ideas.com ® All Rights Reserved
Click Here to read our disclosure regarding affiliate and advertising sponsors.