List Of Wedding Themes in NJ
List Of Wedding Themes in NJ
Your wedding is one of the most important days of your life and you don't want to make a mistake on choosing a theme. With that said, let's get down to business.

Why is a Theme Important?
Your theme is a way to organize your wedding and keep all of your bridal facets coordinated. It also helps to make decisions on colors, decorations, styles of dresses, flowers, music, food, transportation and favors.
Themes are reflective of the type of people you and your fiance are. If you're an old fashioned couple you may want to choose a Victorian Wedding theme. You'll use lots of lace, fresh flowers, ornate decorations, flour-de-lis patterns, skirted table cloths, lots of beading and scalloped edges and other accents.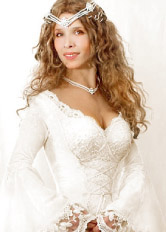 If you're into the Renaissance period a Medieval Wedding Theme may suite your style. A really nice touch would be for you to arrive at your ceremony in a horse drawn carriage wearing a period dress and a wreath of flowers in your hair. Your reception entrance can be spectacular if your groomsmen form a line with swords drawn.
Check out the above picture created by www.faeriebrides.com This Medieval look is especially delicate and beautiful.  Notice the beading in the hair piece and necklace. The lace surrounding bust and long flowing sleeves is breathtaking.

You can take advantage of the season of the year that you will be married.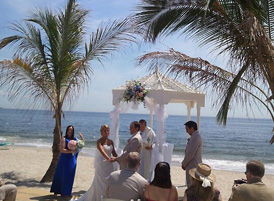 More Ideas for a List of Wedding Themes in NJ

For couples getting married in the summer a beach wedding theme works well for the bride and groom who live near the ocean and want to take advantage of a sunset on the beach with the sounds of waves in the background.
A winter theme conjures up thoughts of snowflakes, icicles, white fur muffs, and blue twinkling lights.
The spring time is a perfect motif for couples who love fresh flowers and new beginnings. Lots of pastels and soft colors will be a large part of your theme.
After the summer's heat, couples can take advantage of a fall wedding theme by using Mother Nature's gift of vibrant colors of the leaves turning from green to red, orange, brown and yellow.
If the bride or groom is in the military or are very patriotic, they can choose to get married around the fourth of July and have a Patriotic Theme.
Valentine's Day celebrations certainly lend themselves to all things romantic. Hearts, white doves, roses, and little cherubs with their bows and arrows will definitely be a part of your decorations.
A Christmas wedding theme works well for couples who enjoy the spirit of the holidays and all the festivities that go along with the season.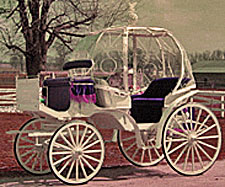 Consider a Cinderella Wedding Theme.  Imagine you arriving at your reception with your spouse in a beautiful old fashion carriage!

The list of wedding themes in NJ is endless.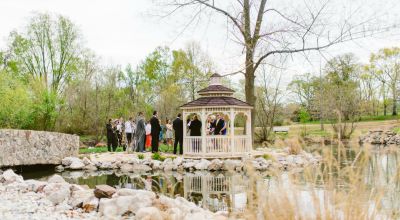 Some other themes that you may want to consider include: Barbie Doll, Easter, Ethnic, Historical, Sports, St. Patrick's, Sunflower, Tropical, and today, a much loved Wine Theme. 
The list of wedding themes in NJ is unlimited, let your creative juices flow and you surely will come up with the right theme for your wedding day.

I'd love to hear your thoughts, please contact me with your ideas and I will be happy to help with any questions that you may have.
Visit our Welcoming page and get some great tips and ideas.
Pictures are copyrighted and cannot be used without written permission © 2008 - 2015 unique-reception-theme-wedding-ideas.com ® All Rights Reserved
Click Here to read our disclosure regarding affiliate and advertising sponsors.