Looking to Create Beautiful Butterfly Wedding Themes?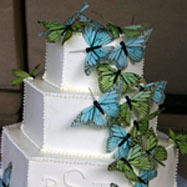 Butterfly Wedding Themes That are Gorgeous
Butterflies represent romance and love and various cultures have different meanings associated with butterflies.
In the Japanese culture, butterflies are thought to be representative of young maidens and marital bliss. They are known for their beauty and are also associated with positive thoughts.
In the Chinese culture, butterflies signify young men in love; they also convey a change from the old life to a new life, so choosing a butterfly wedding theme is quite appropriate and easy to carry off. There are many options you can choose when planning your butterfly theme. One of your first decisions is to pick a color scheme. Do you want a colorful butterfly motif or do you want white butterflies for your color scheme? Do you want large or small butterflies?
I prefer small, delicate butterflies with an assortment of bright, lively colors which will add charm and grace to your theme.
You can purchase hand painted butterflies and place them on your favors, in your bouquet, bridesmaid's hair, on your place card table and guest book.You can even send out your invites with butterflies adorning the invite.

For the bride who wants to be unique and add a finishing touch to her hair, she can purchase a butterfly tiara.
If you're on a budget consider decorating your hall with butterflies purchased at a craft store, or better yet, make your own. Your butterflies can be made from fabric, felt or card stock.
Float butterfly candles in a clear glass container to create your table centerpiece, then surround your centerpieces with butterfly confetti.
Make your own table numbers and hot glue small butterflies around the table number.
Look online and in magazines for ideas and instructions to create your butterfly decorations.
Save the Date Cards, Invitations, Programs and Thank You Notes for your Butterfly Wedding Themes
Most online sites have butterfly save the date cards, invites, programs and thank you notes. For the budget conscious bride, design and print your own.
Wedding Attire

You can have white butterfly appliques sewn onto your dress and veil. Or you can ask your dress maker to sew small beads in the shape of a butterfly using, pearls or crystals.

How about purchasing a butterfly garter and/or having your ring bearer's pillow made in the form of a butterfly?

Reception Hall


Any venue can be decorated using a butterfly theme using the ideas mentioned above.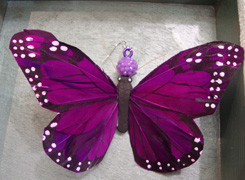 Favors for Butterfly Wedding Themes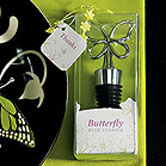 Your guests will enjoy this fashionable, practical wine stopper favor.
Bake butterfly cookies and wrap them in clear cellophane using matching ribbon.
Purchase small clay pots, paint them white and decorate them with butterfly stencils. Fill the pots with dried, silk or fresh flowers.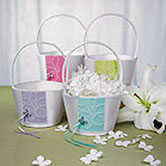 Decorate small baskets as above and fill with wrapped candy or potpourri.
Butterfly Release
There are many companies that sell butterflies for release at special events such as weddings, anniversaries, birthdays and etc. If you are thinking of having a butterfly release please consider the downside to the butterflies. They are stuffed into envelopes or bags and remain there until they are released. Some of the butterflies die during shipping and some of the ones that survive are so weakened that they cannot fly upon release. A number of butterflies die shortly after they are released because they are out of their natural habitat and their new environment may not be suitable for them.
Cake
Your wedding cake is a focal point at your reception and having a butterfly cake will enhance your butterfly theme.
Butterfly wedding themes are fun to plan and easy to create, use your imagination and let your romantic, imagination shine through.
Additional thoughts can be found here.
Wedding Theme Ideas

List Of Wedding Themes

List Of Wedding Themes In NJ


Pictures are copyrighted and cannot be used without written permission © 2008 - 2015 unique-reception-theme-wedding-ideas.com ® All Rights Reserved
Click Here to read our disclosure regarding affiliate and advertising sponsors.