1940s Theme Wedding
Are you looking to create an elegant and stylish 1940s theme wedding? I can help make your vintage wedding theme look like it is out of a Hollywood movie.
Whether your style is chic and modern or elegant and timeless, a 1940s vintage theme conjures up thoughts of men returning home from WWII to be reunited with their sweethearts. This was a very romantic era and there are so many little details that can contribute to making your 1940's themed wedding look authentic like the above photo of Jane and Dan's Wedding picture taken in Brooklyn, New York.
Some glamorous 1940s ideas are to accessorize with long gloves, a fur wrap or stole and perhaps even a cigarette holder to top off the classy look (please don't light up).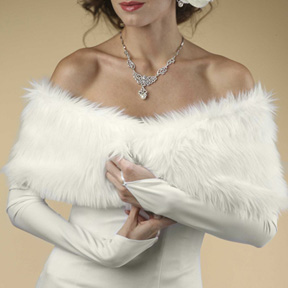 How about these magnificent shoes for your bridesmaids?
Attire for a 1940s Theme Wedding
Women of the 1940s were sultry and wore wedding gowns with a refined Gibson style sleeve with a much narrower often shirred sleeve leading to a point on the wrist. The pointed sleeve elongated the hand and brought focus to the bride's ring. Diamonds were very popular in the 1940s, and were always shown off. Brides also wore pearl necklaces and earrings with their vintage wedding dresses.
Bridal gowns of the 1940s usually were V, sweetheart or scoop neck. As seen above, they had full skirts with long trains and veils. Women also wore hats off to the side with a short lace veil that elegantly covered one side of their face to show off their deep red lipstick and thick black eyelashes.
If you're looking for an authentic 1940s wedding gown, scour the internet, visit vintage and consignment shops or ask your friends and family members if they have and will let you borrow their mother or grandmother's dress. Still no dress, design your own and have a skilled dressmaker make your bridal gown for you.
Some grooms wore their military uniforms or morning suits with top hats. Other grooms wore a dark suit with a tie.
Invites for a 1940s Theme Wedding?
All you need is love! A playfully elegant tri-fold wedding invitation proclaims the wedding on the very front. Choose from an assortment of ink colors and font styles to customize a delicately detailed wedding invitation. Set the tone for your vintage wedding from the get go. Choose a textured, ecru color invite that has a delicate lace look. In the 1940's bridal invites were smaller than the ones typically seen today. The invites were either hand written or type set with a formal font.
Of course, seal the envelope with a wax seal to make it look more authentic.
Hair Styles for a 1940s Vintage Wedding
So what were 1940's bridal hair styles like? In the early 1940s brides choose to wear their hair in rolls which look as if the rollers were removed and the shape of the hair maintained the rolled look. Another popular style was a short veil that draped across the side of the face. The late 1940's saw the rolls disappear and a more casual softer look became fashionable.
Flowers for your 1940s Theme Wedding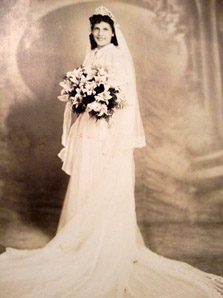 Depending upon the bride's budget, most brides choose large floral cascading bouquets with long ribbons. If your budget is small, cut fresh flowers from your garden or order from a wholesale florist.
It's Party Time
Due to wartime rationing, most brides of the 1940s did not have lavish receptions; instead they served tea sandwiches, salads and a simple but elegant, three or four tier cake with punch, sometimes prepared and served by the bride's family and friends.
You may want more elaborate food at your reception and you certainly can incorporate 1940s food choices along with today's carving stations and canapes.
Music for a 1940s Theme Wedding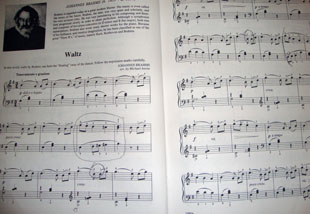 If the bride's budget permitted, their music was mainly built around the big jazz band styles that were popular during that time period. Swing dancing was a biggie and even today, most of your guests would love to hear some swing music.
Decorations for a 1940s Theme
Brides of the 1940s didn't pay too much attention to decorations. If you'd like your venue to be decorated in a 1940s theme, how about asking your friends and family members if you can borrow some old pictures, especially the ones that have vintage frames.
You could also have posters printed with sayings of the time, "Buy War Bonds" and "Support the War" or you could put up large posters of famous people of the 1940's such as, Roosevelt, Churchill, Charlie Chapman, James Cagney, Jane Russell, Ingrid Bergman and Humphrey Bogart.
Favors
The 1940s bride typically gave out three or four pieces of almond confetti wrapped in white tulle and a thin silver toy wedding band. You can elaborate on those favors or you could give out a mason jar filled with strawberry jam.
Another 1940's favor idea would be to have a burnable CD with some big band music and songs from Glen Miller, Count Basie, Artie Shaw and Rosemary Clooney for your guests to bring home and reminisce about your wedding.
Whatever choices you make for you 1940s Theme Wedding, I'm certain you will have a great celebration and your guests will surely remember your memorable day.
Looking for more Ideas?  View this page.

Pictures are copyrighted and cannot be used without written permission © 2008 - 2015 unique-reception-theme-wedding-ideas.com ® All Rights Reserved
Click Here to read our disclosure regarding affiliate and advertising sponsors.